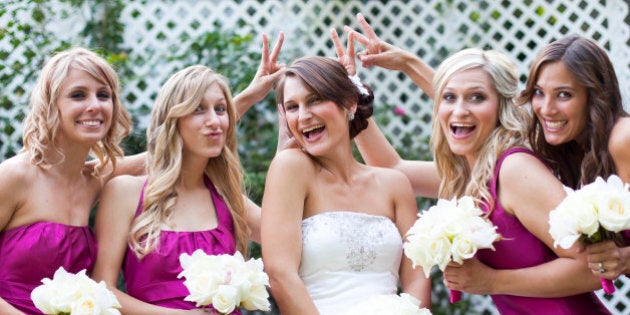 Choosing a wedding dress is hard enough. Add in a bunch of bridesmaids with different opinions and you've got a potential trainwreck.
Finding bridesmaid dresses involves listening to ideas, scheduling fittings, picking colours and styles and making sure your maids are comfortable with the budget. But don't despair—you can keep you and your bridesmaids happy without stressing out.
Check out our tips for how to choose bridesmaid dresses with ease:
1. Uniform Or Different Dresses
If you want that picture-perfect portrait of your bridal party to match then it's probably safe to say that you're the kind of bride who wants your maids in the same dress. However, if you don't really care for uniformity, let your bridesmaids know early on that they have free reign. If so, also let them know if there are certain colours they should stick to. Whatever you decide, make sure to tell your maids what you're planning early on so they can either budget for a new dress or choose one that's already in their closet.
Share this document with your maids so they can see what you have planned, whether it be the date of that first appointment, to colour and style ideas. Even better: let your bridesmaids comment with dress ideas that they like. This will give you an idea of what to look for when you're choosing potential dresses. It will also make your maids feel like they're contributing to your special day.
3. It's OK if one (or more) of your bridemaids is unhappy
It's inevitable that one (ore more) of your maids will be unhappy, whether it be with the style, fit or colour of the dress. Realize that it's impossible to please everyone, and that's fine. At the end of the day, it's your wedding day, and if you're happy with the dresses, then that's what counts. That being said, don't ignore your bridesmaids' concerns. Say you're going for a boho chic wedding but the cut of the boho dress doesn't flatter the body of one of your maids; you may want to reconsider and let her choose a more flattering shape that still fits within your theme.
If you've ever been a bridesmaid then you know that sometimes the dresses just aren't your style, which is fine, as long as you're comfortable. But some brides-to-be don't really listen to their friends even though they're usually shelling out a lot of money. Here's a tip: be a good friend and listen to your maids. If one of them is really uncomfortable in her dress, whether it's because it's unflattering or the colour makes her look as if she just rose from the dead, then take those concerns into consideration when choosing a dress. Trust us, your maids will appreciate it and be more willing to compromise on your vision.
5. Don't blow your maids' budgets
It's important to consider how much your maids can afford. If you guys are still in school, then they may not have a ton of spare change to blow on a dress they will only wear once. (Also: think about choosing a versatile dress that can be worn to many occasions to get more bang for the buck.) If you guys are professionals making bank, then they can probably afford to spend more. But the point is, all your maids have different financial situations that you may not even be aware of, so unless they all specifically say they don't mind spending a lot of money, be conscious of their budget when picking a dress and involve them in the process. Generally, we would recommend picking a dress that's no more than $300.
6. Think about the seasons
Getting hitched in the summer? Don't stick your maids into tight gowns that will make them sweaty and uncomfortable. Walking down the aisle in the fall or winter? Probably best not to pick a strapless dress or else they will be freezing. (Or at least provide warm shawls). Remember: your bridesmaids are spending a lot of time and money on your wedding, so the least you can do is make sure they're comfortable when they're standing up there with you.
7. Know your maids' bodies
We're not saying you need to know their size, but take a good look at your friends' bodies. Did you notice that they all have different figures? Yep, that's called being a human being. There aren't that many dresses out there that are universally flattering for every body shape, so if you're set on uniformity consider letting your maids wear a version of a dress you like but in different styles that flatter their figures. Your photos will capture their confidence and happiness.
8. You make the final decision
At the end of the day the final decision is up to you. Don't let a pushy bridesmaid, friend, co-worker or relative force you to choose something you don't like. After all, it is your wedding and you have a ton of other duties to attend to.