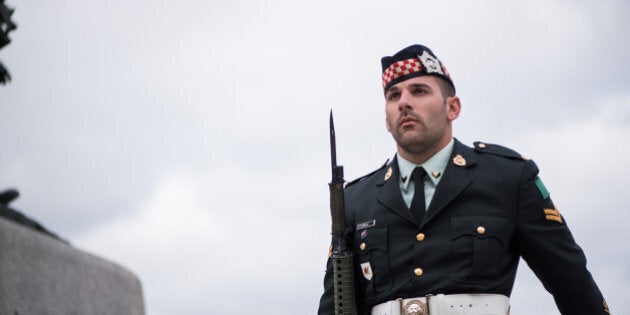 The families of slain military members Cpl. Nathan Cirillo and Warrant Officer Patrice Vincent stand to get some financial support from a new crowdfunding campaign that has already taken in donations from many Canadians and several major Canadian banks.
The campaign, called the 'Stand on Guard Fund' initially sought $10,000 but organizers say they passed the initial goal in less than a day. They've since raised their goal more than once and are now seeking $200,000 to split between the two families.
​Cirillo, a 24-year-old reservist, died Wednesday after being shot at while serving at the National War Memorial in Ottawa. Vincent, who was close to retirement, died earlier this week in a hit and run in Quebec.
"We felt that clicks and likes and an outpouring of grief and emotion online should be turned into real action to honour the memory of these two members of the Canadian Armed Forces," Kasra Nejatian, a founder of the fundraising project, said in a statement Thursday.
Earlier today, Gen. Tom Lawson said armed forces members will not be deterred, saying the two men were "killed in cold blood for no other reason than they were serving their country."
Royal Bank, TD, Scotiabank, BMO and CIBC will each be donating $20,000 for a total of $100,000. A statement from the organizers said the fund will be distributed with the help of the True Patriot Love Foundation.
Bronwen Evans, managing director of the True Patriot Love foundation, said Thursday that they were contacted by the online campaign organizers when they realized they were going to raise a significant amount of money for the families.
"I think that it's wonderful that Canadians are standing behind our military and recognizing that there are sacrifices that come with that, and recognizing the importance of protecting Canadian values like democracy and freedom," she said.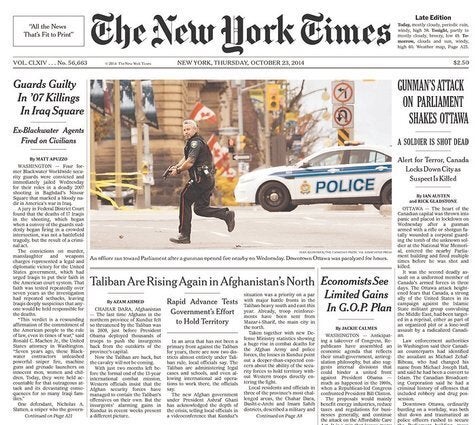 Newspaper Coverage Of Ottawa Shooting