Two days after a horrific shooting on Parliament Hill shocked the nation and made international headlines, comedian Bill Maher somehow found a way to use that event for some punchlines.
"Terror has a new face, much like Renée Zellweger," said the host of HBO's Real Time on Friday, kicking off a monologue that somehow manages to loop in Toronto Mayor Rob Ford, who is currently battling cancer.
"No, it's Canadian terrorism."
"No, he was a guy, a jihadist. A Muslim jihadist. A Canadian jihadist, wow," Maher said. "The authorities are calling him Vanilla Isis."
"Everybody up there is on edge. Rob Ford today said 'I guess I picked the wrong week to quit smoking crack,'" he adds later.
Watch the full clip above courtesy of Global News for Maher's full monologue.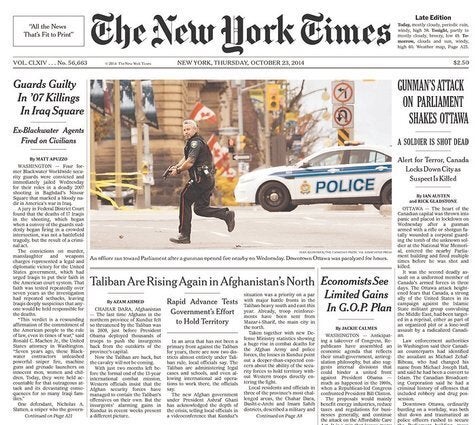 Newspaper Coverage Of Ottawa Shooting