Ottawa, for some reason, is a tough word for non-Canadians to spell. Even for some editors at major news sources.
As Reddit user atomicbolt recently pointed out, numerous online news articles spelled Ottawa as "Ottowa" in coverage of the shooting on Parliament Hill this week.
We repeated atomicbolt's Google News search, and found similar results: Some 8,350 results for "Ottowa" as of Friday afternoon. But we can't say that means there were that many articles out there that misspelled Ottawa, because Google's results brought up results for the properly-spelled word as well.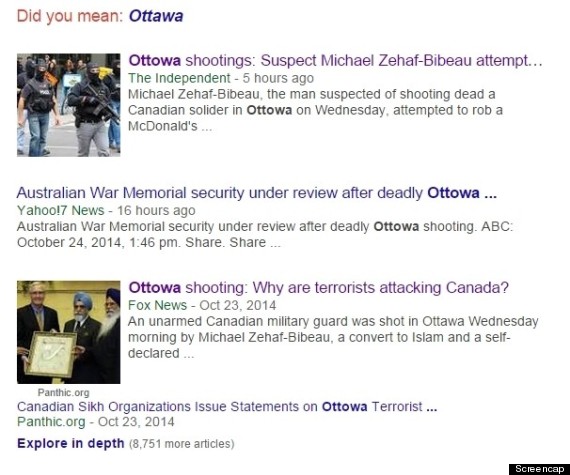 Still, plenty of major news sources misspelled the word, at least initially, including Britain's The Independent and The Telegraph, Fox News, Rupert Murdoch's Australian news portal, News.com.au, and NPR's initial online report on the incident.
We at HuffPost are hardly in a position to cast stones at our competition; we've had our share of typos, and we, like our competition, always strive to fix them ASAP.
To their credit, most of these news sources quickly fixed the error, and the words appear spelled correctly in most instances, on most of the major news sites at this point.
Still, it's a sad reflection of how little exposure Canada's capital gets that so many journalists (people whose job it is to know things) would be unfamiliar with the spelling.
Why are Washyngton and Londen never treated this way?