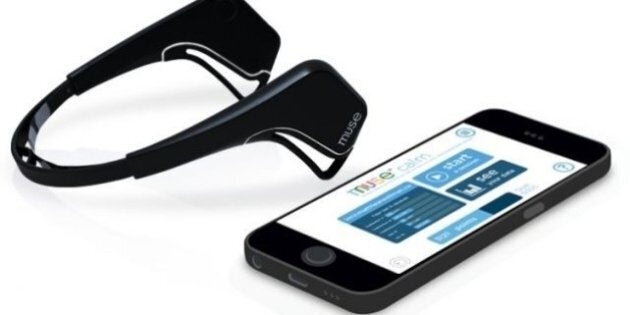 After earning nearly double its crowd-funding goal back in 2012, the Muse headband, a self-proclaimed brain-fitness tool for stress management, finished shipping its pre-orders October 12 and is now officially on the market. It's creating a frenzy of excitement from a consumer market hell-bent on achieving calm-on-command and is to be followed by a slew of upcoming products like it.
Founders of parent company InteraXon have applied electroencephalography (EEG) techniques to a home device, reinventing it under the term "brain sensing."
The headband ($299) connects to a smartphone via Bluetooth and indicates the user's mental state symbolically by means of the weather on its beach backdrop. From there, it's up to the user to beat the storm and bring on sunshine and blue skies using the power of his mind.
It's only one of a wave of mental health wearables, but it's a pioneer of the trend.
They just might have a good bet considering the Thync team member roster is packed with degrees from highly reputable institutions.
It can be pre-ordered for $499, to ship at the end of October. The company's other product, the Insight, offers five different EEG channels and interested parties can register to stay informed about its availability, which is estimated in early 2015.