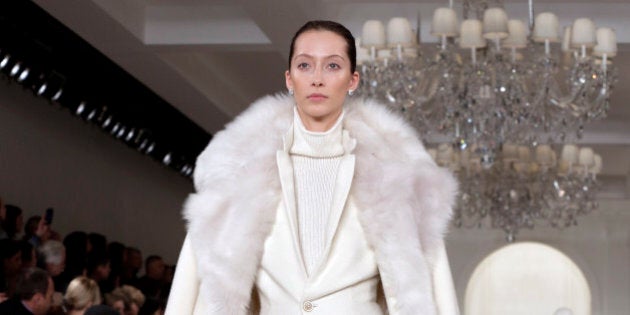 Step aside, fashion police: we make our own rules. Or, more specifically, we don't need your fashion rules thanks entirely to looks we've seen emerge and re-instate themselves over the past year (and particularly in the fall/winter 2014 collections).
Ultimately, what's most exciting about style now is that (almost literally) anything goes. Personal taste ranks above dos and don'ts, so in celebration of the way fashion is evolving, here are 10 rules we're more than thrilled to toss out the window.
1. Rule: Don't Wear White After Labour Day
Remember this rule? Of course you do. (We're born knowing.) But odds are, even before you were old enough to verbally challenge it, you knew it was more a myth than a commandment. And that myth got challenged this season with collections by Ralph Lauren and Alexander McQueen, who featured light and bright pieces that laugh in the face of Labour Day rules.
2. Rule: Don't Wear Denim With Denim
The first time we wore a denim shirt with jeans, it was 1996 and we felt alive. Since, most of us have maintained that mindset, rolling our eyes at the dismissal of the Canadian tuxedo and going on to brazenly pair oversize denim tops with fitted denim bottoms and the like—or, making like New Balance, and donning denim even on our feet. It's a comfortable and practical fabric, people. What do you want from us?
3. Rule: Don't Mix And Match Prints
The style world must've once ruled with fear since so many of us were worried about mixing and matching prints, once upon a time. Fortunately, this season is another testament to colour and pattern experimentation, with shows like Burberry Prorsum's pairing bright, patterned bags with very differently bright, patterned dresses. Dare to dream, people—style is basically mistake-proof.
"Less is more" is a great rule that applies to things like sugar, fried foods, coin collections, pairs of shoes, and music volume in your apartment on a weeknight. But jewelry? Layers? Colour? Accessories? Load up. Look to writers like Leandra Medine (the Man Repeller) and icons like Iris Apfel who understand that the best way to show off a piece you love is to wear it...with other pieces you love. (All of the pieces! As many as you can wear without falling down.)
5. Rule: Dress For The Job You Want, Not The Job You Have
We're currently in the midst of an economic and social climate where "typical" jobs are becoming less available, so we're just making up our own. (Experts have said that in ten years the most popular jobs will be ones that haven't been invented yet.) What this says about style: dress for yourself. Dress in a way that makes you feel powerful, comfortable, and in control. Sure, there are some dress codes you'll have to abide by (particularly if you wear a uniform), but if not? Use your imagination: mix colours, prints, graphics fearlessly and create your own uniform.
6. Rule: Don't Mix Gold And Silver Jewelry
Black is anything but basic, and you know that already. But just in case, let us remind you that the shade can be everything from practical, to flattering, to glamourous, to professional, to, well, "edgy." (Even though that word should be stricken from the record for the next 15 years.) Balmain, Valentino, and Viktor & Rolf all featured black boldly—while chains have delivered new lines of leather bombers, leather pants, and even leather leggings over the last couple months. We should all be so lucky to be called "goth."
8. Rule: Don't Wear Socks And Sandals
Controversial, but accurate: this is a socks-and-sandals safe zone. Rochas and Ralph Lauren did it on the runway, and even more recently, Teva committed to socks and sandals so hard that they put out an official lookbook. Our only stipulation? Avoid this trend during the winter—nobody wants frostbite after a few blocks spent schlepping in snow.
9. Rule: Cover Your Midriff
You wish, teachers and dress code enforcers of our youth! For the last year, the crop top has become a staple—a wearable piece for any body (not just anybody with a "perfect" figure—because that's actually not a thing). This season, Honor brought crop tops back in a formal way with high-waisted floor length skirts, while Jeremy Scott kept his collection bright, fun, and vibrant with graphic styles and matching skirts. Set that midriff free. (If, of course, you're comfortable doing so.)
10. Rule: Backpacks Are For Students Only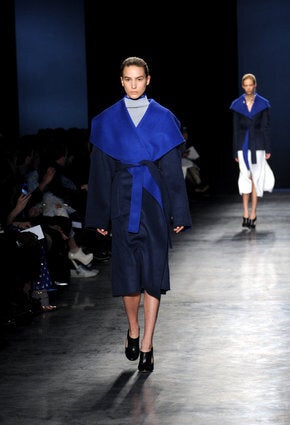 Fall 2014 Fashion Trends You Need Now