Canadians gathered in Hamilton, and across the country, Tuesday to honour the sacrifice of a fallen son.
Cpl. Nathan Cirillo was murdered last week while standing guard at the Tomb of the Unknown Soldier in Ottawa. His killing has led to an outpouring of tributes across the nation.
Today, his family, friends and neighbours are coming together to say a final goodbye at his funeral.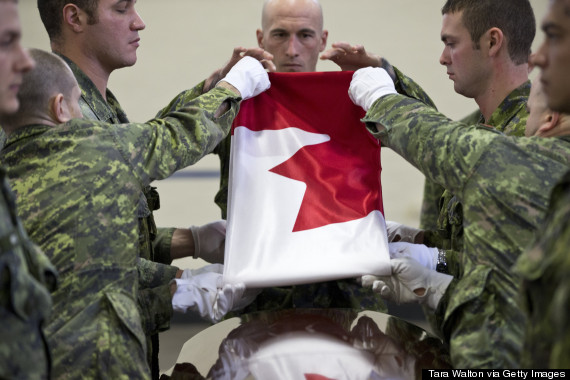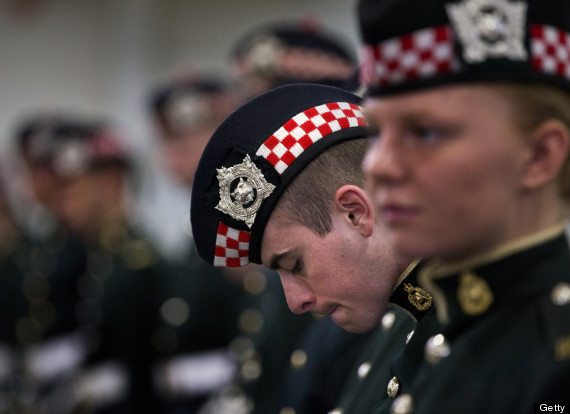 Nathan Cirillo's fellow reservists rehearse for his funeral. (Tara Walton/Toronto Star via Getty Images)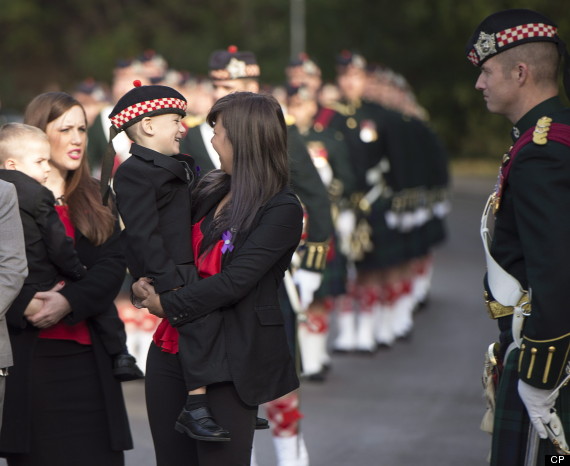 Nathan Cirillo's son Marcus wears a Highlander cap during the funeral procession for his father in Hamilton, Ont. on Tuesday, October 28, 2014. (THE CANADIAN PRESS/Frank Gunn)
Cpl. Nathan Cirillo's son waving the Canada flag during the procession #hamont #canadastrong pic.twitter.com/itbJyGVAIp

— Alyssa Lai (@alyssa_lai) October 28, 2014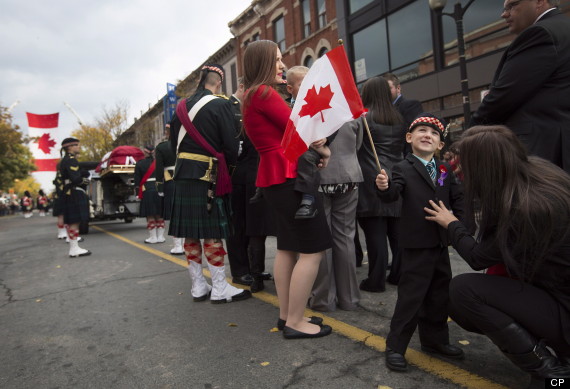 (THE CANADIAN PRESS/Frank Gunn)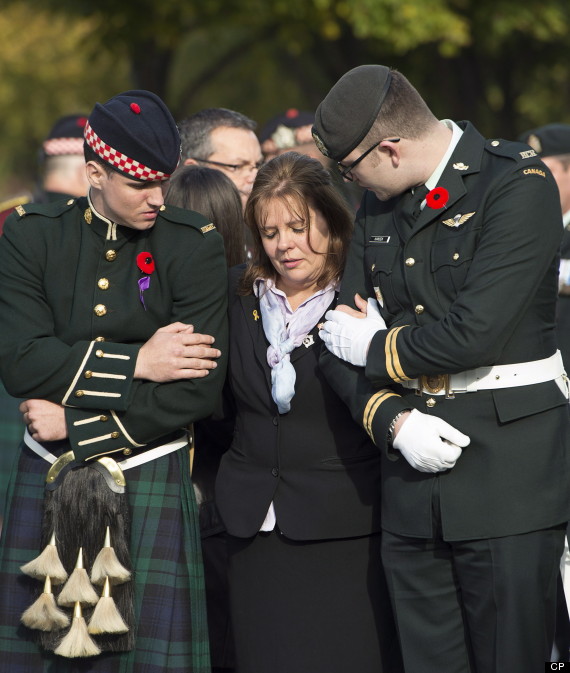 Kathy Cirillo is comforted by soldiers during the funeral procession for her son Cpl. Nathan Cirillo in Hamilton on Tuesday, October 28, 2014. (THE CANADIAN PRESS/Frank Gunn)

Kathy Cirillo looks up as Mitchell bomber does fly-past during Cpl. Nathan Cirillo's funeral in #HamOnt Tuesday pic.twitter.com/lUdXhzHUcw

— Scott Gardner (@Scottatthespec) October 28, 2014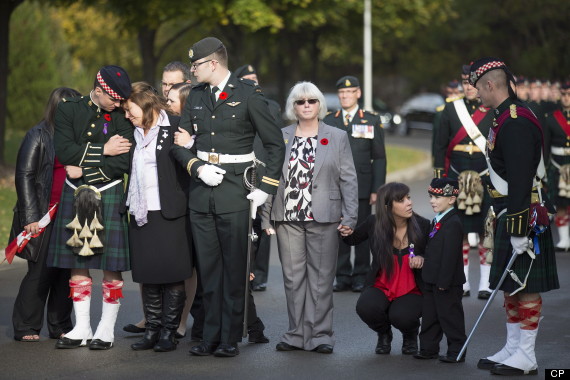 The mother of Nathan Cirillo lays her head on a soldier's shoulder during a pause in the escort of his body through the streets toward his funeral service in Hamilton, Ont., on Tuesday, October 28, 2014. HIs son Nathan, 5, is at right, with his aunt, Natasha Cirillo, bent down. (THE CANADIAN PRESS/Peter Power)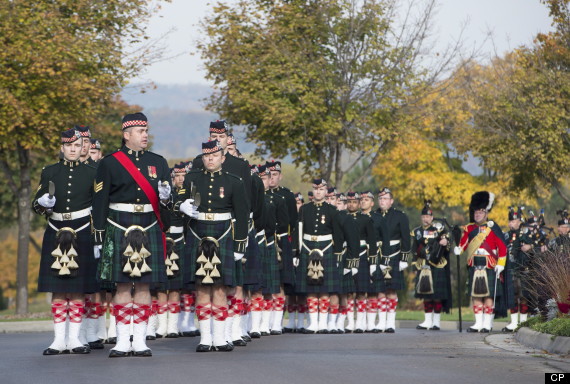 The Argyll and Sutherland Highlanders Regiment parade during the funeral procession of Cpl. Nathan Cirillo in Toronto on Tuesday October 28, 2014. (THE CANADIAN PRESS/Frank Gunn)

With dogs be loved, friends Nathan #Cirillo gather before his funeral. pic.twitter.com/GlNMyBjcof

— David Common (@davidcommon) October 28, 2014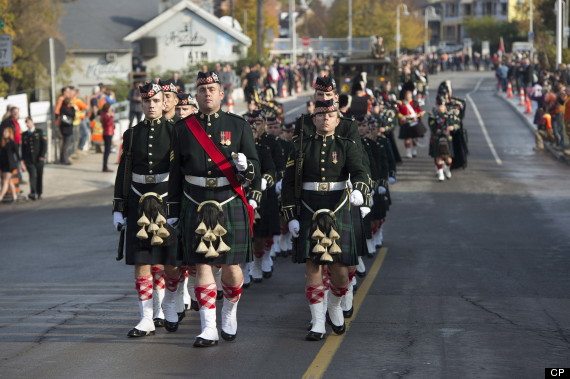 Members of the Argyll and Sutherland Highlanders Regiment marches during the funeral procession of Cpl. Nathan Cirillo in Hamilton, Ont. on Tuesday October 28, 2014. (THE CANADIAN PRESS/Frank Gunn)

Firefighters salute Cpl. Cirillo. pic.twitter.com/W8LhpJACd9

— Stephen Maher (@stphnmaher) October 28, 2014
View from catwalk in First Ontario Place, where people gathered to watch funeral. pic.twitter.com/rkRFseH8cc

— Stephen Maher (@stphnmaher) October 28, 2014
October 28, 2014
Amazing, emotional scene downtown right now. Proud of the support shown here today for Cpl. Nathan Cirillo. #HamOnt pic.twitter.com/yrn4qx8DyH

— Greg Tedesco (@greg_tedesco) October 28, 2014
A sense of loss this morning at Cirillo home Bell Ave. @TheSpec #HamOnt #highwayofheroes @raisethehammer pic.twitter.com/D4VW2mqFqX

— Gary Yokoyama (@Yokoatthespec) October 26, 2014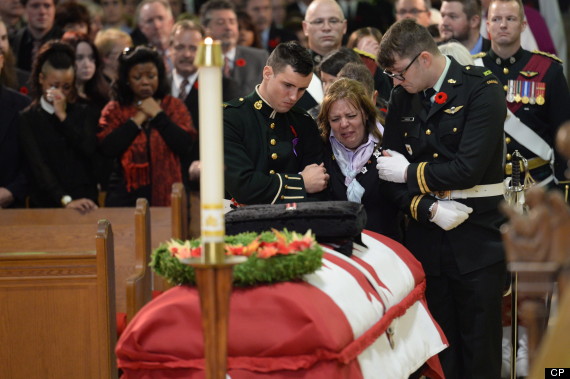 Kathy Cirillo is comforted in front of the coffin of her son Cpl. Nathan Cirillo at his regimental funeral service in Hamilton, Ont., on Tuesday, October 28, 2014. (THE CANADIAN PRESS/Nathan Denette)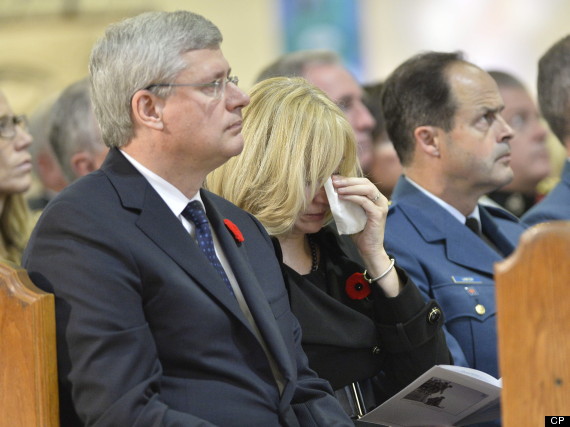 Prime Minister Stephen Harper, left, and Laureen Harper attend the regimental funeral service for Cpl. Nathan Cirillo in Hamilton, Ont., on Tuesday, October 28, 2014. (THE CANADIAN PRESS/Nathan Denette)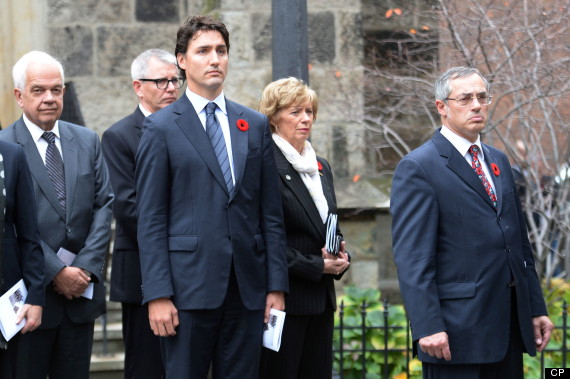 Liberal Leader Justin Trudeau, centre, and Treasury Board President Tony Clement, right, attend the regimental funeral service for Cpl. Nathan Cirillo, in Hamilton, Ont., on Tuesday, October 28, 2014. (THE CANADIAN PRESS/Nathan Denette)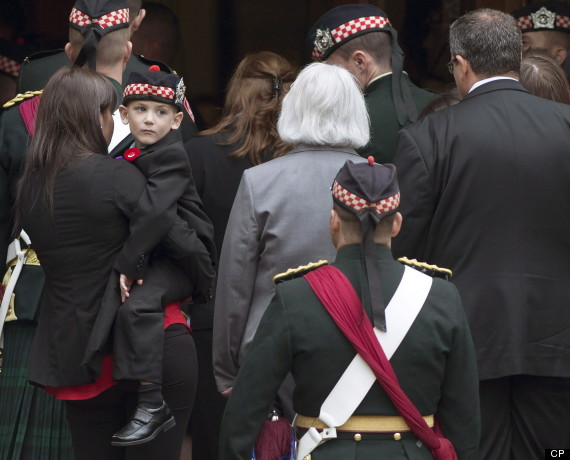 (THE CANADIAN PRESS/Nathan Denette)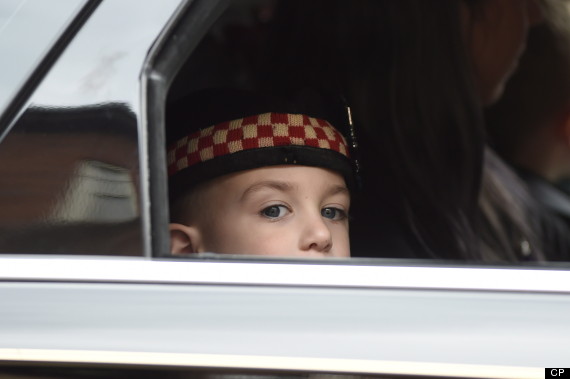 (THE CANADIAN PRESS/Frank Gunn)

Related on HuffPost: