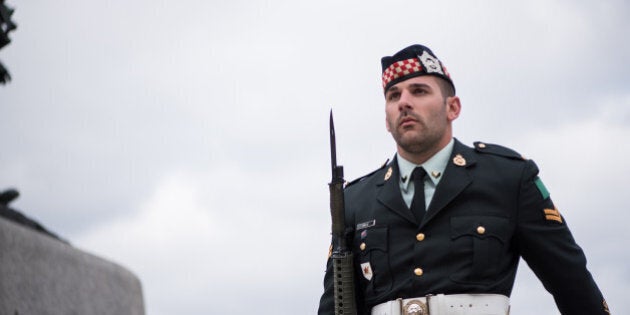 The writer was criticized heavily on social media Friday after penning a column in which he questioned Cirillo's status as a hero.
The 24-year-old reservist from the Hamilton-based Argyll and Sutherland Highlanders was killed after gunman Michael Zehaf-Bibeau shot him as he guarded the National War Memorial last week.
Zehaf-Bibeau was later killed by Parliament Hill security after he entered Centre Block.
Canadians gathered around the Highway of Heroes as Cirillo's body was taken to Hamilton last Friday, where thousands paid respects during his funeral.
In the column, Dreschel asked why Cirillo had achieved what he called "secular canonization."
"The honour is accrued by performing brave deeds and daring feats — risking or sacrificing your life to save others, valiantly defending a position, boldly destroying the enemy.

"Cirillo may have possessed those heroic qualities and might even have had a chance to display them had he lived. But he didn't. He died unprepared and unarmed, the unlucky victim of a seemingly deranged killer who was himself gunned down after storming Parliament.

"And yet the random nature of Cirillo's death has in no way impeded his posthumous promotion to hero in headlines, articles, comments, tweets and even a local billboard."
Meanwhile, some tweets accused him of being disrespectful, while others said that serving one's country is enough to qualify you as a hero.
Others supported Dreschel.
For his part, Dreschel re-tweeted several tweets which expressed opinions both for and against him.
Responding to the criticism, the columnist said that his piece was "not only my opinion, it reflects the views of many people who may be reluctant to speak up."
Spectator editor-in-chief Paul Berton, meanwhile, said he understood why readers were offended, but added a newspaper "cannot suppress opinions just because we may not agree with them."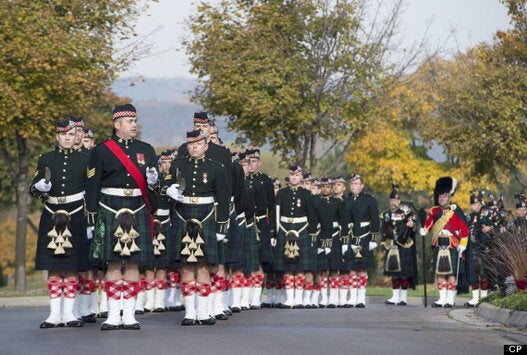 In Pictures: Nathan Cirillo's Funeral