Independence has its benefits.
On Friday, Alberta MP Brent Rathgeber took to Twitter to wish followers a Happy Halloween and show that he dressed up as a former colleague — suspended Senator Mike Duffy.
Rathgeber is shown holding a giant government cheque for $90,000. That's the same amount of money Nigel Wright, former chief of staff Prime Minister Stephen Harper, gave to Duffy from his personal funds to reimburse the Senate for disputed living expenses.
The memo on the cheque reads "housing expenses."
Rathgeber committed enough to the gag to dye his eyebrows white and wear what looks like a swim cap to look bald.
Rathgeber quit the Tory caucus in June, 2013, over what he saw as a lack of transparency in the Harper government and overstepping by staffers in the Prime Minister's Office. He said at the time that Tory MPs "vote like trained seals" according to the wishes of the PMO, a body he says is accountable to no one.
In a blog post after he quit the party, Rathgeber said the way the PMO "operates so opaquely and routinely without supervision" is "the genesis of the current Duffy/Wright debacle."
Rathgeber, who will run again as an Independent in 2015, has also written a book lamenting "the decline of parliamentary democracy" in Canada.
In July, the RCMP laid 31 charges of fraud, bribery, and breach of trust against Duffy, who quit the Tory caucus in May, 2013. The RCMP announced in April that Wright would not be charged for cutting the senator the infamous cheque.
Duffy's trial will begin on April 7.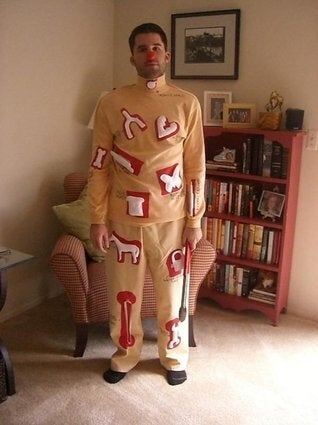 20 Last Minute Halloween Costumes