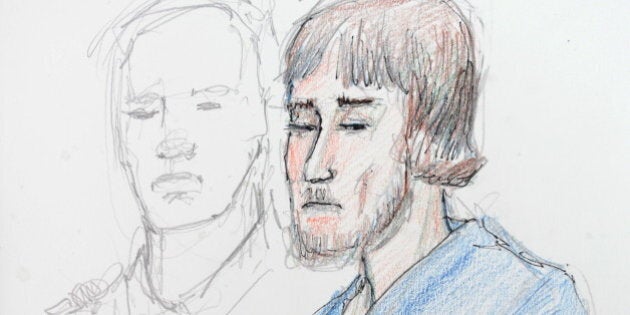 Justin Bourque will find out today how long he will spend in prison when his sentence for killing three RCMP officers and wounding two others is handed down in a Moncton, N.B., courtroom.
UPDATE: Moncton shooter Justin Bourque has been handed five concurrent life sentences for killing three RCMP officers and wounding two others.
Bourque, 24, has pleaded guilty to three counts of first-degree murder and two counts of attempted murder of RCMP officers.
Court of Queen's Bench Chief Justice David Smith will hand down Bourque's sentence after 2 p.m.
The Crown wants Bourque to get three consecutive life sentences, which would mean he would not be eligible for parole until he was 99 years old.
The Crown prosecutor said the court had to deliver a stiff penalty to "denounce these crimes," and that denunciation must be paramount over rehabilitation.
David Lutz, Bourque's defence lawyer, is asking that his client be granted an opportunity to be apply for parole after 50 years.
Under 2011 changes to the law affecting multiple murderers, a judge has the ability to hand down consecutive sentences.
The first case in which the revised law was used in sentencing was in 2013, when Travis Baumgartner received a 40-year sentence for killing three of his security company co-workers during a robbery
Bourque's sentencing hearing lasted for two days earlier this week.
The court has heard chilling details about what happened that night and how the officers died.
On June 4, Bourque went on a shooting rampage that resulted in a 28-hour lockdown in the northern section of the city.
The RCMP officers who were killed on June 4 were:
- Const. Douglas James Larche, 40, from Saint John.
- Const. Dave Joseph Ross, 32, from Victoriaville, Que.
- Const. Fabrice Georges Gevaudan, 45, originally from Boulogne-Billancourt, France.
The RCMP officers who were wounded on June 4 were:
- Const. Éric Stéphane J. Dubois.
- Const. Marie Darlene Goguen.
During the sentencing hearing, the Crown prosecutor described all the weapons that Bourque had with him during the shootings.
The RCMP recovered two firearms, an M305 .308 rifle and Mossberg 500 12-gauge shotgun, as well as a gas mask, a pair of binoculars, two knives and survival harness.
The court also saw a video of Bourque in a long, rambling interview with police. He was relaxed, comfortable and at times cocky, bragging about his shooting skills.
The video was taken just a couple of hours after Bourque's arrest.
At the end of the sentencing hearing, however, Bourque spoke to the families of the slain officers.
He said even though it was useless, he wanted to tell the families he's sorry.
Through tears, Bourque apologized to the families and said he took the "easy way out." He said the killings are something, "I'm going to have to live with the rest of my life.
"I am sorry. There's nothing else to say," Bourque said.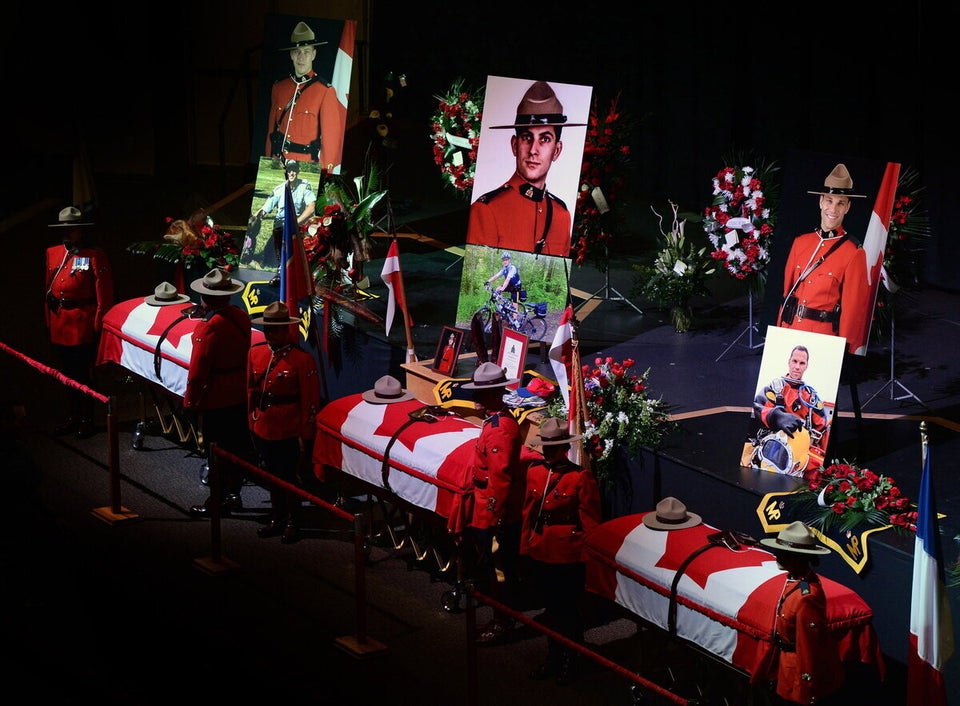 Moncton Remembers The Fallen