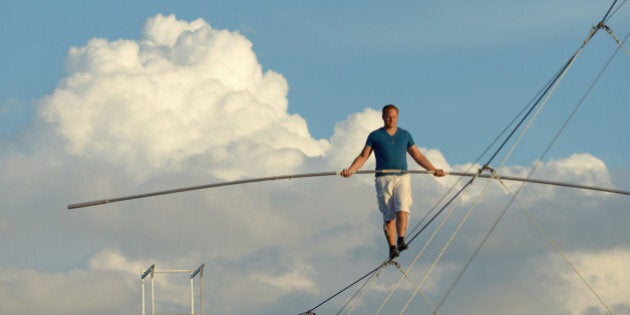 When you hold eight Guinness world records and are the only person to walk across Niagara Falls and the Grand Canyon on a tightrope, how do you up your game and keep people tuned in?
If you're Nik Wallenda, you do it literally, by putting your rope on an incline. And then (because why not?) you do a second walk -- blindfolded. Those are the two feats the tightrope walker hopes to accomplish in Chicago on November 2, when he traverses the Windy City's skies at a near-16-degree angle before attempting to go from one marina tower to another while blindfolded.
The 35-year-old likens it to being a professional athlete; he wants to accomplish it all before going out (in this case literally) on top.
"I look at these incredible athletes that do these amazing things and a lot of them will retire and come back, and they won't be the same when they come back," he said during an international press conference. "I hope that I do know the right timing, but a lot of it has to do with whether I'm physically in that condition. When is the right time to stop?"
It's a hard question for the performer to answer. Walking the rope has always been a way of life for his family, dating all the way back to his great-grandfather, Karl Wallenda, who died in 1978 when he fell off his wire in San Juan, Puerto Rico.
"The reason he fell to the ground had nothing to do with the winds," explained Wallenda, who also noted that anything past 50 km./hr. would make him cancel the upcoming stunt. "It had to do with his strength. He was 73 years old and didn't have the physical ability to hold on to that wire anymore."
At this point in his career, Wallenda is more concerned about the mental aspect of it all. Despite comparing the end of his career to an athlete's, he claims to have none of the same superstitious routines many pros reportedly follow on game day itself.
"It really comes down to my faith and training," he told The Huffington Post Canada. "It's all about meditating and preparing properly mentally for what I do. Believe it or not, at this point in my career, because I've walked the wire so long, it's more mental than physical; and I have to keep control of my thoughts and my mind even leading up to the event ... It's really about prayer, which I guess is a form of meditation, but my form of meditation is talking to God."
At this point in his career, Wallenda's stunts have also become a way of life for his family. He revealed that while his three children have walked the wire, none of them have shown an interest in pursuing it further. In fact, they'll probably be playing video games while he attempts to make history yet again on Nov. 2.
"It's something that is normal for them," he explained. "Often when I'm doing these walks, they are playing video games, or texting their friends or goofing off, because it's what Dad does. And ever since they've been in a stroller, they've seen Dad do it, so it is life."
As for Wallenda's wife Erendira (also a performer), she'll be completely tuned in -- every excruciating step of the way.
"I have in-ear monitors that she's tapped into too, so I can actually talk to her as I'm walking," he said. "She hears everything that I'm saying; and I'm also talking to my father the entire time as he's coaching me along."
Nick Wallenda continues his high-wire antics on Sunday, Nov. 2, when he heads to the Windy City for his live walk at 7 p.m. ET/4 p.m. PT on Discovery.