Getty Images
Don't despair, Ontarians: a polar vortex isn't expected to make this winter as bad as last year's.
While the Farmer's Almanac predicted central Canada would see an atrocious winter, Environment Canada meteorologist David Phillips doesn't think there's much to worry about.
There will be a polar vortex this year, but Phillips told Global News he doesn't expect it to stay around as long as it did last winter.
"Last year was a one-off," he said. "It was one of these things that was an outlier. They'll occur again. But the chances of them occurring again are very low."
A polar vortex is a pocket of chilly air, usually the coldest in the Northern hemisphere, says Accuweather.
It normally sits in polar regions but last year one came south and stuck around, creating the coldest November to March period Canadians had seen since Environment Canada started keeping records, The Toronto Star reported.
"The polar vortex moves around at times during the course of the winter, but rarely do you see it get pushed this far south," Accuweather meteorologist Brett Anderson said in January.
Temperatures in Ontario are expected to be near normal this winter, or maybe a couple of degrees below, the Star said.
And though Environment Canada hasn't yet released its official winter forecast (that happens Dec. 1), Phillips told the newspaper that residents can expect to see "more melting, a few more thaws and not that ice-age-cometh look and feel" — though he admitted he "wouldn't bet the family farm or the fishing fleet on it."
Meanwhile, Accuweather's winter forecast shows regions from the Prairies to Ontario will be "cold, but not too harsh" this winter.
Which is more than can be said for Atlantic Canada, a region forecasted to see "heavy snow, rain and strong winds throughout the season."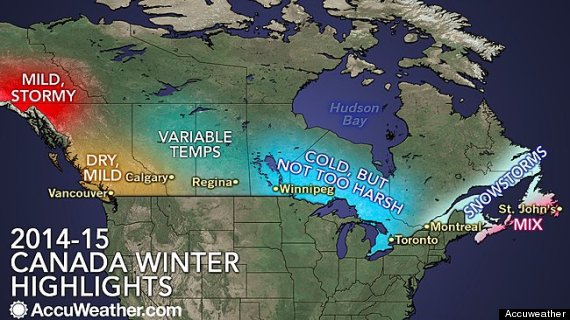 Western Canada is primed to see a dry, mild winter. Snowfall should make for great skiing conditions early on in the season in British Columbia, but the weather is expected to be drier for the rest of the colder months.
Areas such as southern and western Alberta could enjoy less snowfall and winter temperatures that are slightly higher than normal, said Accuweather. They may also be windier.
Average conditions are being predicted for the central Prairies.
Like Us On Facebook

Follow Us On Twitter

ALSO ON HUFFPOST: