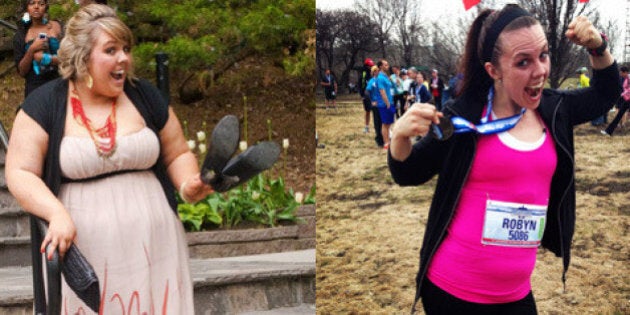 By The Numbers: 312 at my heaviest, 190 pounds now, for a total weight loss of 122 pounds.
The Weight Gain: I was always a 'big girl,' but the first time I can remember recognizing my size was in Grade 4 or 5, when my class wrote autobiographies that included our weight, mine being 127 lbs. Our autobiographies hung on the classroom wall, which is when I really noticed that my weight set me apart from my peers.
The weight just kept creeping up throughout my life, but during university and college in particular. My life at that time included lots of beer and greasy food, coupled with virtually no physical activity. Plus, after college I started working at a desk and living on my own, which led to a lot of mindless snacking, cheap processed food, and excuses to avoid exercise.
Final Straw: I hated taking a seat on the streetcar or subway knowing I was taking up more room than I should, and would feel bad for the person that would be forced to sit beside me. I also avoided roller coasters, airplanes and plastic lawn chairs, and would always 'cough' at the top of stairs to hide that I was actually out of breath.
The final straw was a post-New Year's resolution. Things just kind of clicked for me. I knew it was time to turn things around and I finally felt ready to leave my comfort zone. I was very obese, and was making incredibly unhealthy decisions. I thought I was happy and comfortable with who I was at 312 pounds — I loved my job, had an amazing group of friends and family — but I soon realized that being healthier made me even happier.
Story Continues Below. Check out more of our inspiring weight loss stories: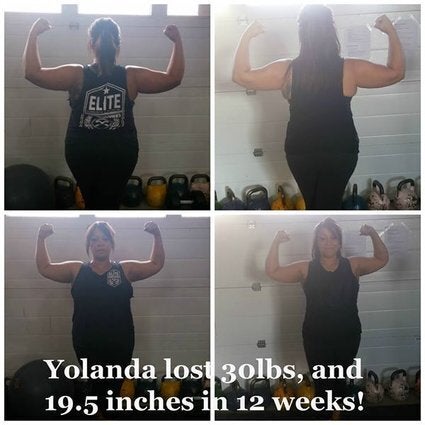 Lost It: Weight Loss Success Stories
The Plan of Attack: In January 2013, I set a goal to lose 25 pounds by my 25th birthday in August. That averaged out to a reasonable one pound a week. I cut out junk food and cream in my coffee cold turkey, and started to go to my local YMCA about three times a week. I also forced myself to step on the scale that was collecting dust under my bed (I had to know what weight I was working with, no matter how brutal the truth was).
I tracked what I was eating using MyFitnessPal, and purposely told all my friends, family and coworkers about my plan so they could both cheer me on and check in with me. I also can't stress how important it was that I educated myself — from blogs to books, I read a lot about fitness and nutrition.
In the first year, I lost approximately 110 pounds, give or take.
The Exercise Factor: I've been a member at the YMCA of Greater Toronto since January 2012, but only started going regularly in January 2013. My fitness was non-existent prior to that — I avoided stairs and took public transit when I could have easily walked.
After a few minutes on the treadmill after my first day back at the gym, I was out of breath and wondering what I was getting myself into. But then someone came up to me and said "Way to go. I know it must not be easy, but you're doing great." If that person had faith that I could do this, then maybe I could too.
My fitness goals focused around running — something I avoided for my entire life. I signed up for a fun 5-km run for June 2013. I was slow, sloppy and out of breath at first, but over time I saw mental and physical progress. I soon began to love running, and finished two 10-kms and a 15-km in 2014.
Once I was more comfortable with my new routine and lost about 40 pounds, I hired a personal trainer at the Y named Dominique Pasqual, who I still see once a week. She helps keep me focused and pushes me further than I would push on my own. I owe a lot of my newfound mental, emotional and physical strength to both the Y and Dominique.
Now, three days a week I'm up at 5:10 a.m. to head to the YMCA for Bootcamp or CycleFit classes. Plus I have my weekly personal training session every Tuesday night, where I add in some cardio afterwards. Then I include some yoga, a YMCA Barre class, or a couple of runs on top whenever I can.
The Food Element: I am a very goal-oriented person, so I knew looking at calories would work well for me. That being said, knowing the importance of protein and fibre were also essential, so I started paying attention to labels, looking at ingredients, nutritional values and serving sizes.
I started to eat a lot more fresh fruit, vegetables, and as many natural foods as I could. I signed up for an organic food delivery service so I would always have easy access to healthy fruits and vegetables. And lean meats and chili were regulars in my slow cooker.
The hardest adjustment was portion control and not giving into mindless emotional eating. I started by investing in a kitchen scale and a good set of measuring spoons/cups. It helped me understand how large and unnecessary my portion sizes were before. I also started drinking a lot more tea and water if I was feeling hungry or bored, or I would cook up something healthy that was large in volume or would fulfill my need to 'snack,' but was still nutritious (like kale chips or roasted chickpeas).
I gave up heavily processed foods and deep-fried foods, sweets (from chocolate to cake) and overly fatty foods. But it's all about balance. If I'm going to have a cookie, I have one, not 10. I realized that (healthy) fats and carbs all have a role, but it's about keeping them in check, not removing them completely.
The Current Day-to-Day: I work out most days, which once used to be a chore but has now become a habit. I feel recharged and more energetic when I've made time for a workout. Healthy eating, food prep and having healthy snacks on hand are important to ensure that I don't slip into old habits. I'm mostly desk-bound at work, so things like going on lunch-time walks, taking the stairs or fitting in a few more steps to reach my 10,000-steps-per-day goal are all new healthy habits that keep me sane and motivated.
I'm still tracking my food intake but not quite as rigidly as I may have once been. I wear my FitBit to keep me moving and try to keep myself accountable. I cook all my weekday meals during the weekend and keep junk food out of the house. I schedule in my workouts so I'm less likely to make excuses.
I wish I had started sooner, although I do believe that your head has to be in the right place before you can make any progress.
For people struggling with their weight, you should know that change doesn't come easily — far from it. Sure, when weight was disappearing at a rapid pace, it was amazing. But that rapid rate starts to disappear as you get fitter and closer to a healthy weight, which can be frustrating.
I have difficulty accepting that I'm not still 312 lbs. I still self-doubt, I still put myself down, and I still don't give myself enough credit. Old habits die hard, and I've had many off-the-wagon weeks over the past two years, but I remind myself why I started and how far I've come.
I know it's hard to take that first step, but you need to take it. Then take another step, and another.