Anti-pipeline protesters in B.C. are having a good laugh over energy giant Kinder Morgan's latest court argument: that activists' facial expressions could constitute assault.
Lawyer Bill Kaplan, who represents Kinder Morgan's Trans Mountain subsidiary, presented photographs of the protesters with facial expressions he said were malicious.
"One of the things I will argue is that is not only intimidation, but that is actually an assault,'' he said in B.C. Supreme Court on Wednesday "Some of the faces demonstrate the anger, and frankly, the violence demonstrated by some of the people.''
As Kaplan presented his evidence, supporters of the demonstrators in the packed gallery frequently burst into laughter and called out snide remarks.
And they continued on social media with the hashtag #KMFace, with even Vancouver's mayor getting in on the fun:
The Trans Mountain expansion would almost triple the capacity of its existing pipeline between Alberta and B.C. to 900,000 barrels of crude a day. The NEB granted approval for Trans Mountain work including geophysical mapping, drilling of bore holes, groundwater investigation and surveys of wildlife, soil, and vegetation.
The company says it wishes to fence off areas for the work and post safety signs, but alleges the protesters have threatened further confrontation if they go forward.
With files from The Canadian Press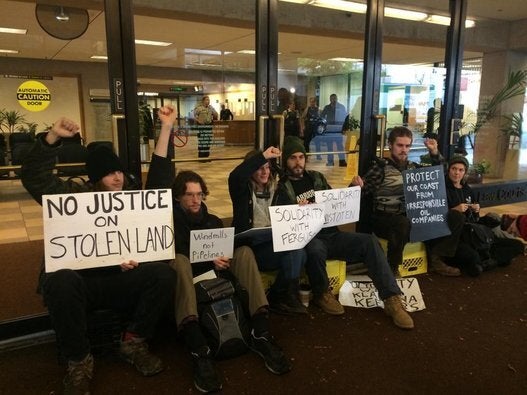 Kinder Morgan Pipeline Protest, Fall 2014