It may be one of the first dishes you learn how to make on your own, and probably one of the easiest. Whether you try something simple like a spaghetti and meatball dish or something heavier such as ricotta-stuffed manicotti, there really is a pasta for everyone.
While it may not always be the healthiest dinner option (remember, moderation is important), rice, whole wheat, and even the corn pasta varieties contain fewer calories and are made with less sugar and sodium.
And since all varieties have different nutritional values, it's hard to group pasta in a singular category. About 100 grams of dried white macaroni, for example, has about 371 calories, 13 grams of protein and seven per cent of your daily iron intake.
Here's what you need to buy this week, while the other necessary ingredients (like pepper, salt, and oils) are likely already in your kitchen.
Varied pastas (whole wheat, rice, white, etc.)
Broccoli heads
Pesto
Parmesan
Boneless chicken
Goat cheese
Cherry tomatoes
Asparagus
Cremini mushroom
Shrimp
Garlic
Fat-free chicken broth
White wine
Zucchini
Squash
Onion
Greek yogurt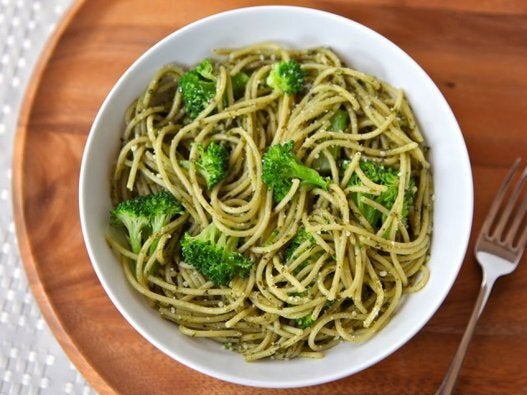 Pack It: Healthy Pasta Recipes