Hockey fans don't feel they're seeing enough of one-half of "Coach's Corner" — and it may not be the guy you expect.
A new poll from Angus Reid shows that 74 per cent of "Hockey Night in Canada" viewers feel the new, reduced role for Ron MacLean — not Don Cherry — has hurt the show's brand after it moved from CBC to Rogers Sportsnet.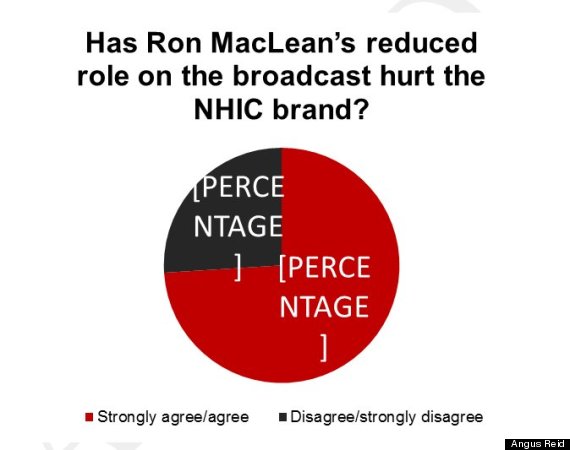 Forty-eight percent of viewers say they're seeing too little of MacLean, while 45 percent say they're seeing just enough of him. A paltry seven per cent say they're seeing him "too much."
By contrast, 38 percent of respondents say they're seeing the right amount of Cherry, while 36 percent say they're seeing too little. Over a quarter say they're seeing too much of him.
"Hockey Night in Canada" shook up its personnel following the move to Sportsnet, hiring George "Strombo" Stroumboulopoulos as its new host, with diminished roles for both MacLean and Cherry.
MacLean, while still appearing on "Coach's Corner" on Saturday, now hosts "Hometown Hockey" on Sunday nights, appearing in different communities every week, The Globe and Mail reports.
MacLean admitted earlier this year that his relationship with NHL commissioner Gary Bettman might have had an impact on his new, lesser role. The two were known to clash over labour issues — MacLean often sided with NHL players despite Bettman having heavy influence over "Hockey Night in Canada."
"That pressure was always there to acquiesce, to toe the company line and in some cases that might have been the league line," MacLean told the newspaper.
The poll comes just days after Cherry casually ripped the new arrangement in a "Coach's Corner" segment on Saturday, saying, "I gotta talk fast, boy. You gotta pay attention to me, because I don't get much time."
While viewers are willing to give the new arrangement a chance — 65 percent said the chemistry between the three is "coming along" — they clearly feel something is missing.
Like Us On Facebook

Follow Us On Twitter

ALSO ON HUFFPOST: