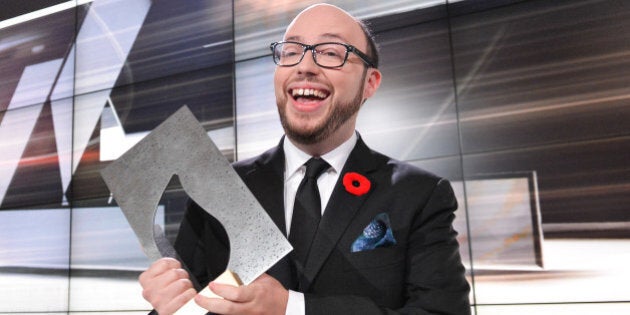 Sean Michaels of Montreal won the $100,000 Scotiabank Giller Prize for his debut novel "Us Conductors" on Monday, thanking those in writing and publishing who took a chance on him "when they had no reason to."
"As a newer writer, it's an unimaginable gift when one of those people who seems to live in the clouds reaches down with kind words," the 32-year-old said in his acceptance speech. "We need to do this more often."
The book — about the Russian-born inventor of the theremin instrument — was praised by jury members as making "music seem to sing from the pages of a novel."
The Scotland-born, Ottawa-raised author beat out titles by Miriam Toews of Toronto, David Bezmozgis of Toronto, Frances Itani of Ottawa, Edmonton native Padma Viswanathan and Montreal's Heather O'Neill.
His win was a bit of a surprise, considering Toews' "All My Puny Sorrows" was largely seen as a frontrunner for the Giller after strong sales and last week's Rogers Writers' Trust Fiction Prize victory.
"I feel like a whale who has found a whole city in his mouth," Micheals said in an articulate and humorous acceptance speech, in which he thanked his wife, publishers and fellow nominees, among others.
Later backstage, he described his Giller journey as "disorienting."
"Like the landscape kind of goes tilt and you're just kind of sliding downhill," said Michaels, noting his Giller win was a surprise to him. "When they called my name I kind of felt that again, where the whole world felt like a snowglobe everyone had suddenly shaken up."
"Us Conductors" (Random House Canada) is based on the life and loves of Lev Termen, the Russian-born inventor of the theremin, one of the first electronic musical instruments. Through flashbacks and correspondence, readers follow the scientist and spy from New York in the 1930s to the gulags of the Soviet Union under Stalin.
Michaels was the only first-time novelist on this year's short list. The music journalist also writes short stories and founded the pioneering MP3 blog Said the Gramophone.
"For me, that was really the most incredible thing of this whole experience, was meeting these other fantastic writers," he said. "As a first-time novelist, spending time in a room with these role models was really inspiring."
Born in Stirling, Scotland and raised in Ottawa, Michaels has written for the Guardian and McSweeney's and received two National Magazine Awards. He said he plans to use the Giller prize money to further his career as a writer, noting he is now attempting to write a second novel.
He admitted his journey a first-time novelist "has been very hard," partly because of a climate in which "publishers are very skittish about taking a big risk on a literary debut novel, let alone a debut book of short stories."
"Somehow I'm one of the people this year who managed to break through that," said Michaels. "But it's very hard and we need to do all that we can to celebrate the writers who aren't yet part of the establishment, because they're exciting, they're wonderful and they're really who we're going to be counting on five, 10, 50 years from now."
The Giller Prize was established in 1994 by businessman Jack Rabinovitch in honour of his late wife, literary journalist Doris Giller.
This year's jury members were Canadian author Shauna Singh Baldwin, British novelist Justin Cartwright, and American writer Francine Prose. They read 161 books submitted by 63 publishers.
The jury members said they decided on a winner Monday morning, noting the deliberations were "unanimous."
"It was extraordinary," said Cartwright. "I've been on other juries and I've never been on a unanimous jury before, and the reason really is, we had a terrific entry, I mean really, exceptionally good. That's why we had six (finalists) rather than five. We just couldn't make up our mind on five."
CBC-TV personality Rick Mercer hosted the glitzy Giller gala, which aired on the public broadcaster from the Ritz-Carlton in downtown Toronto. Presenters at the black-tie bash included filmmaker Deepa Mehta, writer Naomi Klein and actors Kim Coates, Yannick Bisson and Jessica Pare.
Mercer recently replaced former "Q" radio star Jian Ghomeshi as host of the event and stood by an earlier vow to steer clear of any talk of the scandal surrounding him, instead keeping the event fun and comical.
"Tonight we are here for one reason and one reason only, and that is to celebrate great Canadian fiction," Mercer said in his opening remarks. "That, and it's open bar."
Still, the allegations of abusive behaviour swirling around Ghomeshi (who has vowed to address the accusations head on) were not totally absent from the gala.
Michaels did not name the radio host but concluded his speech by saying "we've been reminded in recent months there are people in our little corner of culture who behave monstrously."
"We have to reckon with that and change it," he continued. "Each of us does. We must believe women and men too."
This year the Giller prize purse increased to $140,000, with $100,000 to the winner and $10,000 to each finalist. Organizers say that makes it the richest fiction prize in Canada. "Each nominee receives $10,000 — minus the $2 service fee if you aren't with Scotiabank," joked Mercer.
Mercer also noted the prize provides a huge sales boost to the winning author, a phenomenon known as the "Giller effect."
"Also, eight out of 10 previous winners report that when you win a Giller Prize, your in-laws will stop questioning what you're doing with your life," he quipped.
Guests at the star-studded bash dined on spice-crusted seared tuna, grilled tenderloin of beef, chocolate tart and french fries, which are a Giller tradition.
Lynn Coady of Edmonton won the prize last year for her short story collection "Hellgoing."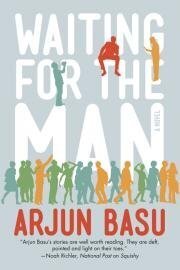 Giller Prize 2014 Longlist