We're all used to hearing about Alberta being the place in Canada to find work, but here's something we're not used to hearing: Ontario is leading job growth in the country, and by a mile.
It's a clear indicator that slumping oil prices, coupled with a recovery in the U.S. economy, are turning economic fortunes around in Canada. The West may not be the best for much longer.
Ontario, which has struggled for years to replace disappearing manufacturing jobs, created more than half of new jobs in Canada over the past two months, BMO economist Robert Kavcic noted this week. The province accounted for nearly 62,000 of the 117,000 jobs created.
That's quite a turnaround from earlier this year, when one city in Alberta (Edmonton) accounted for 40 per cent of all the job growth in the country.
StatsCan's latest labour force report, for October, showed Canada's unemployment rate falling to 6.5 per cent, the lowest rate since late 2008. And for the first time since 2006, Ontario's unemployment rate wasn't higher than the national average. It came in spot on at 6.5 per cent.
Kavcic put together this chart showing Ontario lagging the country for years, until just last month: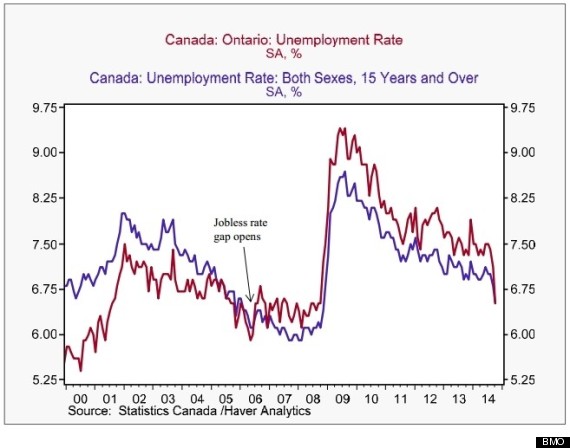 "Could this be an indication the gaping regional divide is in fact narrowing?" Kavcic asks. "Note that cities with the strongest job growth in Canada right now are not Calgary, Regina et al, but rather Guelph, Hamilton, Oshawa and Barrie — cities around the GTA with a manufacturing and trade presence."
Many economists have been predicting that, with the loonie declining in value as the U.S. economy expands, central Canada's manufacturing exporters will once again see robust growth.
That certainly bears out in the unemployment numbers, which show manufacturing employment up 2 per cent in Canada over the past year, compared to 1 per cent job growth for all sectors.
Meanwhile, with oil prices slumping in recent months, growth in the resources sector may not live up to expectations. Alberta is still creating jobs (2.6 per cent added over the past year) but the resources sector is not: Employment in forestry, fishing, mining, oil and gas is down 6.2 per cent over the past year, about 24,000 jobs gone.
One caveat: StatsCan's unemployment numbers are notoriously volatile, jumping pretty wildly from month to month. Of that 6.2-per-cent drop in resources jobs, 5.8 percentage points of it came just last month. Canada lost nearly 6 per cent of all resources jobs in a month? That seems a little odd. And let's hope that doesn't repeat next month, or resource-rich provinces are in trouble.
So is Ontario really leading job growth in Canada? We probably won't be able to say until we've got at least a few more monthly unemployment reports behind us, but as things stand, Canada's economy looks to be in for a dramatic reversal of fortune.
Also on HuffPost: