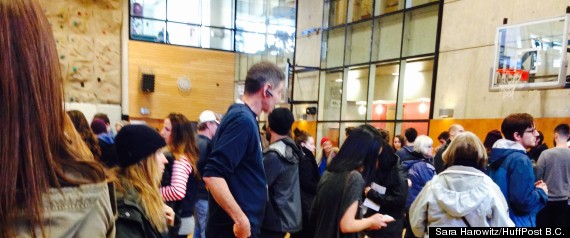 The voting day lineup at Mount Pleasant Community Centre.
Vancouver voters showed much more interest in civic politics this year, with turnout in Saturday's election topping 44 per cent.
Only about 35 per cent of eligible voters cast a ballot in 2011.
Some polling stations had to extend their hours after they ran out of ballots, resulting in voters waiting for them to be restocked, said a City of Vancouver news release on Saturday evening.
Voters reported long lineups of between 30 to 60 minutes at many locations across the city.
People are lined up down the block to vote at #WestEnd community centre #vanpoli pic.twitter.com/2i0J4Pzhu3

— Lisa Johnson (@lisasj) November 15, 2014
Voters reporting long lineups and a 1.5 hour long wait at Kitsilano Community Centre. #cbc pic.twitter.com/Fs9kZ1YOOr

— CBC British Columbia (@cbcnewsbc) November 15, 2014
The ballot count began shortly after 9 p.m. when the last poll closed.
Voter turnout in the 2011 civic election came in at just 34.6 per cent. But this campaign saw a heated mayoral race between two-term incumbent Vision Vancouver mayor Gregor Robertson and NPA challenger Kirk LaPointe, a newcomer to politics who was relatively unknown outside his colleagues in the news media.
In the end, Robertson was re-elected for a third term.
Robertson and his party entered the campaign the clear front-runners but polls suggested Robertson's lead had waned in the final weeks of the campaign. It turned increasingly ugly as LaPointe accused the mayor of corruption and Robertson, in turn, filed a defamation lawsuit.
An unprompted apology
No clear ballot issue emerged during the campaign, which instead focused on the perception that Robertson has spent six years implementing policies on issues such as social housing, density, and bike lanes without consulting residents or listening to their concerns.
Robertson responded to those complaints during an all candidates' debate this past Wednesday, using the opening question to deliver an unprompted apology to voters.
"When I haven't met your expectations, I am sorry," said Robertson. "And I know that if I am re-elected again, and honoured to have that position going forward, that I can do better."
Robertson also used the debate to make the case for strategic voting, urging supporters of left-leaning third-place party the Coalition of Progressive Electors (COPE) to vote for him to keep LaPointe out of office.
LaPointe cast Robertson as a left-wing ideologue who routinely ignored residents' concerns, particularly when it came to bike lanes and development.
With files from The Canadian Press
RELATED ON HUFFPOST: