With the holiday season starting to ramp up, ugly Christmas sweaters are coming back in style — not just at festive parties, but also in sports arenas.
Sports retailers are stocked with ugly NHL and NFL sweaters, allowing fans represent their favourite teams all the while looking festive over the holidays.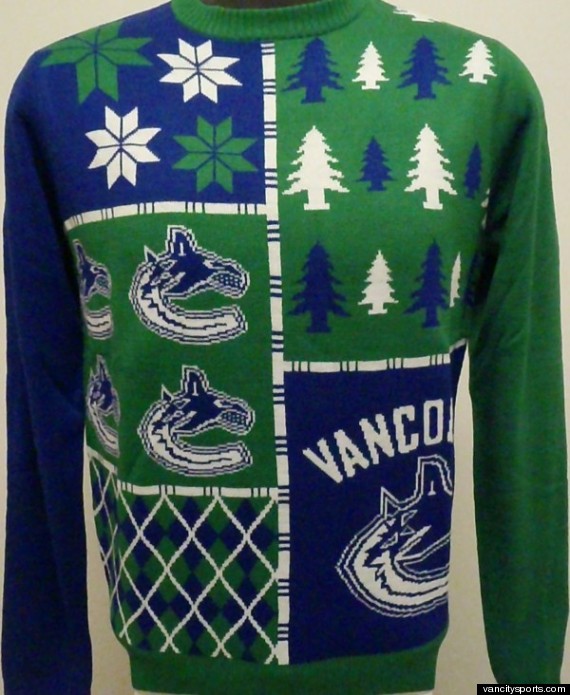 The sweaters are the "number one selling item" for Vancity Sports, manager John Czvelka told The Huffington Post B.C. in an interview. Czelka said that sweater sales are "through the roof" and that compared to the traditional hockey jersey, they are selling three to one.
Vancity Sports' sales were down 70 per cent — that is, until the sweaters were brought in. The store sold over 400 sweaters in the first three weeks of their availability, Cvzelka said. The store even had to open on Remembrance Day to accommodate excited customers — something they never had to do in the past.
Cvzelka had a feeling the ugly sweaters were going to be popular, so he "booked extremely heavy" knowing they were "going to be a hit."
Despite his preparedness, the Canucks sweater is already sold out, and Czvelka said he already has a waiting list for that includes over 70 people. He is not sure how many sweaters he will receive in the next shipment, but he expects there will only be around 100, making them an especially hot commodity. Montreal Canadiens and Seattle Seahawks sweaters are also selling well, he added.
Cvzelka believes the sweater's versatility makes it a great purchase for sports fans, and with the price tag being a fraction of a real jersey, "it's a good deal," he said. (The price of a sweater is $69.99, while regular jerseys range from $129.99 to $199.99.)
Still, not all Canucks fans are heading to the store to buy one. Caroline Lubas said the sweaters are "cute for Christmas" but doesn't believe they hold "a place in sports." She thinks they are "just another way for sports teams to make money." When asked whether she would buy one herself, Lubas said she would "rather spend the money on a real jersey."
Another Canucks fan, Cindy Le, thinks the sweaters are "pretty fitting" for a team that has been "struggling this season due to unfortunate past events" (namely, the loss of players Roberto Luongo, Cory Schneider, and Ryan Kesler). She hasn't purchased an ugly sweater, but considered it earlier this season.
Would you buy one? Let us know in the comments.
Like Us On Facebook

Follow Us On Twitter
EARLIER ON HUFFPOST: