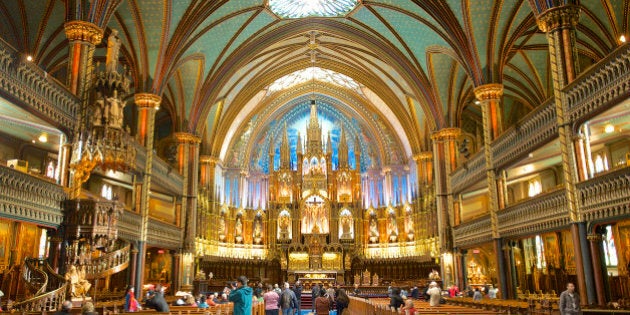 Even though Canada is poised to celebrate its 150th birthday in 2017, it's still a baby compared to other countries. We just don't have the same bounty of historic buildings as, say, Europe, but Canada does boast some stellar examples featuring savvy design and strong roots to our past. Here are a few highlights of this country's finest historic buildings still standing tall and worth a visit: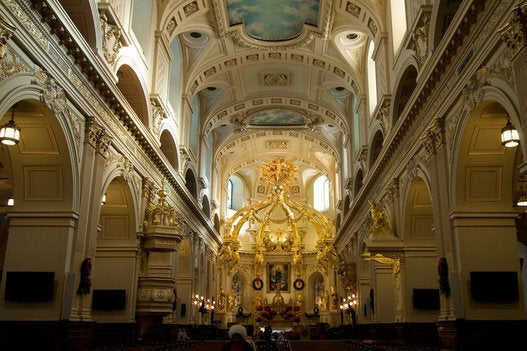 Built To Last: Generations-Old Buildings That Stand Tall Across Canada
Cathedral-Basilica of Notre-Dame de Quebec
It's not surprising that one of Canada's oldest structures can be found in Quebec City, one of North America's oldest cities. There has been a church on the site since 1647. Overlooking Place de l'Hotel de Ville, this majestic stone building features a neoclassical façade, copper roof, stunning glass windows and many ecclesiastical artifacts. It's now designated a National Historic Site.
Canada has its castles, too. Though not owned by royalty, this one in Hamilton, Ontario, was the private residence of Sir Allan Napier MacNab, premier of the province of Canada from 1854-1856. It's a neoclassical beauty circa 1835 with 42 of the 72 original rooms open for the public today. It created a sensation back in its day for its high tech features like gas lighting and running water.
Haligonians would be lost without the iconic, octagonal clock tower perched on Citadel Hill overlooking their city since 1803. It sits atop a two-storey building that has served as home for the resident clock keeper and for guards during the site's days as a military post. Today's it's a popular tourist attraction operated by Parks Canada.
All political roads in Canada lead to Ottawa and (by extension) Parliament Hill, which, aside from being the centre of our government, is pretty remarkable for its examples of Gothic architecture. The Centre Block took almost 20 years to complete and was the largest construction undertaken in North America in 1859 when ground was broken.
Near Victoria, B.C., this was the very first lighthouse on west coast of Canada (before it was even a country). The British built the Federal-style building in 1860. Today, it's a National Historical Site that welcomes visitors to climb up to peruse its exhibits spread over two floors.
If walls could talk, the stories would be very colourful coming out of this building in Charlottetown. In 1864, it hosted delegates who met to plan the birth of a nation. From 1847 and still today, it's used for meetings of the provincial legislature. Tours are available.
Winnipeg's illustrious status as gateway to the west merited the building of a grand-scale Beaux-Arts train station constructed by Tyndall limestone in 1912. It remains in use after the latest round of renovations — to the tune of $6.5 million – in 2012.
Canada's oldest continuously operational, water-powered flourmill is worth a drive in the pretty countryside, not far from London, Ontario. Watch it in action and pick up a bag of flour — more than 20 varieties — ground on-site.
When Toronto's new City Hall opened in 1965, there were some who thought it was time for the red sandstone City Hall across the street to meet a wrecking ball. Thankfully, wisdom prevailed and the Romanesque Revival-style building was left alone, thanks perhaps to the fierce gargoyles adorning it.
To claim your own piece of timeless design, be sure to check out the various models offered at Toyota.ca.