Yes, it's cold. No, it's not that bad.
Toronto has been hit with unseasonably frigid temperatures this week, leading many in the city to ceaselessly lament the early onset of winter.
Today's Toronto weather, in picture form. pic.twitter.com/hOyrUpiIdp

— Daniel B. (@barron_mind) November 18, 2014
it's not cold or anything in Toronto... pic.twitter.com/yzPikZu4jg

— Priyánka Samra (@PriyankaSamra) November 18, 2014
damn it toronto why u so cold

— Jenalee Dunn (@sailorjena) November 18, 2014
You know it's winter in #Toronto when people start bitching about the cold and snow.

— Mike The Canstralian (@aussieinTO) November 18, 2014
@TheEllenShow you should see how cold it is in Toronto

— Pickford (@PIckfordArtist) November 18, 2014
On Tuesday, someone even dressed up as the abominable snowman and rode the subway, raising a symbolic middle finger to mother nature.
You might want to see who was on the TTC with me this morning....look closely...carefully.... :) pic.twitter.com/zOjtJJKZiT

— Britt_A (@Britt_A) November 18, 2014
But the fact is, while Toronto is cold right now, things could be a lot worse.
This is Buffalo, N.Y. today (yes, that is an SUV).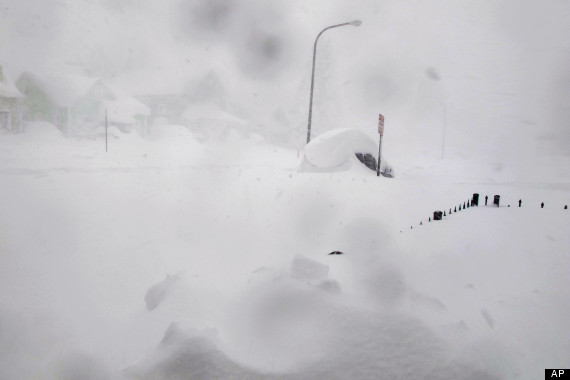 And here are some photos from the surrounding county.
State of emergency declared for Erie County. National Guard deployed after massive snowstorm http://t.co/CjjLDb4eVG pic.twitter.com/rs3lCFaYdY

— PzFeed Top News (@PzFeed) November 18, 2014
These really put things in perspective.
How would you like to open your front door and see this? East Lancaster, NY… Photo from Tara Schwab #nywx pic.twitter.com/tzkaBcVNJp

— James Spann (@spann) November 18, 2014
Speechless! #LakeEffect #snow pic of the am: Cheektowaga, NY. See more pics/video/stats here http://t.co/6plkPrn2fx pic.twitter.com/M5Fl9gNiPM

— Justin Berk (@JustinWeather) November 18, 2014
Am I the only one who loves looking through these photos of SNOW! http://t.co/7sIw5NCucz #buffalo pic.twitter.com/VAp2MpMQ3b

— Justine Lewkowicz (@JustineLewkowic) November 18, 2014
The snow is pummeling parts of the Northeast. We're in South Buffalo for @GMA. pic.twitter.com/RZTDEKBjdN

— Gio Benitez (@GioBenitez) November 18, 2014
Poor dog doesn't stand a chance against this Lake Effect snow south of Buffalo, NY. @ch2daybreak @TGDaybreak pic.twitter.com/rR1me2LTQb

— Chris Tomer (@chris_tomer) November 18, 2014
Meanwhile, this is a panda playing in Toronto's meager snow-pack.
If a cuddly bear from a warmish region of China can endure this cold, so can you.
In conclusion:
Also on HuffPost: