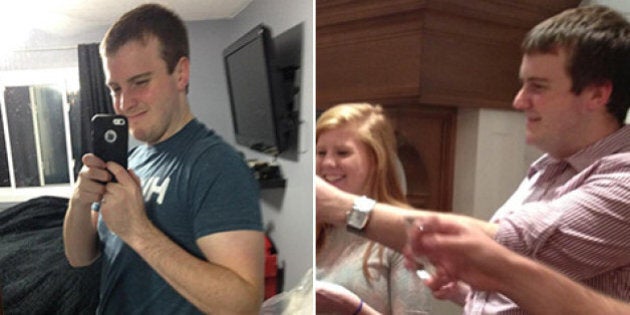 By The Numbers: 242 at my heaviest, currently 191 for a total loss of 51 pounds. I am also 18 per cent body fat (35 pounds of fat total) and my next goal is to be 15 per cent body fat.
The Weight Gain: As a young child I was more inclined to stay inside and play video games while my brother and sister were out playing soccer. When my parents would make meals, my main concern was finishing my plate so I could have ice cream for dessert. I often begged to have soft drinks throughout the week, something that was solely reserved for weekends. I had a reward system too: when I would average a certain amount of correct answers on my weekly spelling tests, we would go to my pick of fast food restaurants. Needless to say I studied hard for those tests.
Fast forward a few years, as a young teen with a part-time retail job, I now had the income to buy candy and snacks, including eating at my high school cafeteria a couple times a week. I was bullied for my size and as a result I would often try dieting for a week or two and then give up. I was most comfortable with my friends at school who passed no judgment, but outside of school I didn't spend much time going out and didn't spend much time being active.
Fast forward a few more years. I was working the midnight shift, and most of my meals consisted of fast food. I was getting terrible sleep and never had any energy. I always blamed this on the shift I was working until I realized that it went deeper than just sleep alone.
Final Straw: Here I was, extremely overweight, constantly sleep deprived, relying on energy shots and drinks to get through the nights, drinking and partying with friends almost every weekend, and on top of all of that, growing more and more depressed.
I felt hopeless when I thought about losing weight. I would look at pictures of myself and was never pleased with what I saw. I actually went several months without weighing myself because I knew the number was high. Weighing myself meant that I had to face reality and take responsibility for the poor choices I had made. The final straw for me was when I stepped on that scale and the number read out 242 – the most I have ever weighed.
Story Continues Below. Check out more of our inspiring weight loss stories: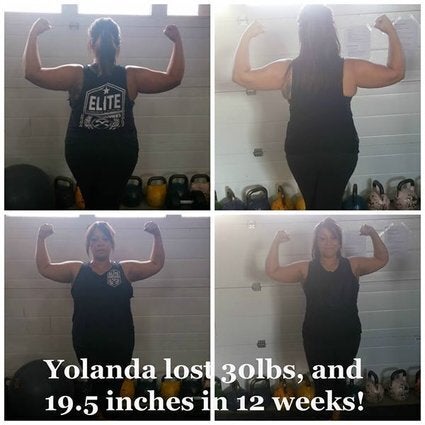 Lost It: Weight Loss Success Stories
The Plan of Attack: There are so many diets out there, some work wonders for some people, others claim they don't work at all. I decided to try one that allowed me to eat basically as much as I wanted without the need to count calories. The type of diet was a low glycemic index (GI) one that a friend of mine tried and succeeded with. I will admit, it was hard to start. My body had been used to basically getting whatever it wanted whenever it wanted.
I went from consuming mass amounts of processed foods and refined sugar to eating very little of those things and eating more natural foods. It took a bit of time to adjust to, but eventually I started to notice the weight come off, my sleeping patterns improve and my mood and mental state start to return to that of a more balanced condition. I was able to lose much of the weight that I did through a low GI lifestyle. But that wasn't enough; I was still self-conscious about my body and the remaining weight that I just couldn't seem to lose.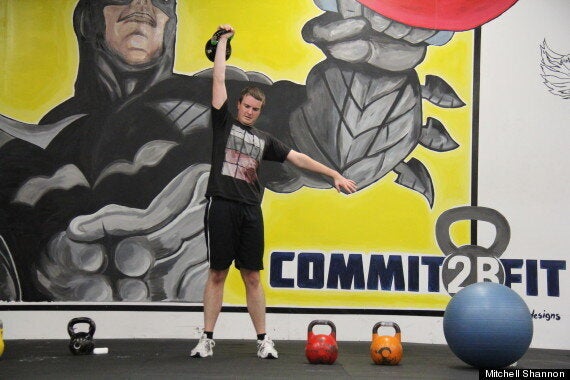 The Exercise Factor: A few of my co-workers told me about a Russian kettle bell class they attend just a few minutes from my workplace. I was hesitant at first, but after attending my first class at Commit 2B Fit in Pickering, I was hooked!
The style of workout at Commit 2B Fit is H.I.I.T. (high intensity interval training) or simply put, boot camp. I left my first few classes feeling sore, and woke up feeling even more sore. Although there was pain at first, I was determined to stick with it and continue being active. Things with my work have changed, and I now work Monday to Friday daytime shifts in an office environment – I spend most of my day in front of my computer screen. I go Commit 2B Fit five to six times a week during my lunch break at work, and the odd time on the weekend. Asides from the physical gains, the trainers, attendees and general environment keep me coming back – everyone is so supportive and I feel like I've made some real friends there.
The Food Element: I will admit, I don't know a great deal about nutrition, but my basic understanding of how a low glycemic index lifestyle works is that you eat foods that won't spike your blood sugar levels. This can be a hard lifestyle to live by. Cutting out processed foods like grains and pasta was difficult at first as these were the main staples in my diet. Switching what I ate to mostly fruit, veggies and protein sources was not easy, but once I started seeing results it made my efforts that much easier. Although I've been very dedicated with my dieting, I do slip up sometimes. It was suggested to me by a nutritionist that if a craving were to come on, just have what you're craving and be done with it. The trick to doing this is moderation and self-control.
The Current Day-to-Day: My day to day involves some light planning, lots of eating and my favourite part – going to boot camp. I never pictured myself to be someone who enjoys exercise as much as I do, but I guess it's true what they say – it becomes addictive. I do work an 8 to 5 job, so I must plan my meals accordingly.
I feel that often in life, we try to opt for the easy way out of doing things. I know this because I was once someone who thought I could have what I wanted without having to work for it. I realize that being forced to work towards getting what I want physically has allowed me to appreciate my progress in a new light. It's never easy to start something new, but if I could make one recommendation to someone just starting out it's this: start slow, find what works for you, and above all else don't be too hard on yourself if you don't see results right away. Working hard and being consistent in what you do will give you what you want.