A CBC radio host thought the weekend weather was going to be nice. One listener was really not amused.
But obviously he still says "thank you" at the end. He is Canadian after all.
Close this story now if you don't want to hear some pretty explicit language.
The call was made to CBC Saskatchewan's "Morning Edition" with Sheila Coles on Wednesday.
She shared the audio soon after and it quickly went viral, with many pointing out how it captures the entire nation's agony about the early onset of winter this year.
Saskatchewan winter too much for one CBC Radio listener http://t.co/BKBz2OGHQT

*Language warning*

— Sheila Coles (@SheilaColesCBC) November 20, 2014
Only a Canadian would say "thank you" after a rant like this. http://t.co/IpaFJdzIH1

— Dave Lozo (@DaveLozo) November 20, 2014
I'm a proud Canuck, but this audio rant captures how many of us feel about winter. Definitely NSFW. http://t.co/XeW87IVek3

— Christopher Henry (@CdnSpeechwriter) November 20, 2014
No...this isn't a call from @CBCThisIsThat. It's an actual call for @SheilaColesCBC. Boy does he hate #winterhttp://t.co/vNoxbkj9G9

— Eric Anderson (@ericandersonCBC) November 20, 2014
Grandpa Simpson's not the only guy who has a beef with the weather... http://t.co/DtBMr1RRCv#skcbc@SheilaColesCBCpic.twitter.com/Q5Pkj4kWYH

— Ted Deller (@TDellerCBC) November 20, 2014
But Coles hasn't changed her outlook as a result of the call. She's still looking forward to mild weather this weekend.
Good morning- things are looking up! -5 in Regina and -4 in Saskatoon. And weekend looks grand! #skcbcpic.twitter.com/YCRk4OmhC0

— Sheila Coles (@SheilaColesCBC) November 20, 2014
And her 7-year-old daughter is even more positive.
"@Lonewolfon33: @SheilaColesCBC good weather or not ....this is my 7 year old daughters outlook on things pic.twitter.com/U532VZTxnt" Nice!

— Sheila Coles (@SheilaColesCBC) November 20, 2014
Regardless of whether you greet winter with rage or resignation, we can all agree that this is a moment for all Canadians to remember.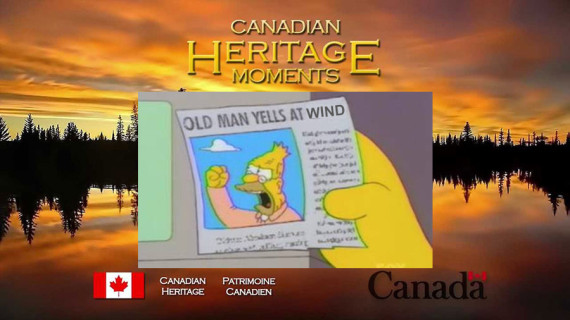 Related on HuffPost: