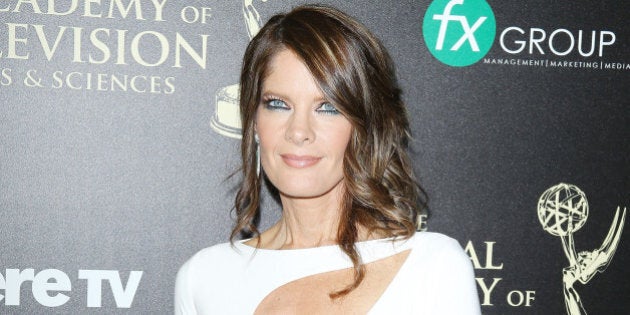 Lightning can strike twice, sometimes more electrifying than the first time. That's what Michelle Stafford proved in 2014, when she joined daytime soap "General Hospital" as cray-cray Nina Clay. (Even ISIS wouldn't recruit this chick!)
That was not an easy feat, considering the two-time Emmy winner became a household name playing super-vixen Phyllis Newman on daytime's number-one-rated soap "The Young And The Restless" for 16 years. HuffPost Canada TV caught up with the ageless beauty to chat about her new hit role, dish exclusive details on the second season of her web series "The Stafford Project," and if she's watched her "Y&R" replacement Gina Tognoni yet.
HuffPost Canada TV: Congrats on the DVD release of your hilarious web series, "The Stafford Project," available on Black Friday.
Michelle Stafford: I'm really excited about it. I worked my ass off editing all the behind-the-scenes stuff. I did it myself, because I know what fans expect. I'm such a nerd in that respect. People want to see the guest stars and actors screw up the shots.
What can we expect in Season 2?
We're revamping and retooling. You can expect the same style of comedy. It's still about some chick named Michelle. The title may change. I feel awkward about the title because this character, even though some situations are based in my real life, isn't really me. And putting it out there that this is Michelle Stafford makes me feel a bit uneasy. She'll continue to be an idiot in future seasons! [Laughs] I mean, even Larry David didn't name "Curb Your Enthusiasm" "The Larry David Project!" For now, it's fine, but in the future, she's going to be f**king the wrong men and that's not me. Although I have f**ked the wrong men in my past. [Laughs] Anyway, we already have "The Mindy Project" out there.
Have you lined up any guest stars yet for Season 2? You really outdid yourself in Season 1.
Confirmed right now are James Scott, Catherine Bell, and Nadia Bjorlin, but many Season 1 guest stars are expected to come back, too. I just need confirmations because they're so busy. Oh, Corbin Bernsen is joining.
Is Season 2 written already?
We've written outlines for the entire season. We're going edgier, as if we could be any edgier, right? We're putting a microscope on Michelle's life in the soap world.
Is that because you're on "GH" now?
Companies wanted more characters -- not just Michelle. They wanted younger characters and storylines. If you've seen the return of "The Comeback," you know it was Lisa Kudrow and a sea of young people. You have to hit all the demos. It's just the way it is. There's no way around it.
Will you be filming on the set of "GH?"
[Exec producer] Frank Valentini and [head writer] Ron Carlivati have been insanely supportive. Frank has even helped us meet certain people to buy "TSP." Frank's a really smart producer. He gets the web. And the fact that a project like this will only aid "GH" in bringing in a new audience. He's very forward-thinking. He's very excited about "TSP." I will say, though, there aren't any distinctive egos on set. On "GH," we come to work, and then leave. I was like, "Where's the drama?!" Billy Miller [who plays Jason on "GH;" and recently left the role of Billy on "Y&R"] and I had this conversation: "Wait, so people just come to work and leave?" [Laughs] There's no drama on "GH."
Not all superstars can traverse to another show in a new role and succeed but you managed to, Blanche!
I really just wanted to act. Do you know what I mean? I know after being on a show for a while, you can get complacent. It's not a criticism of "Y&R"; it's just the way it was. Unless you have a writer who can reinvent you ... but it's not common, though. There's so much I want to say, but it's not right to say it. I do feel like I have been rejuvenated as an actor. I feel lucky to have the opportunity to be on "GH," which is doing so well. Year after year, more people are tuning in. It's a really good show. I mean, I enjoy watching it. It's always entertaining. The way Ron tells a story and unfolds, it's very exciting but he also sees the heart in it. I don't know if you saw the recent scenes between Maurice Benard, Chad Duell, Dominic Zamprogna and Bryan Craig, but they were f**king amazing. It was such good TV!
Did you ever think Donna Freakin' Mills would one day play your mother?
[Laughs] No! It's amazing.
You and Maura West (who plays Ava) are daytime's version of Joan Crawford and Bette Davis -- without the over-the-top/campy acting that ensued when they starred on "Whatever Happened To Baby Jane."
[Laughs] Maura is so extraordinary. It's so refreshing to do a scene with another woman who desires to see me do well in a scene. I've experienced times when another actor doesn't want me to shine in a scene. Maura's so giving and credible.
Is it weird running into Billy on the set of "GH"? Billy's turned Jason into a bona fide hit, too!
But Billy is a really good actor, too. He didn't come in here with an ego, or like, "Oh, I was a big star on another show." He doesn't have that going on. Sometimes people do that and expect to be treated like a star because they've won Emmys and were popular. I think that's to their detriment.
I think Roger Howarth (who plays Franco) is the most talented leading actor you've ever worked with.
Oh my God. He's just magic. I agree!
Did you guys click right away?
Yes. He's really good; if he throws you a ball, he expects you to catch it. And if you drop it, he'll throw you another one ... and expect you to catch it again! We did some scenes the other day that'll air in December that made me go, "Oh my God, I didn't even have to act!" I just had to be there. I hope they turn out great. What happened between us in that particular scene, I have never experienced before as an actress with another actor. Ever.
Have you caught Gina Tognoni on "Y&R" as nu Phyllis?
I haven't seen her on the show or on magazine covers. I just don't watch "Y&R." I honestly don't. I have been done with Phyllis longer than people know. It doesn't matter because it's Gina's role now. I have no connection to Phyllis. If I wasn't in a happy place, maybe I would be nostalgic. Listen, it was, for sure, the right time to leave "Y&R" when I did. I really love "GH." And I really loved my time on Y&R, too.
Let's talk Emmys. A date has been set for April 2015. You have 2 statues. With a kick-ass new role and loads of award-worthy work as Nina Clay, will you submit yourself? You love playing the Emmy game.
I don't know if I really love playing that Emmy game, to be honest. There are only four shows left so it's not as fun. I love going to the parties and seeing everyone. I have issues with the Emmys. I've been vocal about it. When you play a game, you want to make sure the rules are sound. I'm having a hard time getting past that. Hopefully things will change ... having said that, I've only been on "GH" for five minutes, so who knows?
Knowing Frank, you'll be in contention. Frank always gets what he wants...
Frank does get what he wants, that's for sure!
My favourite part of Nina Clay is that she was in a coma for 20 years, which instantly made her fascinating given all the social and tech advances she's missed. I hope they explore more of that character thread because in a way it balances out her crazy with innocence. She's perfect to juxtapose how ADD our culture has become. I also love her name!
I love her name, too! They love making reference to what she's missed. What I love, personally, is that her emotional state is like a 20-year-old. She still believes in love -- and she's not jaded. It's cool.
For the complete interview, check out the next issue of Soap Opera Uncensored where Stafford goes more in depth about what's wrong with the Daytime Emmy Awards, the shocking differences between the "GH" and "Y&R" fanbases, and why everyone has a crush on co-star Ryan Paevey.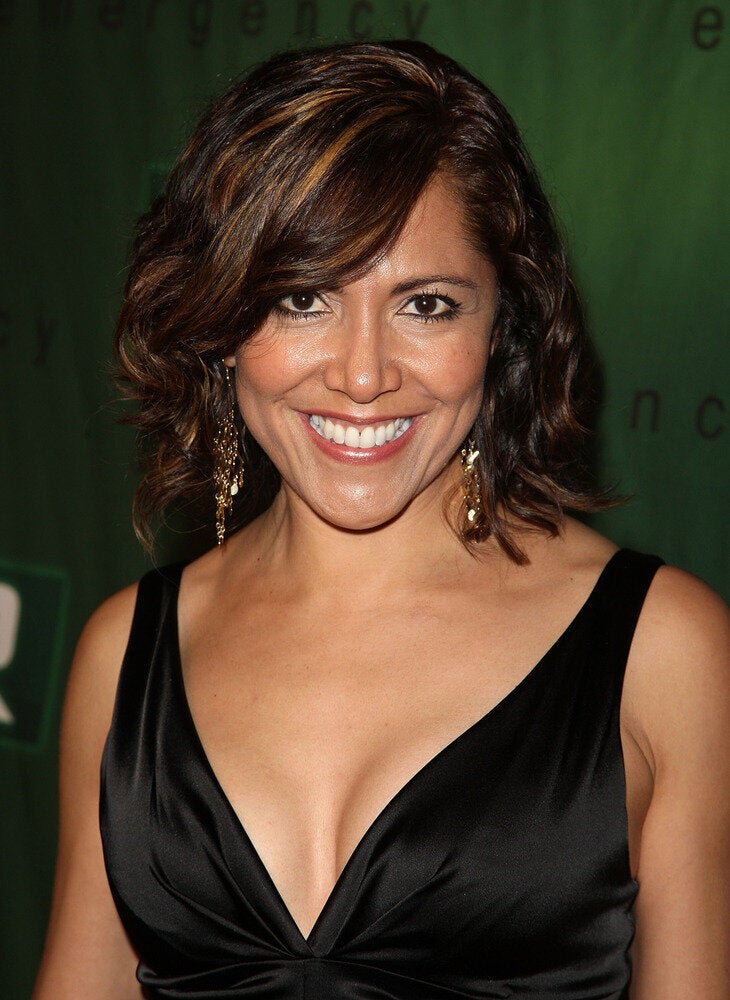 Actors Who Have Played Characters For 15+ Years