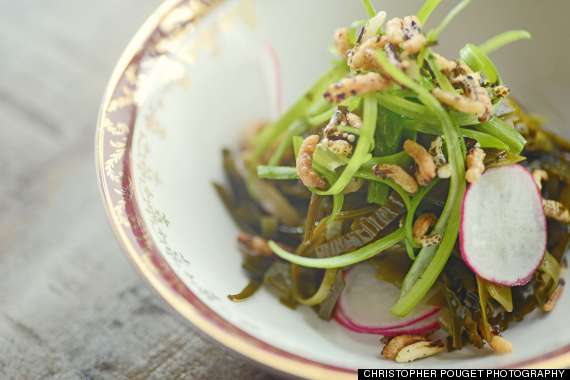 Bamfield seafood salad from Wolf In The Fog (Christopher Pouget Photography)
The town of Tofino, population 1,800, has been causing quite a stir in Canada with its flourishing food culture.
Tofino scored its latest accolade in October when local restaurant Wolf In The Fog nabbed the top spot in EnRoute magazine's annual top new restaurants list.
As the awards pile up, so do the number of diners flocking to Tofino, a spot famous for its surfing. Nestled on Vancouver Island on the edge of the Pacific Ocean, the town is a 45-minute flight from Vancouver or a three-hour drive from Nanaimo.
Winter is usually the "quiet slow season" in Tofino, said chef Nick Nutting, but the award has Wolf In The Fog busier than ever.
"It's the best problem to have," he told The Huffington Post B.C. in an interview.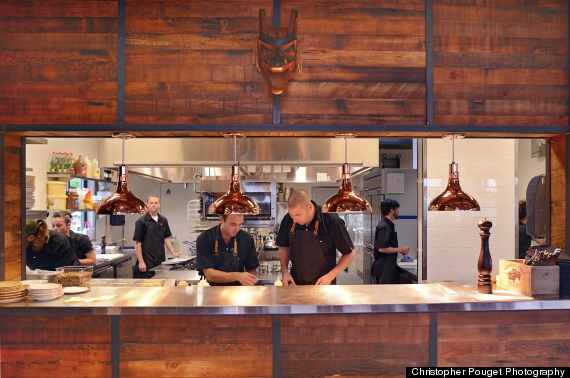 The kitchen at Wolf In The Fog (Christopher Pouget Photography)
Wolf In The Fog is the latest in a long line of popular, award-winning Tofino restaurants. In 1996, the now-iconic Wickaninnish Inn and The Pointe Restaurant opened its doors, heightening the town's profile, says Samantha Fyleris of Tourism Tofino.
The restaurant's high-quality food and exceptional service, paired with the stunning view of the ocean and Chesterman Beach, made it a popular destination for locals and tourists alike.
Seven years later, EnRoute named Sobo one of its top new restaurants. Long before food trucks became trendy, Sobo operated out of a parking lot by Chesterman Beach, producing "Killer Fish Tacos" and an incomparable key lime pie.
Now a brick-and-mortar restaurant, Sobo continues to attract an adoring crowd and even published its own cookbook earlier this year.
Chefs here have a bounty of fresh ingredients at hand by foraging, fishing, and growing local products year-round.
"Tofino is paradise for chefs — there's something profound about being able to use fish that's fresh off the boats," said Nutting, whose restaurant is a mere block away from the docks.
Story continues after delicious slideshow:
The town capitalizes on culinary tourism, too, with events such as the Clayoquot Oyster Festival, and the Tofino Food and Wine Festival.
And some Tofino eateries have branched out to bigger cities. Tacofino, a popular taco truck, has made its way to Victoria and Vancouver.
"I think our fish tacos remind people of the beach, or California, of surfing, of the Baja. They are nostalgic because they taste just right — they're crispy and fresh and we aren't afraid of flavour," said Kaeli Robinsong, owner-operator of the Vancouver location.
But although the recipe is the same at all the Tacofino spots, she said she's heard over and over again that they somehow "taste better in Tofino."
Robinsong thinks it might have something to do with the salty air, longer wait lines, or the fact that people in Tofino are usually happier since many are on vacation.
That positive attitude seems to infuse the people who work in Tofino's food industry, inspired by "the endless sandy beaches, the mesmerizing surf and fable-like scenery," said Fyleris.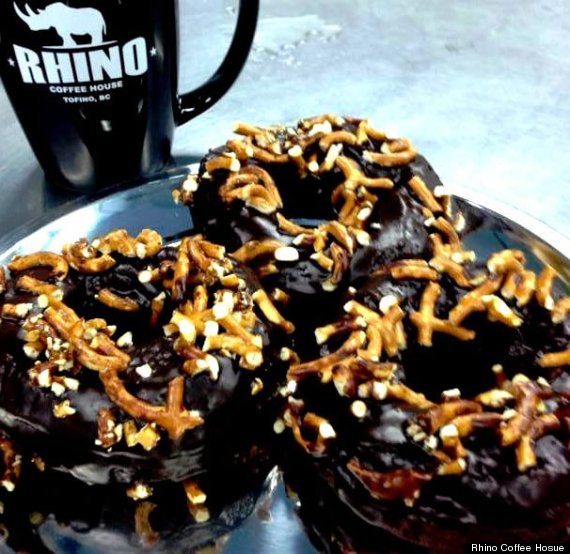 Donuts from Rhino Coffee House
As the food culture continues to grow, Fyleris has a few other gems for HuffPost B.C. readers to check out:
This new, tiny shop is tucked in behind Redcan Gourmet on Industrial Road. Tina Windsor cures, smokes, and cooks ethically-raised meats with delicious results. She will also use beer from across-the-street neighbours Tofino Brewing Company as a brine.
Named for the oversized surf boards which are in turn named after a certain horned animal, Rhino is best known for its plentiful selection of house-made donuts. Standouts include an old-fashioned beer donut (made with, you guessed, it, Tofino Brewing Company beer), maple bacon, and a sour cream glaze. They also make sandwiches and wraps.
Ask for the "bronut," a breakfast sandwich served on a savoury donut.
Spotted Bear successor
Spotted Bear Bistro was the creation of chef Vincent Fraissange and is known for its intimate ambiance and modern, French-inspired comfort food. However, this restaurant will re-open to serve Japanese comfort food in 2015 — and the anticipation is building.