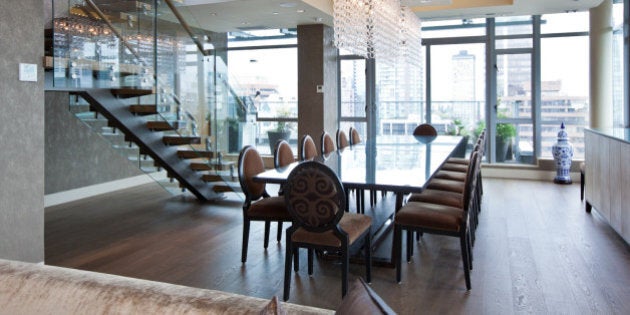 Here's a deal you can't refuse: a fully furnished, 5,400 sq.-ft. penthouse with an outdoor pool in the heart of Vancouver's Yaletown is available to rent for a mere $24,995 a month.
For the price of a new compact car (every month), you can move into this three-bedroom, five-bathroom place fitted with custom couches and specialty linens shipped from France for that perfect snooze.
If you can drag yourself away from the luxury linens, the Italian marble ensuite bathtub is said to make bathers feel like they're "floating on champagne." (Naturally, this refers to the most expensive kind of champagne because if you're living here, you probably have a bottle or two kicking around just 'cause.)
Dubbed one of "the most glamourous and sophisticated places to live," the open-plan suite allows an abundance of natural light in through the massive floor-to-ceiling windows. At night, just switch on a chandelier (custom-made, of course).
Story continues below slideshow: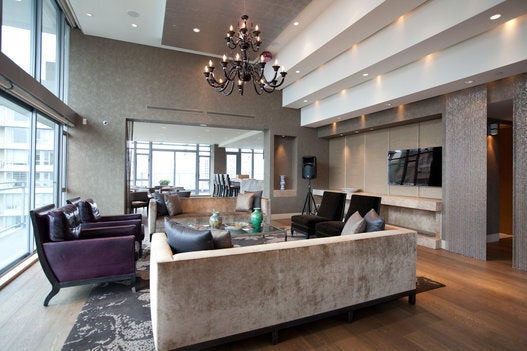 Yaletown Penthouse For Rent, November 2014
For some fresh air, step outside to the multi-level, 2,400 sq.-ft. rooftop patio with a saltwater pool and enough room to entertain the entire building.
When the Vancouver drizzles strike, bring the party back inside to your chef's kitchen, open dining area and conveniently centralized bar.
You can look your best doing all of this snoozing, soaking, and socializing by taking advantage of the gym – complete with your own personal trainer.
Also, your pet can move in for an additional $150 monthly fee — bringing rent up to $25,145.
But that's the rate in the low season. Rent can fluctuate up to $39,995 per month in the summer, and also depending on the tenant's preferred term, listing agent Kelly Winton said in an email to HuffPost B.C.