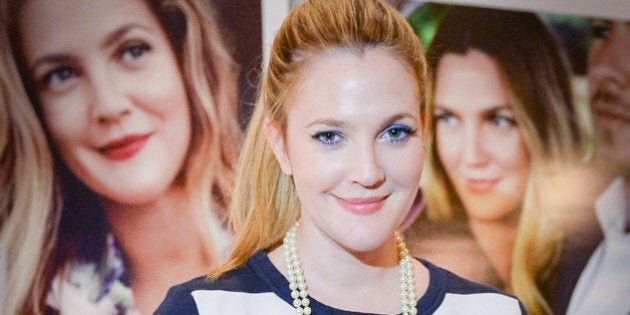 Drew Barrymore's never been afraid to take charge of her own career, whether it's been as a movie producer, director and ambassador for the United Nations. Now she can add beauty guru to that list.
The 39-year-old Hollywood actress launched her own cosmetics company Flower in the U.S. early this year and her wares finally reached Canada in November.
Drew's not just the face of the brand—which sells beauty products ranging from luscious cream eyeshadow, silky smooth highlighter chubbys, brightening concealer and BB creams—she's also part-owner, meaning that you know she's invested in her product.
The mom has the cred, too. Growing up on movie sets meant the former child star was surrounded by makeup artists, which led her to learning a few tricks of her own.
Drew was gracious enough to sit down with us at the Thompson Hotel in Toronto and share her makeup and beauty tips, what it was like growing up surrounded by makeup artists and the advice she will give her daughters when they grow up.
Huffington Post Canada: On the days when you're feeling crappy in the morning, what are the things you do to make yourself feel and look better?
I always start with concealer and it's the most magical thing in the world. I love our skin incognito foundation stick and our DB highlighter. It's the best thing in the world and I never go anywhere in the world without one of the two. I have such discoloration in my face; the purple under the eyes and the red capillaries and brown sun damage. I think sometimes makeup that just makes you not think about it is really important—those great one to two to three staples that will make you feel like "Why don't I do this more often?" Because I don't wear makeup so much of the time, I just let my skin breathe and I'm with my kids and I just don't do it and then even when I do just the simplest little thing it's the quickest little things, which make such a difference.
What did the makeup artists you grew up around teach you about makeup?
Honestly I don't do my own makeup, but [the times that I do] I normally do a cream blush and I always add highlighter to it 'cause that's the one thing makeup artists have always showed me, is that with a little highlighter you get that dewy glow or you accentuate bone structure or eyebrows, foreheads and I love contouring too. So I love learning placement from makeup artists 'cause I would have no idea otherwise. I try to make a lot of tools [with Flower], like our tinted moisturizer, highlighter chubbies—the kind where somebody does your makeup that doesn't look like makeup. I wanted to bring a lot of things that I've learned along the way that would come in a makeup artist's palette that's so intimidating and turn it into tools that are really good and easy to work with your hands.
Was it intimidating to have all these makeup artists around you when you were a child on a movie set?
No, I always loved them. I loved the backstage of getting ready so I could always see how transformative they were and they were really romantic to me.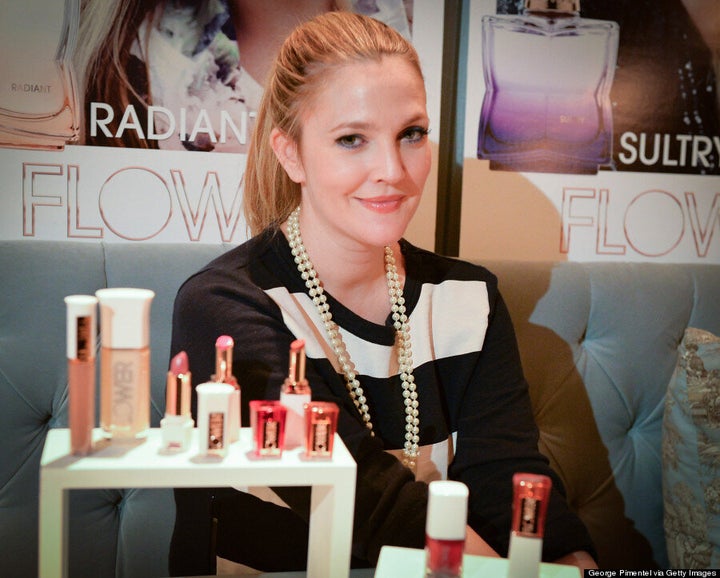 Who are your favourite makeup artists?
Oh my God, I've worked with so many like Kevyn Aucoin, Dick Page, Pat McGrath, Gucci Westman, and Robin Fredriksz who's on the cover of Hollywood Reporter with my dear friend Cameron [Diaz]. I just I love working with people who I know and who I feel so safe and cozy with and who I've learned so much from. Then I love working with people where it's sort of a grand experience like a big photo shoot and you spend the day with them and you don't see them as much anymore but you took away so much.
Did you have any favourite scents when you were growing up?
I've always loved patchouli and I love rose—I love the old fashioned scent of rose. And patchouli is in most of the best selling global perfumes and it's just a great note to combine with. I used to wear just the pure oil like the total hippie smell, but I was happy to see that it was such an important accord in all the top selling fragrances 'cause it made me feel I could be authentic to myself while creating something that was much more commercial. I've always loved flowers and nothing works better in fragrance than flowers, whether it was a night-blooming jasmine note that I put in that reminded me of childhood 'cause I had a night-blooming jasmine bush outside my strange duplex that I grew up in, or the beautiful cabbage rose, peony and peppercorn.
What was it like creating your own fragrance?
We really tried to figure out who we were making it for and build a character to someone that we either believed in or related to. It wasn't a celebrity fragrance, it wasn't a singular scent; it was about not the person selling it but the person buying it, like who was she? And as these women sat around these tables we started mood boards and it was pictures of mothers and their daughters and women in the workplace, date night and I think we just got really emotional about it cause we were like "Wait that feels like us." You want to spend time with your family and your loved ones and your home and I look at my kids and say "You're the best thing I've ever done with my life" and once you leave your room the affection changes so much and what is that feeling, and that is how we came up with [the fragrance] "Cherished."
"Radiant" is more about sparkling empowerment and women in the workplace—a woman who earns the ability to have that home and something that carries you throughout the day, something that is very personal and romantic and floral. And we were all women going to work so it inspired us just trying to do something that day at work that makes you feel good that you accomplished.
For "Sultry," once we were all like leaving work and some of the girls were single and hadn't thought about date night all day long and a lot of us were wives and like to remember that you're a woman and to put back into the relationship you started it all with when. You know, you've been up since 6 a.m. with your kids and you're thinking "Ok this is amazing, I'm important, I want to remember that love is the ultimate goal and it is the most beautiful in life." It has plum and patchouli and amber and all these gorgeous sensual sexy notes. Stephen Nilsen, the master perfumer I was working with, kept talking about edibles because the way to a man's heart is through his stomach for sure. So I'm shocked they don't make bacon perfume because it would be very effective.
Your career has been interesting because you've always been in control of it. What has driven you to do that and how do you like being in charge?
I like very much being a part of the way things function and I've just never really been satisfied hearing from others how it's all gonna work. I always liked being with the people who were always building it and it can be like a Lego set or a Fortune 500 company, I would just want to be there in the making of it and the producing of it and the functionality of it. I think growing up, something that really appealed to me was learning the rules of how things work 'cause when you're more on the creative side I think you battle with the money and the function and bosses. So I think I wanted to develop an appreciation for that and being on the business side of things you do have a hand in the way they function and have a much better understanding of it and I just like both. I like business and creative.
What beauty advice would you give your daughters (Olive, two, and Frankie, seven months) when they get older?
I think the good news is I think kids learn a lot by example and they'll hopefully be able to see that I haven't torn myself apart or fallen prey or lived a life where I battled against what I have. I think there's just an important way to make room in your brain and your heart and embrace who you are and go towards things in life and the world that make you feel good about that. You should be around people who are thinking about other things rather than themselves and insecurity is not an option. I do think that joy is such a good and positive emotion and when you can sense that it's lacking, run away.
Flower is available exclusively at Walmarts across Canada. Check out the site here.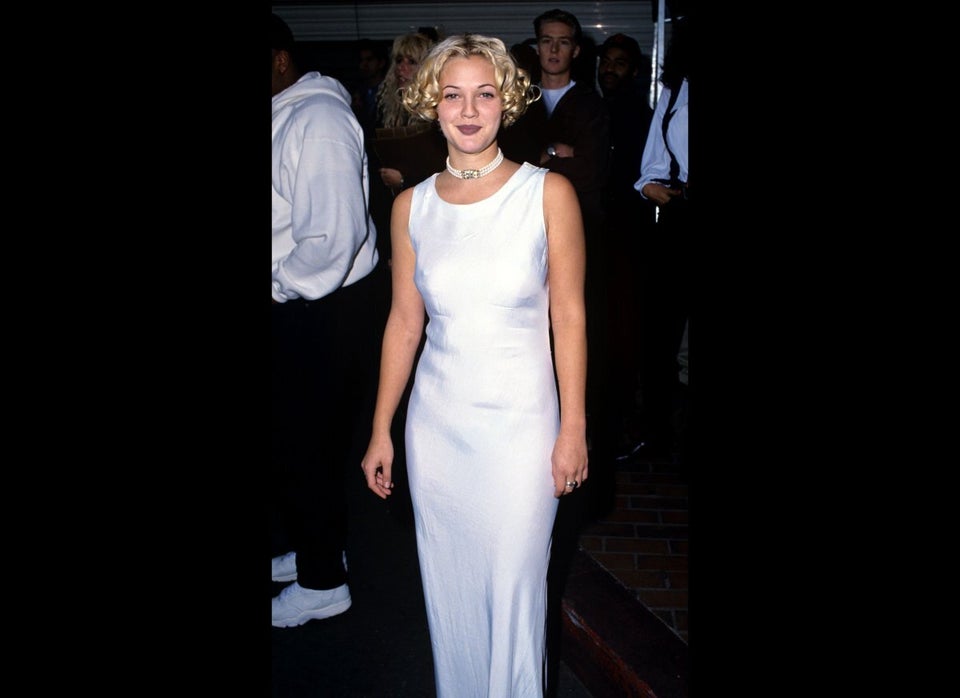 Drew Barrymore Beauty Evolution