Jian Ghomeshi plans to plead not guilty to four counts of sex assault and one count of "overcoming resistance - choking" in the wake of allegations of physical violence and harassment.
His defence will be spearheaded by Marie Henein, a respected criminal lawyer who has successfully defended clients such as former Ontario attorney general Michael Bryant and hockey agent David Frost.
She will defend him alongside partners Danielle Robitaille and Scott Hutchison.
As Henein enters the spotlight once more, so does her law firm, Henein Hutchison LLP, whose lawyers look like they're straight out of an HBO miniseries in striking photos posted on the firm's website.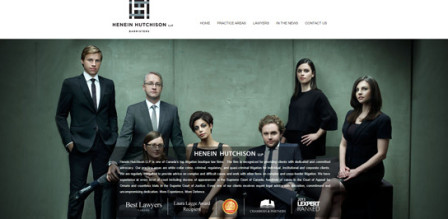 An Imgur user borrowed the following photo yesterday and added their own take.
Ghomeshi next appears in court on Jan. 8.
Like Us On Facebook
Follow Us On Twitter

ALSO ON HUFFPOST: