It's a long-shot, and critics say it's little more than a publicity stunt, but two Quebec City area mayors have found a novel approach to repainting the city's rusty, iconic Quebec Bridge: Ask Bill Gates to do it.
Why? CN Rail owns the bridge, and Gates, the world's richest man according to this year's Forbes list, is CN's largest shareholder.
Quebec City Mayor Regis Lebeaume and Levis Mayor Gilles Lehouillier sent a letter to Gates last month asking him to get CN to paint the bridge that crosses the St. Lawrence River between Quebec's capital and the town of Levis.
"We are appealing to your sense of civic responsibility in hopes that you will urge CN to assume its responsibility and finish its work to paint the structure of the Quebec Bridge," the mayors wrote, as quoted at the National Post.
"Such a gesture will ensure that our historic world heritage city will once again have a historic bridge worthy of its name."
Lebeaume even put out a video (see above) in which he unveils the hashtag #PaintYourBridgeBill, in hopes of pressuring Gates to take action. The video is in French, but ends with Lebeaume saying "paint your bridge, Bill," in English.
The bridge is visibly rusty but not a threat to users' safety, authorities say.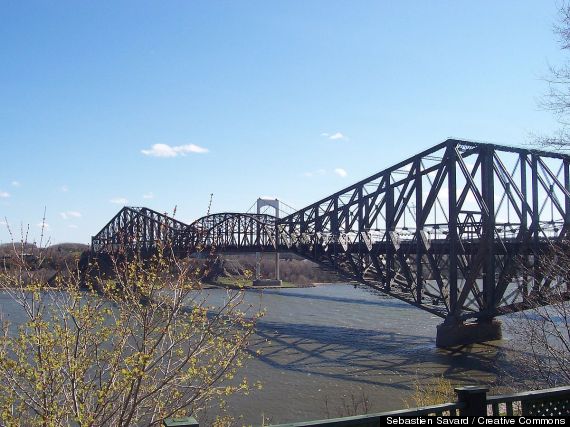 Federal, provincial and municipal governments announced on Friday they would be willing to contribute a total of $100 million into refurb work on the bridge. But the cost is now estimated at $200 million, meaning CN would still have to come up with $100 million to finish the work.
In public statements and in interviews with media, CN has said it has no responsibility to finish the paint job, and a Quebec Superior Court agreed last month, ruling that CN had lived up to its 1997 promise to spend $36 million painting the bridge.
CN "has made significant investments to ensure the Quebec Bridge is safe and will remain safe for the long term," company spokesperson Mark Hallman told Bloomberg.
"Painting the bridge is not about safety; it's about aesthetics … CN believes governments should take responsibility to protect or enhance the heritage value of the Quebec Bridge, not CN."
The railroad has offered to donate the bridge to any level of government to make the paint job happen, Bloomberg reported.
CN took ownership of the bridge in the mid-1990s, as part of the railroad's privatization. It committed to spending $36 million to repaint the bridge, but stopped work on the bridge in 2005, with 40 per cent of it repainted.
The Quebec Bridge was completed in 1919, having taken 30 years to build and suffering through two collapses that took the lives of 88 workers.
It has been a National Historic Site of Canada since 1996.
Also on HuffPost: