Go, Stamps, Go!
Eager to celebrate the Calgary Stampeders' Grey Cup win on city soil, Calgary Mayor Naheed Nenshi has announced a free rally for the team.
Calgarians are invited to Olympic Plaza from 11:30 a.m. to 1:30 p.m. on Tuesday, Dec. 2 to celebrate with the Stamps and the Outriders cheerleaders.
"The Stamps' win was absolutely thrilling, and I know that Calgarians want to come together and celebrate with the team," said Mayor Nenshi in a news release.
The Stamps bested the Hamilton Tiger-Cats 20-16 on Sunday evening at BC Place in Vancouver to win Canada's biggest football title.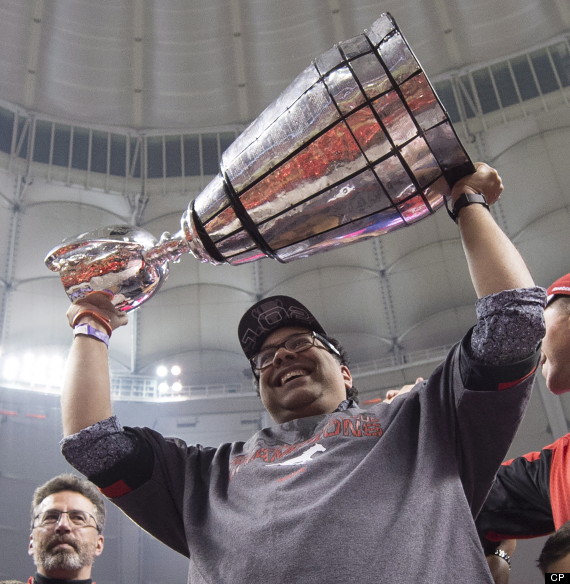 Attendees are asked to wear red and white to the rally and are encouraged to bring a donation for the Calgary Food Bank.
"Come on out, show your Stampeders pride, and help your fellow Calgarians at the same time," said Nenshi.
"@CFL: All smiles for @nenshi & @jonnycornish! #GreyCup pic.twitter.com/wssAbbuYIW" GreyCup - check. Stanley Cup next! #Calgary #Flames #Stamps

— Mark Kennedy (@KennedyTreeman) December 1, 2014
The Stamps also announced the party on their Facebook page, promising to have the Grey Cup fixed by time they get back from Vancouver. (It was accidentally broken during the celebrations following the game. Whoops!)
Macleod Trail northbound between 9 and 6 Avenues, and 8 Avenue between Macleod Trail and 1 Street S.E. will be closed to traffic from 9 a.m. to 3 p.m. in order to accommodate the event. C-Train service along 7 Avenue will not be interrupted. Bus services will be detoured to avoid road closures.