A photo of an emaciated-looking puppy spotted in an Edmonton pet store has sparked an investigation with animal protection officers.
Justine Elliot posted the photo to Facebook after a trip to My Pets pet store in West Edmonton Mall on Monday night.
In the photo, the puppy's ribs and hip bones are clearly visible. Elliot told CTV News a second puppy in the store was also very skinny.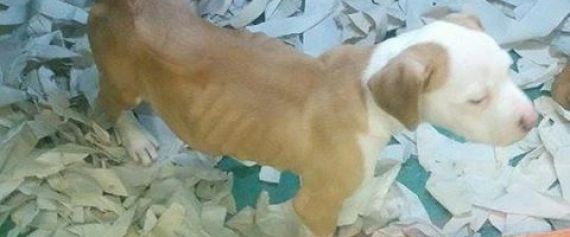 Her original post to Facebook, which has been shared more than 8,000 times, read:
"These animals were obviously not healthy enough to be adopted out, yet they were still for sale. Not only if this extremely cruel to the dogs it is also awful that people may be sent home with such an unhealthy dog that could have devastating life long health problems because of the lack of food in early development."
She later updated the post to confirm she was contacted by the Edmonton Humane Society (EHS), and to inform of a protest to be held outside the pet store on Dec. 21.
In a post to Facebook, the EHS acknowledged "it can be very disturbing to see posts regarding animal neglect or cruelty," and said an investigation is underway.
"All information regarding our investigation will remain confidential; however, please note that we will not conclude a file until all concerns under the Animal Protection Act have been addressed and rectified appropriately."
A manager at the pet story told CTV News the dog is healthy, but was undergoing deworming treatment when the photo was taken.
Animal welfare advocats have long been fighting for a ban on pet sales in Alberta pet stores, arguing many of the animals come from puppy or kitty mills, where animals are subject to inbreeding, over-breeding, and poor care.
In the past, EHS has specifically warned against buying puppies from My Pet stores.
Like Us On Facebook

Follow Us On Twitter

ALSO ON HUFFPOST: