The owner of a Bloor West Village clothing boutique says her store has repeatedly been the target of homophobic graffiti.
Carolyn Eby, the owner of Trove Clothing, says she's filed three police reports since August because vandals keep covering up a pride flag displayed in the storefront window.
"This is a hate crime in my opinion, this is a gesture of hate," Eby told CBC News.
Previously, the vandals used cardboard or rubber cement to cover the flag. But this week, Eby arrived at her business to find a hateful message scrawled in white spray paint on the back of the building.
"Be happy not gay," read the graffiti.
Despite concern for her store, Eby has taken a defiant tone and says she will not remove the pride flag from her shop window.
"It's clear that somebody is trying to silence us, but that is something we are not willing to do."
Helen Hastings, the owner of a store two doors down from Trove Clothing, said that businesses in the area will rally to support Eby and the fight for equality.
"We should be able to express how we feel," said Hasting. "I would put a sign like that in my window and I wouldn't feel uncomfortable putting it in my window."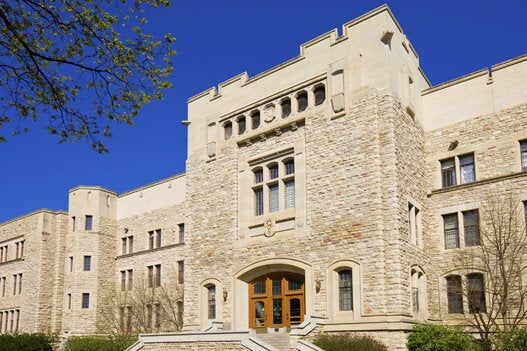 Canada's Best Universities, As Ranked By QS