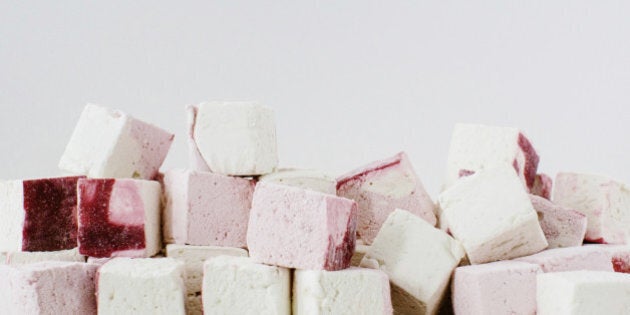 Making edible gifts for family and friends is easy to do, plus you always know the ingredients they contain.
"One of my favourites is marshmallows because they're fun to do and people are always amazed that you can make marshmallows because it's the kind of thing you'd buy in sweet shops in bags and you'd think they'd be really difficult, but they're really easy and they're so cheap to make," says Alison Walker, author of "Handmade Gifts from the Kitchen."
"Whenever I'm cooking if I've got any egg whites left over I freeze them because they keep for ages. I freeze them in little pots ... and then I just whip up some marshmallows. You can flavour them how you like — with rosewater or vanilla. They're really lovely and they keep for ages."
Here is Walker's recipe for Raspberry and Vanilla Marshmallows, along with recipes for a vanilla-infused vodka with a surprise touch and biscotti.
Raspberry and Vanilla Marshmallows
These soft, pillowy marshmallows are rippled with a tangy raspberry gelatin that looks pretty and tastes divine. If you prefer plain vanilla marshmallows, omit the fruity part.
Preparation: 25 minutes, plus setting
Gelatin sheets to a weight of 12 g (1/3 oz) (most sheets weigh 2 g but check your package)
500 ml (2 cups) raspberries
15 ml (1 tbsp) icing sugar
Sunflower oil, for greasing
45 ml (3 tbsp) icing sugar and 45 ml (3 tbsp) cornstarch combined, for dusting pan
550 ml (2 1/4 cups) granulated sugar
15 ml (1 tbsp) corn syrup
Generous 175 ml (3/4 cup) water
Gelatin leaves to a weight of 22 g (3/4 oz)
5 ml (1 tsp) vanilla extract
Pink food colouring paste
Raspberry gelatin: Fill a bowl with cold water and soak gelatin for 5 minutes. Cook raspberries gently in a small pan with icing sugar and a splash of water (they'll release their juices and collapse). Push through a sieve into a bowl and discard seeds.
Rinse pan and heat raspberry puree gently. Meanwhile, squeeze excess water out of gelatin and melt into puree.
Fill a large bowl with ice and water and set pan over it. Stir every so often to cool down mixture — you need it to set enough that it thickens but is still fluid enough to fold into marshmallow.
Marshmallows: Fill sink or a large bowl with cold water. Lightly oil a 33-by-23-cm (13-by-9-inch) pan. Dust inside with 15 ml (1 tbsp) each of sifted cornstarch and icing sugar.
Over low heat, melt granulated sugar with corn syrup and water until sugar has completely dissolved. Using a wet pastry brush, wash down sides of pan to dissolve any stray sugar crystals that may cause sugar syrup to crystallize. Meanwhile, put gelatin sheets into a bowl of cold water to soften, as before.
Bring syrup to a boil — do not stir — and cook until a candy thermometer measures 127 C (261 F), the hard ball stage. If you don't have a thermometer, drop 5 ml (1 tsp) of the mixture into a bowl of cold water. Bring it together with your fingers — it should form a hard ball. When it reaches the correct temperature, plunge base of pan into sink of cold water to stop syrup cooking.
Squeeze out excess water from gelatin and stir into syrup.
Just before sugar syrup reaches correct temperature, beat egg whites until stiff, then beat in vanilla extract briefly. With beater still running, trickle in sugar syrup. This is easier with a stand mixer, but you could also beat with an electric mixer if you have someone to help pour in syrup. Beat for about 10 minutes until mixture holds its shape — it will be a thick white mass. Finally, beat in a few dabs (or drops) of pink food colouring.
Swirl in raspberry puree gelatin so that it forms ripples. Pour into prepared pan, smooth out and leave to set for several hours.
Liberally dust a large sheet of parchment paper with cornstarch and icing sugar mixture. Loosen marshmallow at edges with a flat-bladed knife and turn out on to parchment paper.
Dust top again and leave for 1 hour to form a crust. Cut into squares and toss in icing sugar. This marshmallow keeps for up to 2 weeks in an airtight container or sealed plastic bag.
"This is a really glamorous, quite nice Christmas present," says Walker. "You don't need much gold in there. It looks really effective. And the vanilla flavours the vodka really quickly so you don't have to wait for ages and ages ... and it's really pretty with the gold leaf in it.
"You can find nice little bottles for it to go in and little glasses and it's quite a nice gift. They can use the bottle afterwards and keep the glasses."
Preparation: 20 minutes, plus infusing
2 sheets gold leaf (5 cm/2 inches square)
Pop vanilla beans into bottle of vodka and leave to infuse for at least a week. The vodka will steadily become a wondrous golden colour and will smell delightfully aromatic.
Remove vanilla beans (you could wash and dry them and use to flavour some superfine sugar).
Decant vodka into your chosen sterilized gift bottles.
Gold leaf is incredibly delicate, so carefully pick up small flakes (do this on the paper it comes in) with a small, slightly damp paintbrush and drop into the bottle. (Don't worry if it blobs up as it gets wet because as soon as you drop it into the vodka it will expand into a flake again — watch it, it's magical).
Seal bottles and label. This golden nectar keeps indefinitely.
Cherry and Almond Biscotti
Walker suggests substituting dried cranberries for the cherries in these Italian cookies for a holiday touch.
Cooking: 1 hour 5 minutes
500 ml (2 cups) 00 Italian flour
1 ml (1/4 tsp) baking powder
250 ml (1 cup) golden superfine sugar
2 large eggs, beaten with 5 ml (1 tsp) almond extract
Finely grated zest of 1 lemon
175 ml (3/4 cup) blanched almonds, toasted and roughly chopped
150 ml (2/3 cup) dried cherries
Preheat oven to 200 C (400 F). Lightly grease a large cookie sheet; you'll need a couple more later on.
Sift flour onto counter with baking powder, then make a large well in centre by pushing flour to edge.
Put sugar, eggs and lemon zest in centre and gradually work in flour with fingertips of one hand. (You could do this in a bowl, beating eggs and sugar together before adding flour, but the messy method is more fun and actually easier to do.)
When eggs and sugar are thoroughly incorporated, knead in almonds and cherries.
Divide finished dough into 2 pieces and shape each into a "sausage" about 30 cm (12 inches) long and transfer to cookie sheet. Flatten slightly, so that it is about 3 cm (1 1/4 inches) high. Bake for 20 minutes until set and lightly golden.
Remove from oven and cool for a few minutes on a wire rack. Reduce oven temperature to 150 C (300 F).
Using a serrated knife, slice each biscotti "sausage" slightly on an angle at 1-cm (1/2-inch) intervals. Arrange biscotti in one layer on 2 or 3 cookie sheets. Bake for 40 to 45 minutes until dried out.
Remove from oven and let cool on wire racks. These crunchy biscotti keep for 2 months in an airtight container or sealed plastic bag.
Source: "Handmade Gifts from the Kitchen: More Than 100 Culinary Inspired Presents to Make and Bake" by Alison Walker (Appetite by Random House, 2014).