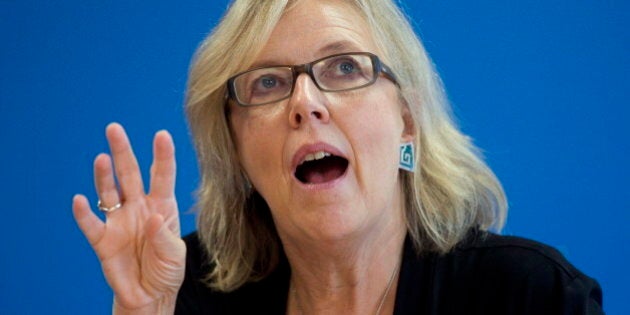 Elizabeth May presented a petition in the House of Commons on Wednesday calling for a review of the September 11 attacks.
The Green Party leader later said that she does not agree with the petition and that she was required by the rules of Parliament to submit it on behalf of her constituents. However, that's not exactly the case.
On Wednesday, May presented a petition from the group ReThink 911 "calling on the Government of Canada to conduct a parliamentary review into the events that occurred in the United States on September 11."
The organization has made headlines in the past for running ads on public transit suggesting that the the events of 9/11 were partly the result of controlled demolition. The group also alleges that there has been a government "cover-up" regarding the attacks.
When May was questioned on Twitter about why she presented such an inflammatory petition, the Green Party leader said she was required to do so by the rules governing Parliament.
The Green Party later issued a statement echoing May's position and stressing that while the party does not support the specific petition, it believes "that no citizen should be denied the right to make their voice heard in Parliament."
The party statement also cited House of Commons Procedure and Practice as saying "The Member, whose role it is to make the presentation on behalf of the petitioners, is not required to be in agreement with the content of any petition he or she may choose to present, and no such inference is to be drawn."
However, the statement omitted the previous sentence from the same rules, which reads: "Members are not bound to present petitions and cannot be compelled to do so; nevertheless, it is evident that many Members consider it a duty to present to the House petitions brought forward by citizens."
The requirement to present petitions on behalf of constituents has been the subject of longstanding debate amongst parliamentarians.
Earlier this year, NDP MP Kennedy Stewart won House approval for his private member's motion to bring electronic petitions to Parliament. He did so with the support of eight Conservative MPs and the motion is now being studied by the Standing Committee on Procedure and House Affairs. If it eventually becomes law, petitions would no longer need to be submitted in paper form.
Currently, MPs can present a petition in the House if it has received 25 signatures on paper.
Stewart's motion also proposes that any petition with 50,000 or more signatures trigger an automatic debate in the House of Commons.
If that rule takes effect, we can expect plenty more controversial petitions in the years to come.