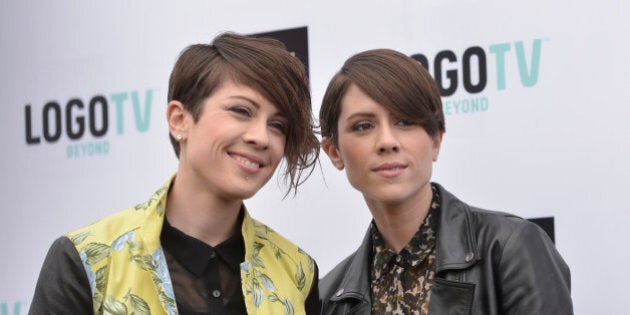 Alberta's most famous gay twin singing duo Tegan and Sara applauded the Alberta government's decision to press pause on a controversial gay-straight alliance bill yesterday.
The third reading of Bill 10 was placed on hold for more consultation, according to Alberta Premier Jim Prentice. The legislation was intended to give school boards and principals the power over whether or not a gay-straight alliance (GSA) could be formed in schools by students. "Bill 10 has added to, rather than resolved these divisions, and I accept personal responsibility for that as the premier," Prentice said. "I'm most disturbed that our gay and lesbian youth are caught in the middle of a very divisive debate."
The bill was introduced by the Progressive Conservatives earlier in the week after a private member's bill, proposed by Liberal MLA Laurie Blakeman, was basically quashed by the government. Blakeman's original bill would have made Gay-Straight Alliances mandatory in schools if students desired them, while the government's bill would give school boards the right to deny GSA clubs and force students to go to court if they wanted to challenge the boards' decision.
"We are encouraged by the latest news from our home province of Alberta, that the Premier has put the third reading of Bill 10 on hold, due to mounting public pressure," Tegan and Sara wrote on their site Dec. 4. "This provides us with an opportunity to ensure the next version of this bill truly accomplishes the goal of prohibiting discrimination based on sexual orientation."
Without naming names, the duo also took aim at the political posturing of some provincial parties regarding the legislation at the expense of youth coming to terms with their sexuality.
"In a country where marriage equality was achieved over a decade ago, it is absurd and shameful to make a political issue out of the right our LGBTQA youth to access the proper support services," the duo said.
"Growing up in Calgary in the 1980s wasn't easy for twin sisters with gender confusion. High school in the 1990s was even harder – when we both realized we were gay. At the time there were no gay characters on TV, there was nothing on the internet, and there was no such thing as a Gay-Straight Alliance. Through the support of friends, and because of music, we persevered, but the same was not true for all LGBTQ kids of that time, nor would it be true today.
"Suicide is the second highest cause of death in Canada for youth age 10-24. Low self-esteem, homelessness and alienation are all issues faced by LGBTQ youth. A High School Gay-Straight Alliance can be, in some cases, a life-saving safe space. It is also a place for youth to share and learn compassion, empathy, to educate each other, and to grow."
They also said the gay youth bill needs to be changed. "Bill 10 in its current state would subject students to more potential prejudice, discrimination, and unnecessary struggle," they wrote. "Calgary will always be our home, and because we care about the youth who are growing up there, we need to educate those who have the ability to influence this legislation; people of all ages who live in Alberta or who have friends or family there."
Tegan and Sara recently completed a lengthy worldwide trek behind their last studio album Heartthrob, released in early 2013. The duo are also set to release "So Jealous X," a tenth anniversary expanded reissue of their 2004 album featuring bonus material and a live DVD.