Liberals are again invoking the legacy of the late Jim Flaherty to criticize the Harper government, this time over its treatment of veterans.
For weeks now, Grits and New Democrats have been calling for Veterans Affairs Minister Julian Fantino to resign or be fired by Prime Minister Stephen Harper in light of a number of controversies in his department.
First, it was revealed Veterans Affairs did not spend more than $1.1 billion of its budget over the past seven years. The auditor general then reported vets with PTSD are kept waiting too long for help and, days later, The Globe and Mail revealed a much-trumpeted $200-million fund to help veterans deal with mental health issues will be spread out over 50 years, not five or six.
But on Monday, much of the focus in question period was on the discovery that some of the biggest job cuts at Veterans Affairs in recent years have been in the disability awards branch and that, as reported by The Chronicle Herald, department managers reaped lucrative bonuses for slashing costs.
Fantino repeatedly told both New Democrats and Liberals that he would make no apologies for "reducing the bureaucracy" at Veterans Affairs. And the minister made it clear he isn't planning on calling it quits.
Eventually, the Liberal veterans affairs critic Frank Valeriote tried a different tack: questioning Fantino's courage.
"There was once a minister willing to stand up to the prime minister but unfortunately Jim Flaherty is gone now," Valeriote said. "When will the minister of veterans affairs stop the prime minister from making these callous cuts and misleading veterans and Canadians?"
Fantino shot back that it was pretty hard to "dignify" that question.
"However, let me assure the honourable member that the decisions that were taken are always in consideration of doing the right thing for the right reasons on behalf of our veterans," Fantino said.
The minister added that his department is focused on "creating efficiencies" so that savings can be translated to front-line services for veterans and their families.
But Valeriote was not the only Liberal to reference Flaherty on Monday. In a blog slamming both the prime minister and Fantino over the veterans issues, deputy Liberal leader Ralph Goodale also lauded Flaherty for having the "courage to challenge Mr. Harper" on the issue of income splitting.
"Sadly, Julian Fantino is no Jim Flaherty," Goodale wrote. "The Vets Minister meekly does Mr. Harper's bidding with a 'bonus' system to reward managers in his department, not for better treatment, but for slashing services and staff."
Several Liberal MPs brought up Flaherty's name in question period this fall while condemning the Tories' income-splitting plan, which Grits and New Democrats maintain will only benefit 15 per cent of Canadian households.
Flaherty publicly questioned the merits of income splitting last February. He resigned as finance minister last March and died a month later.
Yet, at least one top Tory suggested Liberals were crossing the line by bringing up their late colleague, particularly while a byelection was underway to find his successor. Conservatives held on to Flaherty's old riding of Whitby-Oshawa last month, despite a strong push from the Liberals.
On the day of the vote, Goodale rose in question period to say Flaherty raised taxes and chopped services for veterans. He also said Flaherty warned income splitting was costly and unfair.
After question period, Foreign Affairs Minister John Baird — who also served with Flaherty for years in the Ontario legislature — rose on a point of order to say Goodale should be "ashamed of himself."
"On the very day that the late Jim Flaherty's friends, neighbours, constituents, and community are going to the polls to elect a successor, I think Canadians deserve better than the cheap shot we saw from the member for Wascana," Baird said.

With files from The Canadian Press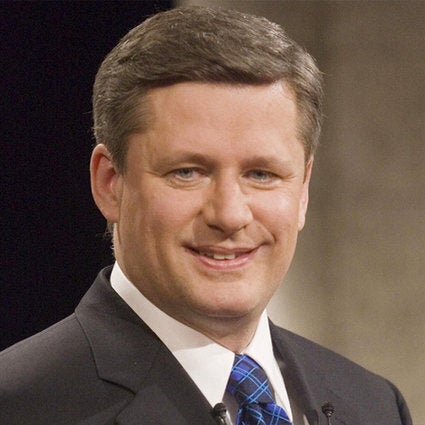 How Much Harper & Top Tories Have Aged