Bow down!
On Monday night, there were two queens in the house at the Barclays Center in New York.
Kate Middleton—who was in the city as part of a three-day trip with Prince William—and Beyonce attended the Brooklyn Nets vs. Cleveland Cavaliers game with their spouses, and almost broke the Internet in the process.
I can't believe Beyonce and Kate Middleton are hanging out together right now and I'm at home taking pics of my dog in an elf hat

— Abby (@f_AB_ulous619) December 9, 2014
What happens if the UK royals (William & Kate) bump into the US royals (Jay Z & Beyonce) at the #Nets game? Some kind of space/time rift?

— Louis Milman (@ljmilman) December 9, 2014
Kate walks to her seat, sits down, sees Beyoncé... "OMG IT'S THE QUEEN"

— Knicks Memes (@KnicksMemes) December 9, 2014
William and Kate are at the Nets game right now. There are few things I love more than the Royals, basketball, and @Beyonce #RoyalsinNYC

— Jessica Greene (@JessGreene23) December 9, 2014
It's expected Beyonce will meet Kate Middleton and Prince William. Brrruuuuuuhhh idk why that makes me happy, but it does! ☺️

— ciara (@rochhha) December 9, 2014
Although the duchess and her Beygency didn't sit beside each other (they sat across from each other, courtside), it was inevitable that style comparisons would be drawn.
Catherine sported a chic grey Tory Burch jacket over black skinny jeans and matching pumps, while Yonce went casual with a white and black print blouse, a black skirt and straight locks with a middle part.
Beyoncé & Jay Z at the Nets game tonight. #Flawless pic.twitter.com/ij7JirJ5Yh

— BEYONCÉ LEGION (@Bey_Legion) December 9, 2014
Before they took their seats, Will and Kate posed with their hands on a basketball with NBA commissioner Adam Silver.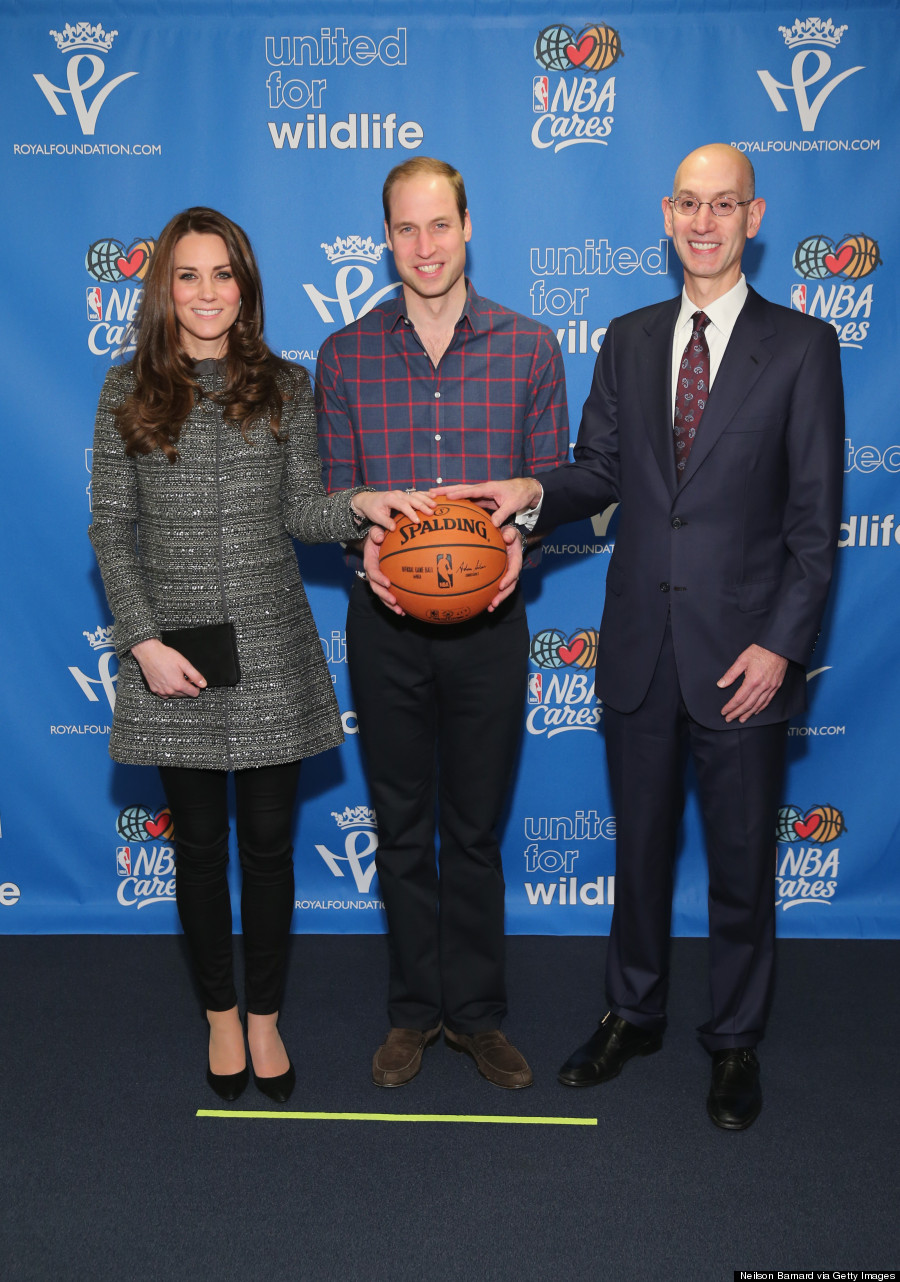 Here they are enjoying the game:
The Duke and Duchess of Cambridge watch their first NBA game. #RoyalVisitUSA pic.twitter.com/QJjcbeCZmB

— Ellie Hall (@ellievhall) December 9, 2014
Look at how cute they are:
Will & Kate getting lots of love at the #Nets game👏 #RoyalVisitUSA #KateMiddleton #PrinceWilliam https://t.co/kSBsenNw5Z

— Letti (@Letti4U) December 9, 2014
During a break in the game, Jay and Bey walked over to meet the royal couple.
We're between the 3rd and 4th quarters and William and Kate are saying hello to Jay Z and Beyonce, who walked over - like you do.

— Richard Palmer (@RoyalReporter) December 9, 2014
Brooklyn royalty meets UK Royalty at tonight's #Nets game at @barclayscenter. #RoyalVisitUSA https://t.co/05t565X5bf

— Barclays Center (@barclayscenter) December 9, 2014
Beyonce & Jay Z meeting Prince William, Duke of Cambridge, and Kate Middleton, Duchess of Cambridge between quarters pic.twitter.com/TSlcGWbTG6

— Cavs Nation (@CavsNationNet) December 9, 2014
The couple couldn't have been more excited to attend the game, even if they didn't know how to speak basketball lingo.
At a wildlife reception earlier in the day, Prince William confessed to his audience, "I'm off to shoot some hoops now or whatever it is the Americans call it."
The Duke and Duchess attended a conservation reception with Chelsea and Hillary Clinton at the British Consul General's residence, where William made a speech about illegal wildlife trading.
On Tuesday, the couple plan to tour the Empire State Building, the 9/11 memorial, and attend a charity dinner for their alma mater, St. Andrew's University at the Metropolitan Museum of Modern Art.
Kate, who is five months pregnant with her second child, looked radiant on Monday, when she visited Harlem's Northside Center for Child Development wearing a chic black Goat coat.
The couple arrived in New York City on Sunday, and were quickly whisked away to attend a private dinner that night (in style, natch).
Also on HuffPost