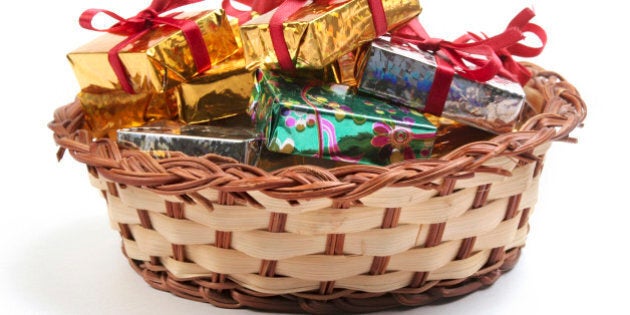 It's a question you struggle with every year: How do you find the perfect gifts for the women in your life? It's that time of year where lists are written (and rewritten), but we're here to save you some time and point you in the right direction. We're also here to gently stop you from gifting the items that the majority of women say they don't ever want to receive — exercise videos, cheap jewelry, kitchen appliances, or (heavens forbid) an iron.
With that in mind, check out these sure-fire holiday gift ideas for all the wonderful ladies in your life:
Our Favourite Things For Women: A Pain-free Holiday Gift Shopping Guide
If she's the type of person who reaches for her phone first thing in the morning, she'll appreciate a device like this. It ensures she'll be charged up and ready to start her day in a good mood. She can even choose to wake up to a playlist of her favourite tracks! Some models offer a white noise setting, ideal if her bedmate is prone to snoring.
We all like to eat and to eat well. Create a gourmet basket, stocked with her favourites — artisan vinegars, exotic salts from pink to black, all-fruit jams, loose leaf tea, coffee beans, and organic pasta. With any luck, you'll get an invite to dinner.
The newest celebrity perfume
Perfect for the woman loves to read celebrity gossip sites and stays in the loop for the latest fashion trends. She'll love one of the blockbuster perfumes launched this year, including: Heat Rush from Beyoncé, Faith Hill's True, or Katy Perry's Killer Queen.
Whether she's reading fashion magazines, Hemingway, or the latest bestselling page-turner, an eReader is a fabulous way to bring your entire library with you while you're on the go. The latest Kobo reader is waterproof and sand-proof, ideal for beach reading.
Judging by her Facebook (and Pinterest, and Instagram, and Twitter), she's the queen of selfies — whether she's posing solo or with a posse of gal pals. But why should she be stuck using a grainy smartphone camera? Buy her a Wi-Fi enabled camera, which allows her to take high-quality photos and immediately upload them to her social network of choice. Isn't technology grand?
If you had a dollar for every time she said she was chilly, you'd be sitting on top of a small fortune. Help her chase away the cold with a chunky-knitted sweater, the kind that goes well with a cup of cocoa on a snowy day. Check the label and make sure you buy 100 per cent wool.
Monogrammed bath towels or pillow cases
For the woman who has almost everything, something monogrammed significantly increases the luxe factor of everyday items like these. And it's not something women are likely to buy themselves.
This season, fashion runways around the world have been glittering with the telltale sign of gold accessories. When it comes to earrings, designers have gone bigger and bolder by embracing large hoops. So this is the season to buy her an over-sized pair of gold hoop earrings; meekness and modesty are not what's hot right now.
Huge and high-quality headphones
Remember when it was all about small ear buds for listening to tunes? Those days are gone. Now it's all about big headphones, splashy designs, and even bigger sound. She'll love a pair from Beats by Dre or Skullcandy. Plus, they can double as earmuffs in the winter!
It doesn't matter what you get, whether it's a scarf, throw blanket, sweater, gloves, earmuffs, or socks. It's the perfect combination of luxury and practicality.