Courtesy Brenda Enax
You've just finished your long work week, temperatures have dropped to -30 C, and you have heaps of snow to shovel before you can relax.
So you decide to bundle up, head outside, and get cracking on a 20-foot snowman, right?
Lukas Mertelik of Fort Nelson, B.C. did just that, spending three weekends working on the snowman until he was finished last Saturday. And the result — nicknamed Fortis — is taller than his house.
Mertelik, who grew up in Burnaby, is a seasoned snowman builder and said layering the snow is the key to success.
"Up here in Fort Nelson it gets pretty cold," he told The Huffington Post B.C. "The snow is quite a bit drier then down south, where you can roll a snowball and it'll stick together — it doesn't do that here."
Fortis started as a small pile made with the shovelled snow from the property, but Mertelik soon hopped up on the roof and starting dumping that snow on, too.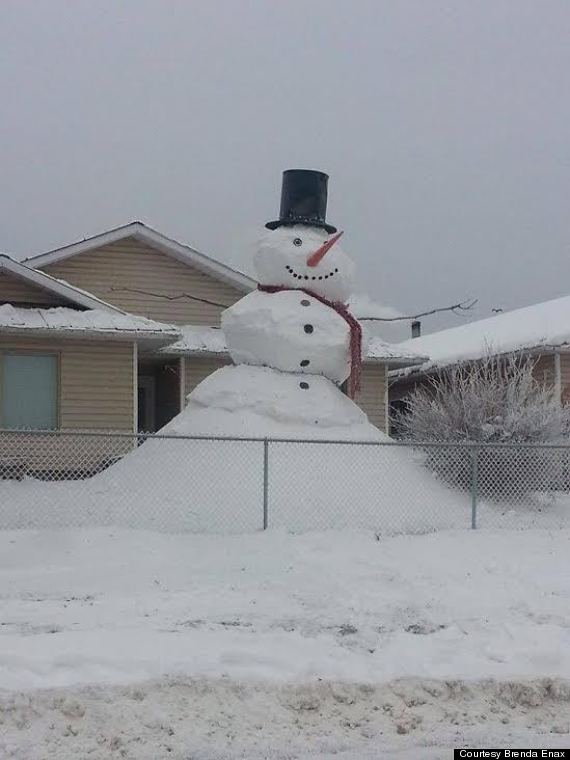 The weight of the snow falling from the roof helped pack the layers together, but Mertelik reinforced his creation with a few steel rods and a little bit of plywood, just to be safe.
"I like doing that kind of stuff. It's not the first time I've built a huge snowman," he said. "I had to shovel the snow anyways."
Fort Nelson, much like other cities in the northeastern corner of the province, is no stranger to snowy conditions. Mertelik says Fortis probably won't melt until April or May, but that's fine by him.
"Everybody loves it, people drive by, slow down, take pictures," he said. "It makes people smile. It's fun."
Like Us On Facebook

Follow Us On Twitter
EARLIER ON HUFFPOST: