Stephanie Moseley, a dancer and actress from Vancouver, was killed by her rapper husband who then turned a gun on himself, according to Los Angeles police.
Officers responding to reports of a shooting and a woman screaming on Monday morning heard more shots fired when they arrived at a high-end apartment complex, said the L.A. Police Department in a news release.
Moseley, 30, had been shot several times, while her husband, Earl Hayes, 34, suffered what appeared to be a single gunshot wound to the head, said Det. Scott Masterson.
Investigators are treating it as a murder-suicide.
Moseley trained at the Pacific Arts Ballet in Vancouver, Danzmode in Burnaby, and Kirkwood Academy in Nanaimo, according to her website.
"Steph was a true talent; very humble, gracious and it's just horrible," Danzmode instructor Rachel Poirier, who taught Moseley for six years, told CBC News. "Everybody admired her so much … She's probably one of my students that I talk about the most because I'm so proud of her and her success."
Moseley moved to Japan when she was 17 and to Los Angeles in 2004.
As a dancer, Moseley had performed with singers Beyonce, Jennifer Lopez, Usher, and Rihanna. She also appeared in the TV shows "Hellcats" and "Once Upon A Time," as well as "Twilight Breaking Dawn: Part 1."
More recently, Moseley starred in VH1's "Hit The Floor," a drama about an NBA cheerleading team that wrapped its second season this summer.
Friends told CBC that Moseley returned to Vancouver often to visit; her family still lives in the Lower Mainland.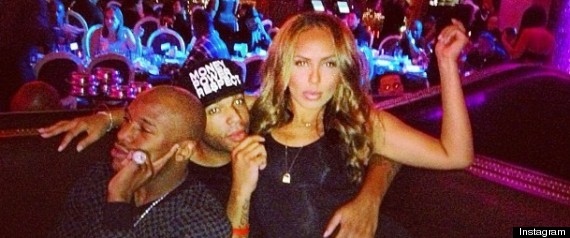 Stephanie Moseley is seen in a photo with her husband, Earl Hayes (centre), and boxer Floyd Mayweather (left).
Hayes was signed to Floyd Mayweather's record label and was reportedly a close friend of the boxer.
TMZ reports that Mayweather was on a FaceTime call with a "frenzied" Hayes — who believed his wife had been unfaithful — and heard the violence unfold. The website says L.A. police investigators want to interview the boxer.
Burrel Wilks, who identified himself as Hayes' life coach and friend, told KTLA that the couple was in the process of breaking up.