The Dallas Stars played the Jets on Tuesday and decided to have a little fun at Winnipeg's expense.
The @DallasStars strike again. #Manitoba pic.twitter.com/hBqGQ0GdD6

— Dylan Nadwodny (@dnadders) December 10, 2014
The team previously mocked Toronto when the Maple Leafs visited, Sportsnet reported.
It's true. There are indeed Leafs fans in the house. See jumbotronRT @damnitjason: Thank you @DallasStars Thank you. pic.twitter.com/KJIjTg6Tcz

— Dallas Stars (@DallasStars) January 24, 2014
Now, Canadians make fun of Winnipeg (and Toronto) all the time. We call it "Winterpeg" and mock the "windrows" that build up in back alleys.
So we're qualified in saying that this top 10 list is subpar.
Enter Global Winnipeg Morning News anchor Eva Kovacs, who issued her own top 10 list of things she loves about the city on Wednesday.
She cited attractions such as the Assiniboine Park Zoo, the Canadian Museum for Human Rights and, of course, the fact that the Jets are well ahead of the Stars in the NHL standings.
Here are a few reasons we thought of NOT to cheer for the Dallas Stars:
As of Wednesday, they had surrendered more goals than any other NHL team: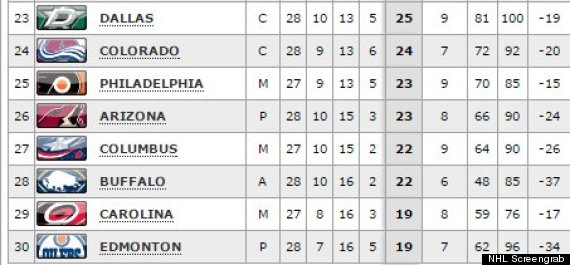 Centre Jason Spezza's unusual laugh:
There's another, better sports team that plays in the same city:
So come on, Stars: who's laughing now?
Like Us On Facebook

Follow Us On Twitter

ALSO ON HUFFPOST: