Now this is just mean.
Calgary Flames fan Jason Stang has put Edmonton's "City of Champions," signs up for sale online as the Oilers sit at the bottom of the NHL standings, Metro News reported Wednesday.
Stang doesn't actually have the authority to sell them, but he nevertheless put the welcome signs up on classified site Kijiji before the ad was taken down later.
However, he told The Edmonton Journal that he planned to put the ad up on Craigslist as well. Indeed, a similar ad was posted on that site Wednesday.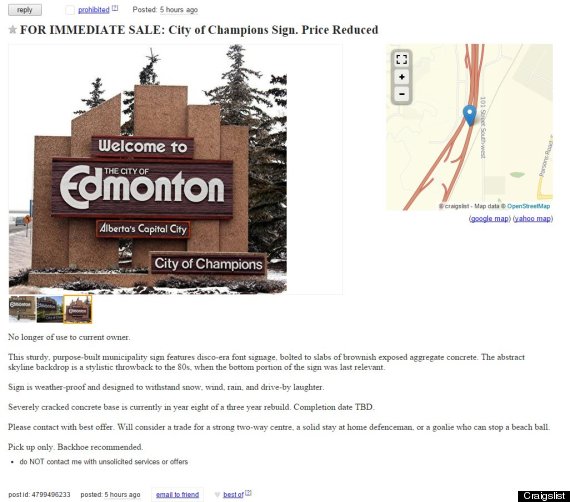 The Craigslist ad, which doesn't state a price, describes the sign as being "no longer of use to current owner."
It has "disco-era font signage," says the ad, with an "abstract skyline backdrop" that's a "throwback to the '80s, when the bottom portion of the sign was last relevant."
"We have always had to drive by that sign and thought, 'give me a break,'" Stang told Metro News. "So now it's our turn to put the screws to it."
And though the sign has rankled him over the years, Stang told the Journal that he feels Oilers' fans' pain.
"Yes, it's a dig at our rivals, but it's bad ownership that's ruining the team. It's not the fans," he said.
The Oilers currently rank among the NHL's worst teams and have not made the playoffs since 2006, when they lost to the Carolina Hurricanes in the Stanley Cup Final.
The club has since drafted a series of promising young players including Jordan Eberle, Taylor Hall and Nail Yakupov, but none have been able to lift the team into the postseason.
Fans have shown their frustration by booing the team after games, throwing jerseys on the ice and trying to vandalize property.
Stang's ad isn't the first time that people have suggested the city remove its signs.
Earlier this year, Edmonton city councillor Michael Oshry said the signs are outdated and that the slogan "City of Champions" should be withdrawn.
The slogan doesn't refer to the Oilers' five Stanley Cup victories, but to city residents who helped out others following the Black Friday tornado in 1987, said The Edmonton Sun.
Mayor Don Iveson has said the welcome signs should "just say Edmonton," the newspaper reported.
And last year, pranksters added their own slogans to Edmonton's welcome signs.