A baby red kangaroo is adjusting to its new home at an Okotoks pet store after it was turned over by a private breeder when it was abandoned by its mother.
The Exotic Animal House told CBC News it took in the baby 'roo, named Dingo, so it could help maintain a rigorous around-the-clock feeding schedule.
The store, which is located approximately 50 kilometres south of Calgary, carries a selection of exotic reptiles, birds, fish, and mammals. The owner of the store also runs a private farm that is home to other exotic pets, Manager Kourtney Paulin told Okotoks Online.
The joey, now five-months-old and approximately the size of a house cat, came to the Exotic Animal House after his mother kicked him from her pouch nine months early.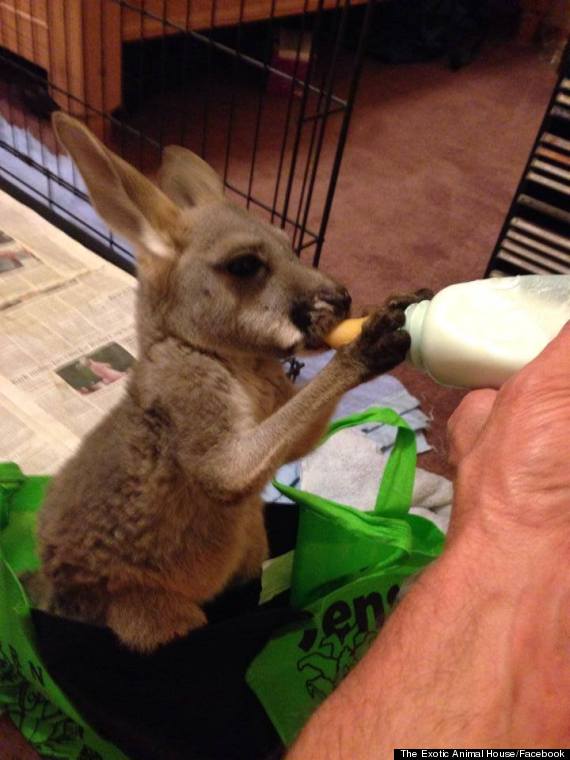 "Basically what happens is kangaroos in general have a fetus in utero and they also have a baby in pouch at all points in time. What can happen is sometimes the baby gets kicked out earlier and the new baby is delivered and goes into the pouch. When that happens, the mother pretty much orphans the baby that was in pouch. So, they are supposed to stay in-pouch for about 12 months and [Dingo] was kicked out when he was about 3 months" said Paulin.
Dingo now spends about 18 hours per day sleeping in a hanging pillowcase that's meant to imitate a pouch, reports the Okotoks Western Wheel.
"He gets his opportunities to get out and bounce and kind of strengthen his legs.He runs around the office with us, and we play games with him. When he comes out of the pouch he's really excited and happy to see people that take care of him and work with him," Paulin told the Western Wheel, adding that they've had a steady stream of visitors since Dingo arrived at the store.
The Town of Okotoks told CBC News that bylaw officers paid a visit to the pet store to make sure the kangaroo was being well cared for. A licence is not needed to own a kangaroo in Alberta.
Once Dingo is off the bottle-feedings, he will live on the store owner's private animal farm with other red kangaroos.
In the meantime, Albertans are welcome to pay a visit to Dingo, but his minders ask that you visit www.theexoticanimalhouse.ca or call (403) 995-0220 for visiting hours.
ALSO ON HUFFPOST: