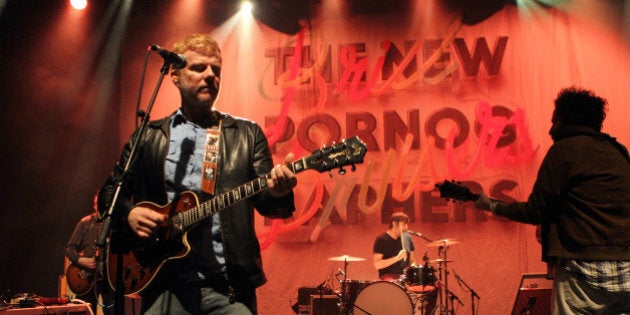 Joined by bandmate and niece Kathryn Calder, Newman talks to the Huffington Post Canada about missing his two-year-old son while on the road, his enduring inferiority complex even with fans like Beck and Ben Gibbard, and meeting (or being afraid to meet) teenage idols like Husker Du's Bob Mould and Steely Dan's Donald Fagen. Oh, and also hand-jobs.
How did you start conversing with Bob Mould?
Carl Newman: I think because he plays with John [Wurster of Superchunk] and we know John, that makes things really easy. I don't know if this is a boring story, but long ago I saw the last Husker Du tour 'Warehouse' and this band Christmas, who I really loved, were opening and the main singer of Christmas was this really intense guy and all over the stage and I had backstage passes, I saw the singer from Christmas who was this very mellow, nice guy and years later I became friends with.
I thought it was so strange, it turned a switch in my head like "Oh, he's a different person offstage than he is onstage" and I think that it put that spark in my head that I could transform myself. I didn't have to feel like the awkward eighteen-year-old when I was onstage. I told that to Bob Mould and he said, "Man, that's such a sweet story." Yeah, it's a circle of life. He brought Christmas on tour and I saw Christmas because I saw him and I was so inspired to play in a band and now we are in bands together and talking all of these years later.
Do you get nervous any more when meeting those idols? A kill your idols mentality?
Newman: Some people. I live in Woodstock and occasionally I see Donald Fagen at things, I'm afraid of him.
Intentionally avoiding him?
Newman: I think he is quiet guy, who is not likely to talk to people. Sort of like the version of someone I was just talking about who transforms onstage and in regular life, just a quiet person. So yeah, I'm afraid of him because I respect him so much musically that I wouldn't know what to say to him. I don't know.
You must wanna shatter that fourth wall sometimes.
Newman: I don't know, there must be some people that I'm afraid of. I think that of a lot of comedians. Maybe it is because I have so much respect for comedians. It is something that I love and I can't do and I admire the bravery of it.
Who are some of the comedians that you look up to?
Newman: There are so many. It's just like that whole underground comedian circuit
Kathryn Calder: David Cross.
Newman: But I know David Cross. I'm sure that if I met Zach Galifianakis, I would be very nervous because he's incredibly funny and influential, original comedian and I would just feel like an idiot. What do I say to you?
Calder: I kind of feel like that when you know something about somebody and you've never met them. I feel so weird. I don't know what to talk about so I disappear, like "That's cool. I'm a big fan, see you later!" I know more than I should know about you and I don't know why that is.
Have you been surprised by someone like Bob Mould or anyone else that's expressed that they're a fan of you?
Newman: Really I don't know how much he knows our music but I've read something in SPIN Magazine at the year-end issue of 2005 and he listed our record "Twin Cinema" as his favourite album of the year. That just blew me away, because then again, I went back to that sort of nervous eighteen-year-old and then thought, "holy shit I'm on the other side."
Just the fact that he even knew that I existed, I'm shocked when people know I exist. I did this interview, something like this at a San Diego festival and they guy said, I was just talking to Beck about you and I went, "Beck knows us?" He was like, yeah Beck likes you. Get out of here! Are you just effing with me? Then I though, yeah why wouldn't he? He doesn't have to a big fan, but I guess we're on the radar. If you're a musician like him and you like music, you're probably checking out what is what. Yeah, I never get past that inferiority complex.
That has to be more gratifying than any sort of critical review, to get a stamp of approval from somebody like Bob Mould or Beck.
Newman: It is. It is. Something I've got to remind myself that, especially when you start reading reviews, which is not a good idea. Ben Gibbard direct messaged me to tell me just how much he liked the record. I thought, that's so nice of him. Thanks, Ben. We have the same management. It's nice to have that community. That has always been the coolest part of playing music. I feel that everybody wants to connect with some kind of community, for some people it is religious or ethnic and for me it's always been the musical community.
Having a son at home, do you have a different understanding of what it is that you do now?
Newman: No. It seems like fucking madness. It feels like I should be at home with my wife and child where I'm happy, but it's great to be here! [LAUGHS]
Has he seen your band perform?
Newman: My son? No, I don't think he has. He watched me on Letterman. I'm going to start to cry.
How about you? On the road, have you noticed a change in dynamic with families?
Calder: We've never really been the road dog band, where we're gone for months and months and months, like six months. I have friends who are in bands that are constantly gone, they're constantly on tour and we've just never really been that band. It's been really mellow for three weeks, maybe at max. We have a respect for our home lives and we're trying. It's really important that you have a solid home base and then go away, do your job otherwise. If it gets messy, it starts affecting your show and how you're feeling. At least, I always try.
It's really important to me to have a really good balance between "yes I'm going away and doing all this really fun stuff" and also we get to come home because stuff happens at home, people get sick and if you're not there, it can be really awful. It can be really hard, personal. We're all just humans, so that's the great thing about this band. It's never a lot of pressure or crazy, we're never gone that long.
And unlike many other professions where parents have to leave the home, you're doing work that is extensively documented and your family will be able to experience the music even years after you're gone.
Newman: I think about that, I think about that all of the time now. I think about what I'm leaving him.
Not everybody gets that opportunity.
Calder: And it's fun! I have a little niece and nephew and they're always really excited when I popup. Their parents put on whatever video just came out on the screen and they're just like: "What! How is she on the TV! That's so crazy!" They're four and two, my nephew gets really excited. That's fun and those are the great moments. Sure, there is lots of nonsense that comes with it too, but there's also a lot of really awesome moments.
Newman: [LAUGHS] I'm wiping tears from my eyes. I'm thinking of my son and now I have to explain the hand-job tweet. I think it was a mnemonic device we came up with because it was the code for the wifi -- it was HJUSALLC, so we came up with 'Hand-job us all, see?' I wasn't paying attention, thinking why are they talking about hand-jobs? Then I went to fill in the wi-fi and realized, I already know this because that mnemonic device was planted in my memory.