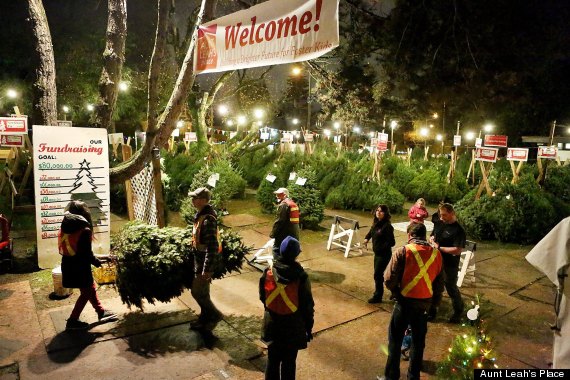 Aunt Leah's Christmas tree lots have the similar strings of twinkling lights and the familiar smell of fresh trees as other stands in B.C.'s Lower Mainland during the holidays. But their beneficiaries are very unique.
Proceeds from the tree sales go to programs and housing for foster kids "aging out" — the blunt term that describes turning 19 and being discharged from B.C.'s child welfare system.
Shaelyn Bayduza found out she was pregnant when she was 18, just a few weeks before finishing high school. She was pushed out of her parents' home and ended up on her sister's couch. Bayduza says she quickly overstayed her welcome and ended up homeless and unemployed with a newborn son.
"I was going to end up couch-surfing with friends with a newborn baby," recalls Bayduza in an interview with The Huffington Post B.C.
Her social worker referred her to Aunt Leah's, a non-profit group that began in 1988. The new mother and son were welcomed into Aunt Leah's housing program, where volunteers gave her cooking lessons, job training, and guidance.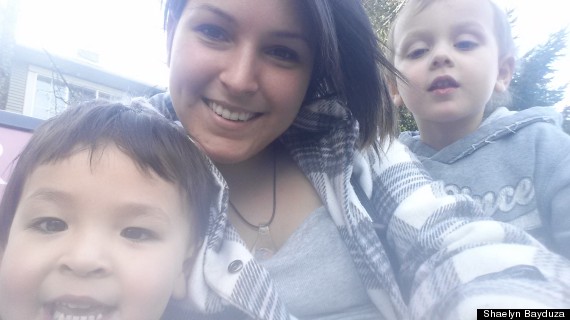 Shaelyn Bayduza now has two sons, ages 3 and 4.
"We try to teach them the skills that they're going to need to look after their own tenancy and look after themselves in terms of a budget and those kinds of things that all of us have to do when we become adults," Gale Stewart, Aunt Leah's Place founder, told the Vancouver Courier.
"But most of us have supports in place so that if we run out of money we have someone we can go to or if we need a free meal we usually have a mom or dad."
Every year, more than 8,000 children are under B.C. government care at any one time; roughly 700 teens "age out" annually, according to the B.C. Representative for Children and Youth office. About half of them end up homeless or on social assistance within months of exiting the system.
"When you age out at 19, you don't even have that opportunity to figure out what your passions are … you're just out," says Bayduza.
"For youth leaving government care, it can be a devastating time unless they are provided with proper support. Without it, they are less likely to attend post-secondary school and more likely to have trouble finding work, to become homeless, to run afoul of the criminal justice system and to have mental health or substance use issues," Mary Ellen Turpel-Lafond, the representative for children and youth, said earlier this year.
Turpel-Lafond has been calling on the provincial government to extend support for foster kids past the age of 19. It echoes the recommendation of a March study by the University of Victoria.
The report, led by Prof. Deborah Rutman, suggested that the province expand foster care up to the age of 24. It examined Aunt Leah's LINK program and found that a consistent safety net — regular, supportive staff and programs — helped participants establish more stable lives compared to other former youth in care who had to navigate a web of government services on their own.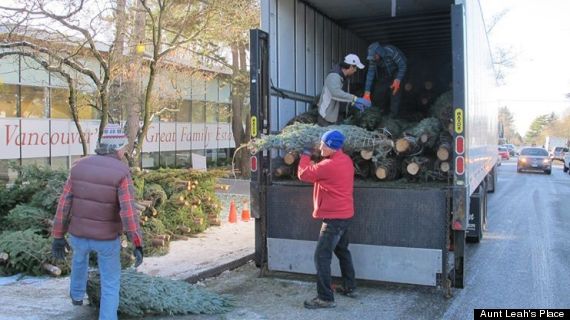 Which brings us back to Aunt Leah's tree lots. The ventures are staffed by volunteers, and at-risk youth learning valuable sales and service experience so they can move on to other jobs.
The annual holiday event is the New Westminster-based organization's biggest source of revenue, netting just over $90,000 in 2013. In its 20th year, the tree lot fundraisers hope to crack the $100,000 mark this season — all of which go to preventing foster kids from becoming homeless, and young moms from losing custody of their children.
"Not a lot of people saw the potential in me," Bayduza says in a United Way video. "But without all the support in keeping me on my feet when I was really down and my family was struggling, I wouldn't be able to reach my potential and my family wouldn't be doing this well right now."
Now 22, Bayduza is proudly off social assistance and raising her two sons, ages 3 and 4. She has two jobs, and eventually hopes to work with youth in government care to return the favour — giving them the sense of hope that she says turned her life around.
For more information on Aunt Leah's tree lots and their locations, click here.
Like Us On Facebook

Follow Us On Twitter
Also on HuffPost