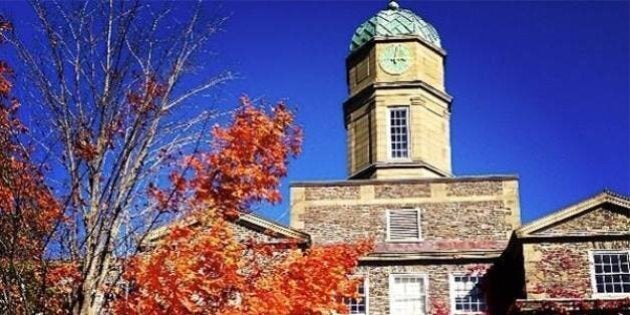 A fourth-year dentistry student at Dalhousie University in Halifax says the restorative justice solution put forward by Dalhousie's administration,after misogynistic posts were made by several male students on Facebook, is unacceptable, and she and her father want an investigation.
The 25-year-old woman, whom CBC News has agreed not to identify, says her photo appears in screen shots taken of the so-called Class of DDS 2015 Gentlemen Facebook page.
In one of the posts, male students in the group voted on which woman they'd like to have "hate" sex with and joked about using chloroform on women.
In a post dated May 2013, a member defines a penis as "the tool used to wean and convert lesbians and virgins into useful, productive members of society."
Another member responded, "And by productive I'm assuming you mean it inspires them to become chefs, housekeepers, babysitters, etc."
The screen shots were provided to CBC News before the page was taken down last week.
The woman says she was not consulted by the university's administration before the restorative justice decision was made.
"I'm frustrated. It's unacceptable. It's not representative," she said.
"It feels shocking to be asked to discipline my own peers — that's not my job. It's good that they're asking for our input, but we don't know all the facts, how can we be asked to make a decision based on partial information?"
Her father, whose identity CBC News has also agreed to protect, agrees.
Calling for a 3rd-party investigation
"I find the president's response to this crisis in the Dal community to be absolutely inappropriate, ineffective, and not truthful. To my knowledge, he has spoken to two of the young dental female candidates — there are at least 20 plus to my knowledge, many of whom do not know the circumstances and the content of the offensive Facebook pages that are an issue," he said.
He said this puts the women in the program "in the very awkward position — being worried about their grades, about their exams, about their graduation, and about the repercussions that any active opposition to the president's proposed strategy will have on their specific and individual life and career."
The man says he's "outraged," and that the university has the responsibility to "take swift, decisive action to root out the apparent culture of disrespect for young women and provide a meaningful response.
"I understand that there has to be a full investigation, procedural fairness has to be applied — but the approach that the university appears to be taking is, 'Let's let this slide over the holidays, into the new year and hope it all goes away.' I'm just absolutely shocked at their strategy, at theirresponse. From my perspective it's ineffective, it's inappropriate, and an independent, third-party, arm's-length investigation needs to happen."
'Touchy-feely restorative justice ... not the answer'
The man said he sent a letter to Dalhousie president Richard Florizone on Wednesday, but has yet to hear a response.
He also said it's not for him to say whether these men should be expelled.
"I don't have all the facts. I understand their careers are on the line, I understand they have a significant financial investment in their education and in their future careers," he said.
"I think, as I said, that procedural fairness has to not have a knee-jerk reaction to this, but something has to be done because school starts again in two weeks and the female students are going to be back in the clinic with the male perpetrators and that is not going to be a healthy learning environment."
He said this course of action is not the best solution.
"Just putting it off into late January and starting some sort of a touchy-feely restorative justice process is not the answer, in my view," he said.
"This is a critical time for these particular fourth-year students and the action plan that has been proposed by the administration, to me, is totally, woefully inadequate."