Here's a first look at Canadian actor Michael Mando ("Orphan Black") as Nacho Varga in the much-anticipated AMC series "Better Call Saul." The prequel to the award-winning series "Breaking Bad" will debut on Sunday, February 8 at 10:00 p.m. ET/PTwith its second episode airing the next day, Monday, February 9 at 10:00 p.m. The series will then continue to air Mondays at 10:00 p.m. ET/PT on AMC.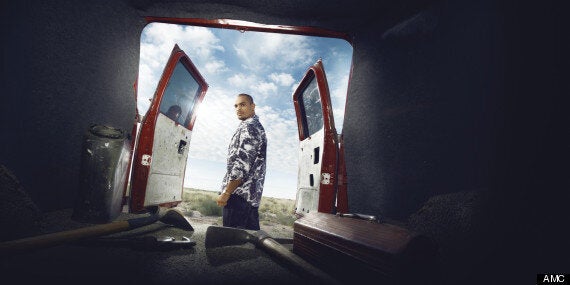 (Click for closer image -- those look like some murderous tools right there in that van...)
Nacho Varga is a calculating, intelligent criminal. While not yet a kingpin himself, Nacho is bright and has the ear of his terrifying boss. Nacho's ambitions will put him on a collision course with Jimmy (who we know as Saul Goodman) that might just take them both down.
The story is set six years before Saul Goodman (Bob Odenkirk) meets Walter White. When we meet him, Saul is known as Jimmy McGill, a small-time lawyer searching for his destiny and hustling to make ends meet. Working alongside and often against Jimmy is fixer Mike Ehrmantraut (Jonathan Banks), a beloved character first introduced in "Breaking Bad." The new series will track Jimmy's transformation into a man who puts the criminal in "criminal attorney."
"Breaking Bad" creator Vince Gilligan and writer/producer Peter Gould serve as co-showrunners of the premiere season of "Better Call Saul."