Canadians can be forgiven if they sometimes feel they have nothing in common with the people elected to represent them.
Politicians don't always make it easy for us.
Some seem to speak only in talking points, often with words carefully prepared by other people in other rooms.
Some deflect blame or obfuscate when a simple "sorry" now and again would do wonders.
Some attack and belittle in manners beyond the pale, even for a country that appreciates a clean hit.
And most operate in a world of us-versus-them partisanship that can turn so many of us off.
But it's important to be reminded sometimes that our politicians are just people.
Many are mothers and fathers. Many are wives, husbands and partners. And long before their names were on lawn signs, long before they were big shots, they too were just sons and daughters, sisters and brothers, friends and neighbours.
If we can think of them that way, at least once in a while, we can start to see them as individuals we might approach. Or challenge, fairly, on their ideas and beliefs. Or forgive, when they make the kinds of mistakes humans do and try that "sorry" thing we mentioned earlier.
And maybe by seeing them as people — imperfect and flawed, just like us — we can also appreciate the work they do and sacrifices they make so that the country can function.
In 2014, there were many moments that reminded us that politicians are people. Here are a few we will remember.
When this Tory MP gave a touching speech for his son on World Autism Awareness Day
Said Mike Lake of his "big little boy" Jaden, who was listening from the gallery: "He is the friend who always believes the best, the worker who never wants his shift to end, and the student who makes all of the others better people. He is the brother who loves his sister and is not afraid to show it, and the son who every single day reminds his parents that there is incredible joy to be discovered in even life's most difficult circumstances."
When Justin Trudeau and his wife welcomed a third child
Welcome to the world, little Hadrian. 8lbs 3oz, Sophie is wonderful, Xavier and Ella-Grace couldn't be prouder. pic.twitter.com/L8T3CW2kME

— Justin Trudeau, MP (@JustinTrudeau) February 28, 2014
And his top rivals sent along their congratulations
.@LaureenHarper and I would like to congratulate @JustinTrudeau and Sophie on the birth of their new son Hadrian.

— Stephen Harper (@pmharper) February 28, 2014
Congratulations to Sophie and Justin on the arrival of baby Hadrian. Wishing you all health and happiness.

— Thomas Mulcair (@ThomasMulcair) February 28, 2014
When Jim Flaherty passed away a month after resigning as one of Canada's longest-serving finance ministers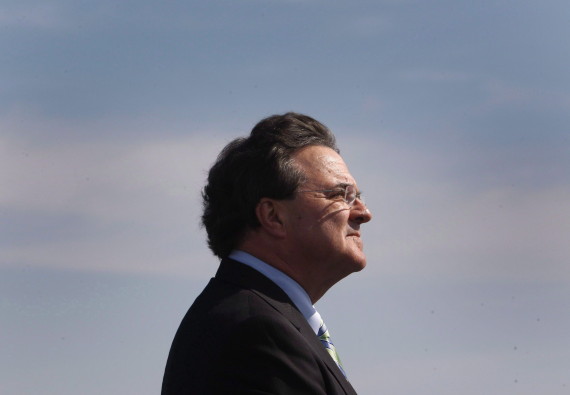 Photo credit: THE CANADIAN PRESS/Ryan Remiorz
And his last tweet took on so much meaning
It has been an honour to serve Canada. Thank you for the opportunity. pic.twitter.com/vIbBNgT0wY

— Jim Flaherty (@JimFlaherty) March 18, 2014
When NDP Leader Thomas Mulcair, who spent years battling Flaherty, grew emotional remembering a friend
&nbsp
And MPs of different stripes paid tribute to their colleague in different ways
This spot, this place, won't ever be the same. Thank you Jim. pic.twitter.com/vac2tVOjZM

— James Moore (@JamesMoore_org) April 10, 2014
Including Kellie Leitch, the cabinet minister and doctor who tried to save his life
&nbsp
Said Leitch of Flaherty: "His friendship, for those of us who benefited from its breadth, warmth, depth and humour, was the ultimate definition of loyalty."
When Flaherty's wife, Ontario MPP Christine Elliott, read a perfect poem at his state funeral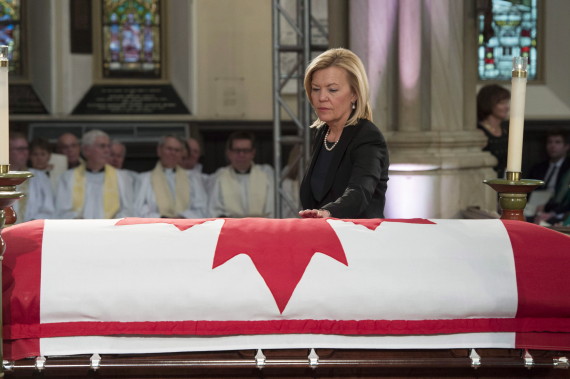 Photo credit: THE CANADIAN PRESS/Frank Gunn
From Henry Scott Holland's "Death Is Nothing At All":
Laugh as we always laughed
at the little jokes we enjoyed together.
Play, smile, think of me. Pray for me.
Let my name be ever the household word
that it always was.
When a tearful Elizabeth May opened up after the loss of her friend, Farley Mowat
&nbsp
When Trudeau introduced his kids to the prime minister at the Calgary Stampede
Nice to introduce Xavier to the Prime Minister. Good of @pmharper to say hello. Enjoy #Stampede2014 pic.twitter.com/y8Ue794gv0

— Justin Trudeau, MP (@JustinTrudeau) July 4, 2014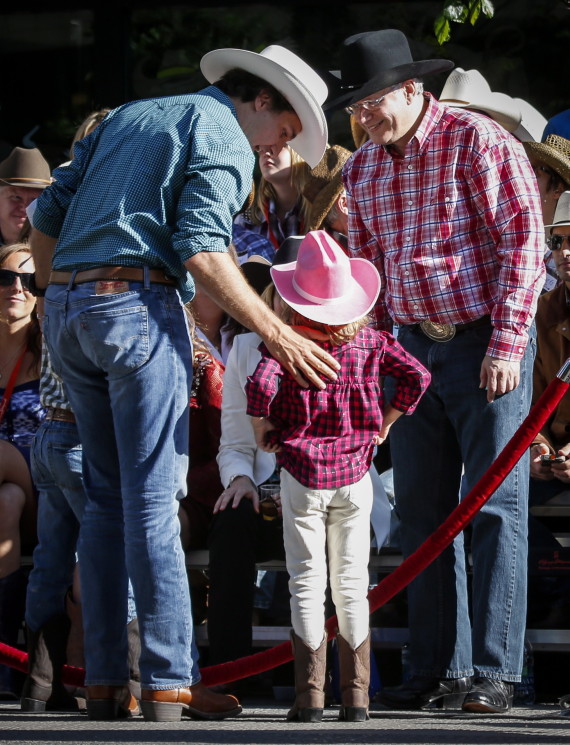 Photo credit: THE CANADIAN PRESS/Jeff McIntosh
Because some things are bigger than politics.
When NDP MP Paul Dewar's facepalm charmed us all
And the guy nicknamed "Angry Tom" had some fun
Having a ball with @MarkCritch at a #childcare centre in #Halifax @22_Minutes #cdnpoli pic.twitter.com/iq5TbDlXwF

— Thomas Mulcair (@ThomasMulcair) October 17, 2014
Had fun giving out candy tonight! Joyeux #Halloween! pic.twitter.com/Bl4wXmZPNi

— Thomas Mulcair (@ThomasMulcair) November 1, 2014
When Kathleen Wynne said she wouldn't be Ontario's premier if not for the Charter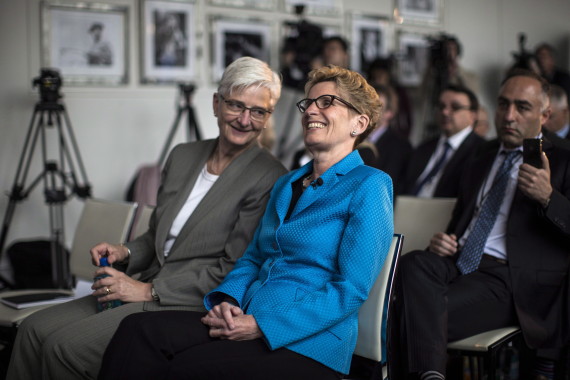 Photo credit: THE CANADIAN PRESS/Chris Young
Her sexual orientation was a non-factor in the June provincial election but at one campaign stop, Wynne said the Charter of Rights and Freedoms has meant she and her spouse, Jane Rounthwaite, can live without fear.
When Canada's first openly gay premier was later asked if there was a time when she felt she had to "live in the shadows," Wynne said it was Rounthwaite who spent "many, many years" not being fully open — "a very common story among gay, lesbian, bi, transgendered kids."
"I want to believe, and I do believe, because of where we live in Canada, in Ontario, that we can have a society that allows everyone to be who they are," Wynne said. "And so kids like Jane and kids who are growing up questioning who they are will have the support in all of our schools to be exactly who they are."
When Olivia Chow smacked down a racially-charged question
Said Chow: "I believe that everyone counts. No matter where we came from, what colour of our skin, what background, what income level, what neighbourhood we came from, it doesn't matter."
When they weren't afraid to behave like geeks
Like when Calgary Mayor Naheed Nenshi dressed as a "Dr. Who" character at the Calgary Comic and Entertainment Expo.
A selfie with some of the guests of @Calgaryexpo this year. #POWParade pic.twitter.com/zDkkjVQH82

— Naheed Nenshi (@nenshi) April 25, 2014
And Edmonton mayor (and avowed 'Trekkie') Don Iveson wore a "Star Trek" shirt to meet the stars of "The Big Bang Theory" during that city's fan expo.
We'll just leave this here, as the awesome is too much. :) @doniveson @kunalnayyar @simonhelberg #YEG #EdmontonExpo pic.twitter.com/KQA77wMOA1

— EdmontonExpo (@EdmontonExpo) September 27, 2014
When the mayor of Vancouver turned into a DJ at Pride
When they weren't afraid to joke around
&nbsp
Said Trudeau to "22 Minutes" star Mark Critch: "You're not going to hot-box my office."
And our prime minister refused to stop singing for his supper
In Israel…
And at the Conservative Christmas party…
&nbsp
When Tory Minister Michelle Rempel put her mother's mind at ease after a shooter stormed Parliament Hill
Mom im okay Im in hiding

— Michelle Rempel (@MichelleRempel) October 22, 2014
And, after the chaos, partisan differences were put aside for a brief, shining moment.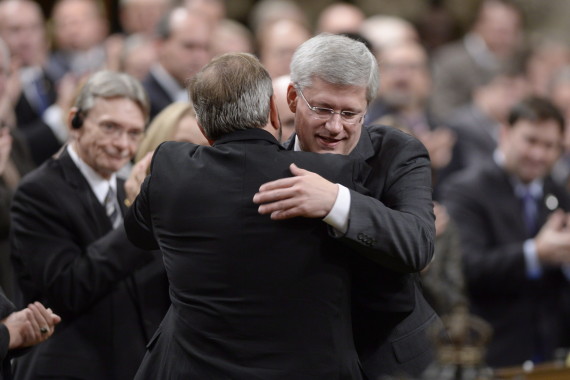 Photo credit: THE CANADIAN PRESS/Adrian Wyld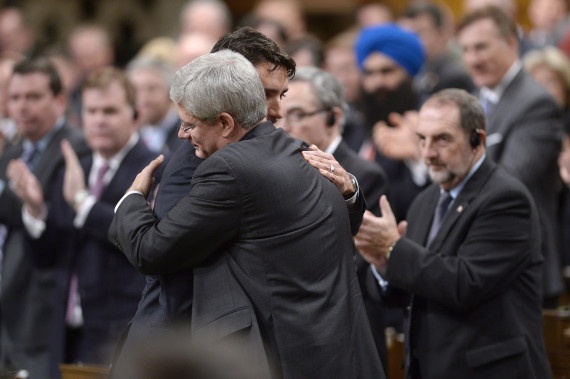 Photo credit: THE CANADIAN PRESS/Adrian Wyld
They battled in elxn. She's suing him over gas plant claims. BUT, ex-PC Ldr Hudak & Premier Wynne come together today pic.twitter.com/jotxiHRRuy

— Paul Bliss (@blissblogs) October 22, 2014
When MPs paid tribute to Sergeant-At-Arms Kevin Vickers...
&nbsp
And Barbara Winters, the woman who tried to save Cpl. Nathan Cirillo and told the dying soldier he was "so loved"...
&nbsp
And the House of Commons security officers, including Samearn Son, the unarmed guard who took a bullet while trying to stop the shooter
&nbsp
A few health scares prompted even those who most vehemently disagree with them to wish them well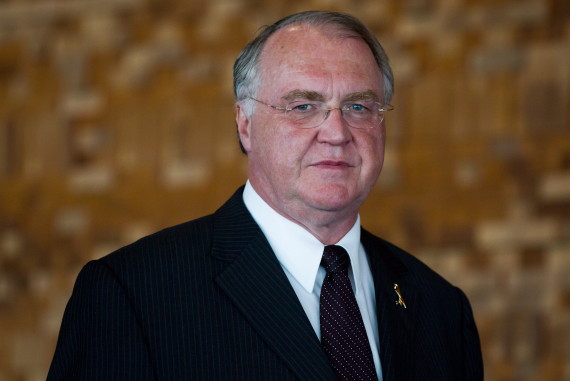 Photo credit: THE CANADIAN PRESS/Darryl Dyck
Former Tory minister Keith Ashfield received treatment after the return of his Hodgkin lymphoma.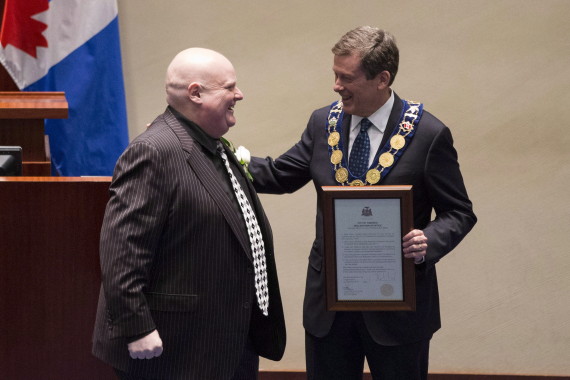 Photo credit: THE CANADIAN PRESS/Chris Young
Rob Ford dropped out of the Toronto mayoral race after he was diagnosed with a malignant liposarcoma, a rare type of cancer. After John Tory won the election, the new mayor put forward a motion thanking Ford, who won a spot on city council, for his public service and wishing him a quick recovery. The motion passed unanimously.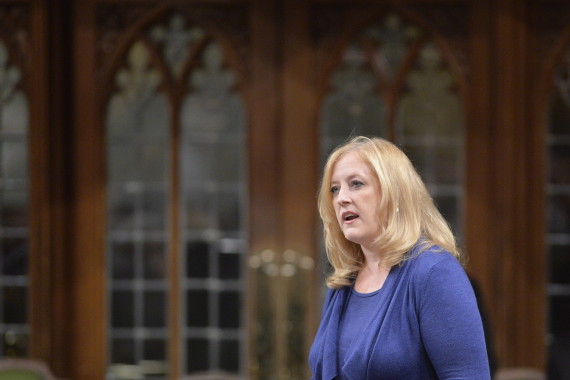 Photo credit: THE CANADIAN PRESS/Adrian Wyld
Transport Minister Lisa Raitt underwent surgery to remove a "solid growth" on her ovaries. Raitt also urged other women to be vigilant about any "reproductive issues" they experience.
Again, rival politicians sent along their best wishes.
Wishing Minister Lisa Raitt all the best. We're all with you, @LRaitt. #cdnpoli

— Thomas Mulcair (@ThomasMulcair) November 2, 2014
@lraitt Lisa, you will be in my thoughts and prayers. Wishing you a clean bill of health and soon! Xo

— Elizabeth May MP (@ElizabethMay) November 2, 2014
.@lraitt, Sophie et moi vous souhaitons un prompt rétablissement. We are wishing you and your family well.

— Justin Trudeau, MP (@JustinTrudeau) November 2, 2014
Earlier this month, Raitt confirmed she was cancer-free.
When two women bravely went public with their stories about sexual assault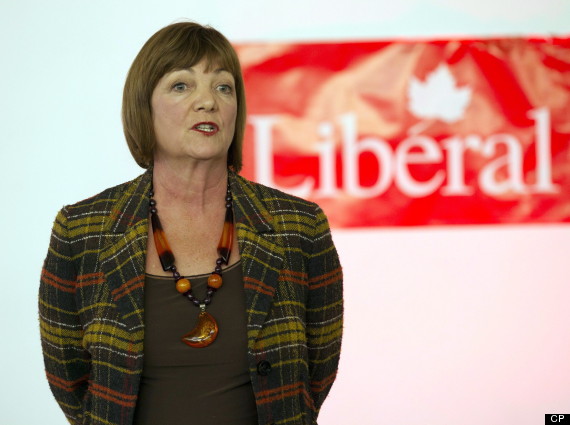 Photo credit: THE CANADIAN PRESS/Frank Gunn
Former Liberal deputy prime minister Sheila Copps came forward in November to say she was sexually assaulted as a young politician and later raped by a man she was dating more than 30 years ago.
Copps wrote in The Hill Times that she did not report the man who assaulted her but went to the police after the rape, and was told "a conviction was impossible."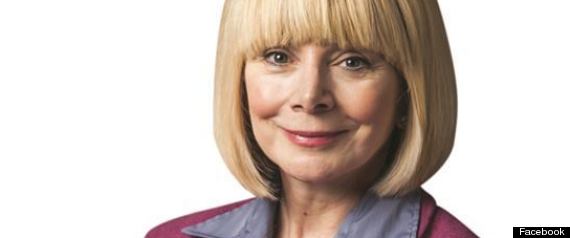 Photo credit: Cheri DiNovo Facebook
Ontario NDP Cheri DiNovo also said in December she was the victim of sexual assault and was raped by an ex-boyfriend more than 30 years ago. She did not report the attacks to the police.
Their disclosures came amid a wider national conversation about sexual violence and harassment toward women, spurred by the charges against ex-CBC radio host Jian Ghomeshi and the suspension of two male Liberal MPs for alleged misconduct toward two female MPs.
DiNovo told Maclean's that she even thought about what disclosing her assault might do to the man who attacked her.
"This is so typical too. As women, we still care about what our attackers feel! It's just so bizarre," she told Maclean's. "I think of myself as a pretty damn strong woman. I always have been. I don't put up with a lot of s–t. So the fact that I felt that way is pretty telling. That's rape culture."
When a retiring MP discussed the toll politics can take on a marriage and family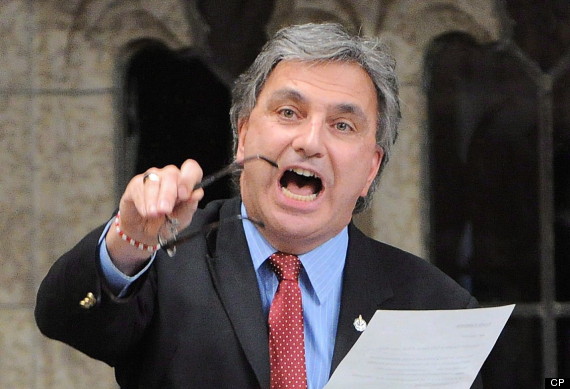 Photo credit: THE CANADIAN PRESS/Sean Kilpatrick
Liberal MP Frank Valeriote, who will not run again in 2015, gave a very revealing interview to The Ottawa Citizen's Jason Fekete about how a life in politics can sometimes wreak havoc on a marriage and family life.
Valeriote said the time he spent away led to his separation from his wife and that he is now giving up politics to spend time with his young children.
"What happens over time is your family acclimatizes themselves to your absence, begins their own routines. Sometimes, dropping in on a weekend, you feel like a visitor into what is a family routine that they have established. That's what happens to some of us," he told The Citizen.
"Some relationships, some families are able to withstand that, and some aren't. Clearly, mine wasn't."
* * *
Of course, there were many times this past year when the actions and choices of our politicians sparked disappointment and anger.
There were many times when we had cause to point at an elected representative and wonder how they ever achieved a position of such privilege.
There were many times when we felt justified shrugging our shoulders and saying: see, this is why people don't vote.
But here's hoping that, as we head into a federal election year, we can occasionally see in a new light those who summoned the courage to put their name on a ballot.
And believe, without cynicism, that maybe they aren't so different from us after all.
ALSO ON HUFFPOST:
With files from The Canadian Press, previous files