skynesher via Getty Images
Boxing Day, the long-reigning busiest shopping day of the year, could be eclipsed by Black Friday for the first time this year. But experts say shoppers can rest assured there's room for both sales events on the Canadian retail scene.
"Black Friday is the new Boxing Day, but Boxing Day is not dead," says Robin Sahota, managing director of retail at Accenture in Canada.
"People are shopping for gifts on Black Friday, but now they're returning to shop for themselves on Boxing Day."
Black Friday and Cyber Monday frame the weekend long kickoff to the holiday shopping season, when retailers turn profits, or go "into the black." The period of deep discounts after U.S. Thanksgiving has been gaining ground north of the border since the recession of 2008-2009, thanks to retailers' efforts to stem the flow of Canucks eager to cross-border shop, an even more appealing prospect when the loonie was on par with the U.S. dollar.
This year, Canadian retailers could benefit from a loonie that is at a five-year low and from lower gas prices that could put more spending cash into shoppers' wallets.
As Black Friday's popularity rises to unprecedented levels in Canada, Sahota says, retailers are increasingly forced to slash prices before Christmas to meet consumer expectations. About 33 per cent of respondents to an Accenture survey said they expected the best deals on Black Friday, tied with Boxing Day and up from 23 per cent expecting the best deals on Black Friday last year.
Sahota believes the deals are still better on Boxing Day because retailers have to offer deep discounts to get rid of leftover inventory and they feel compelled to offer even better deals.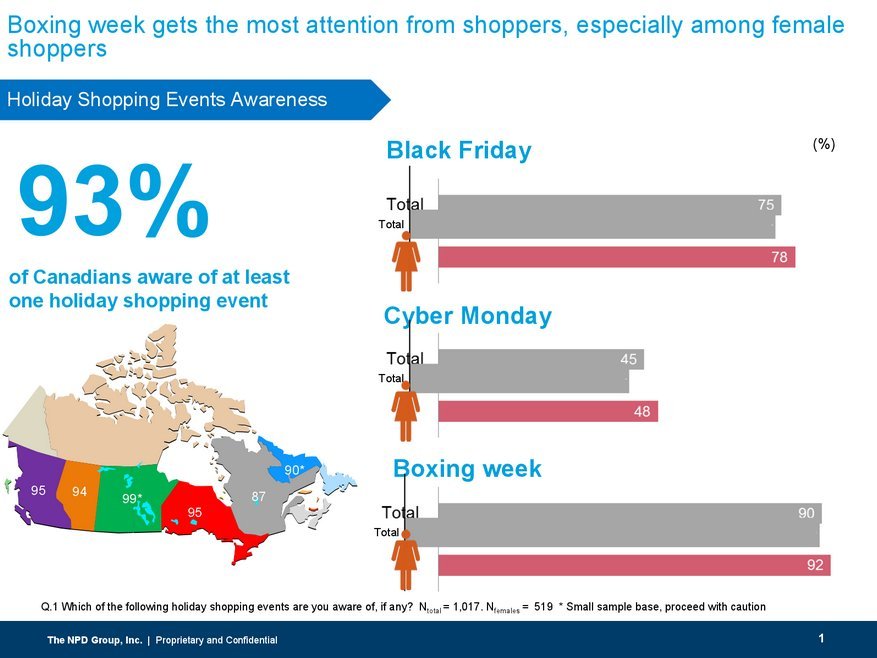 Boxing Week still gets the most attention from shoppers, according to an NPD Group survey. But that could soon change as awareness of Black Friday among Canadians has been steadily growing and now is nearly ubiquitous at 98 per cent, with shoppers spending an average of $295.80, according to DIG360/Ipsos. However, the study also found that just 25 per cent of Canadians bought merchandise on Black Friday, down from 27 per cent in 2013. Still, it found Black Friday shopping has been generally on the rise since 2010 when just 16 per cent of consumers made purchases.
Cyber Monday, the day dedicated to online shopping deals, is skyrocketing in popularity as more and more people prefer shopping from their computers to braving the malls. One-third of shoppers plan to buy online this season, a 26 per cent increase year-over-year, according to Google's Holiday Consumer Intentions Report.
The phenomenon pushes holiday shopping earlier and encourages buyers to shop early to ensure delivery by Christmas.
This year, with the loonie back well below par, Canadian retailers likely pulled sales away from their U.S. competitors, Sahota says.
Black Friday spending increased five per cent this year over last, while Cyber Monday sales grew 12 percent, according to a report by credit and debit card processor, Moneris Solutions Corp.
South of the border, Black Friday and Cyber Monday could be losing momentum.
Preliminary indicators suggested that an estimated 133.7 million people shopped in stores and online, down 5.2 per cent from a year ago, according to a survey for the National Retail Federation. Total spending for the weekend was projected to fall 11 per cent.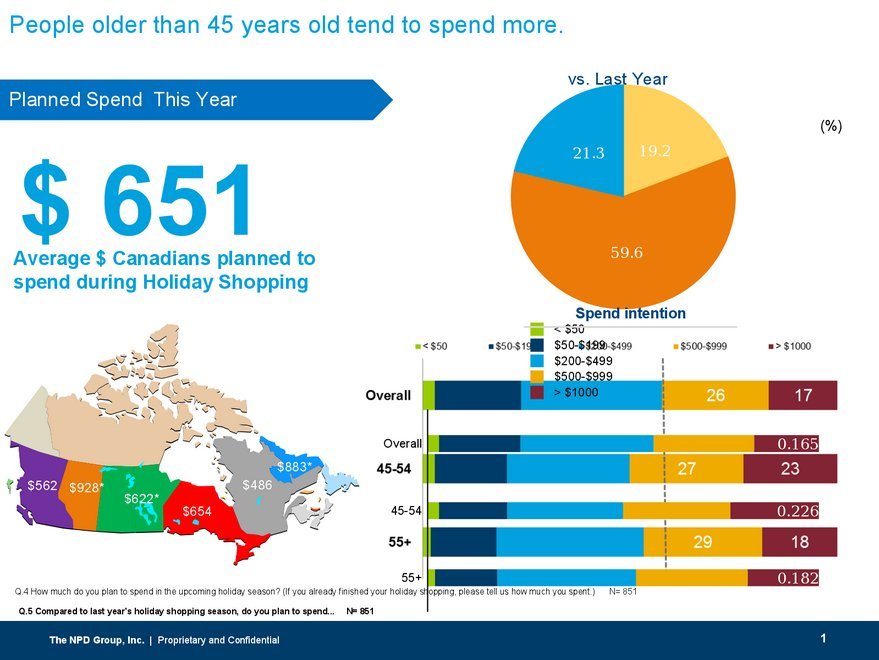 But in Canada it's Boxing Day that is waning, and it will continue to lose ground as more shoppers favour getting their presents cheap and early, says Steve Kates, associate professor of marketing at Simon Fraser University.
"It seems in the retail scene in the last few decades that there's ever increasing official times to shop. A few decades ago you never saw sales before Christmas," he says.
"Now the entire retail year is like a big sale. Relative to that, Boxing Day is going to be less important."
The emergence of Black Friday has shifted sales to earlier in the season, giving the period momentum over Boxing Day, he says.
But that has not detracted from shopping on Boxing Day, says Rick Kohn, a partner with Deloitte & Touche LLP. Instead, it has served to extend the holiday shopping period, good news for retailers because holiday shopping boosts sales just before year-end.
"It's earlier and earlier but it's also longer and longer," he says.
"It's an opportunity for consumers to seek benefits but it's also an opportunity for retailers to manage their pricing over a longer period which allows them to achieve a higher margin."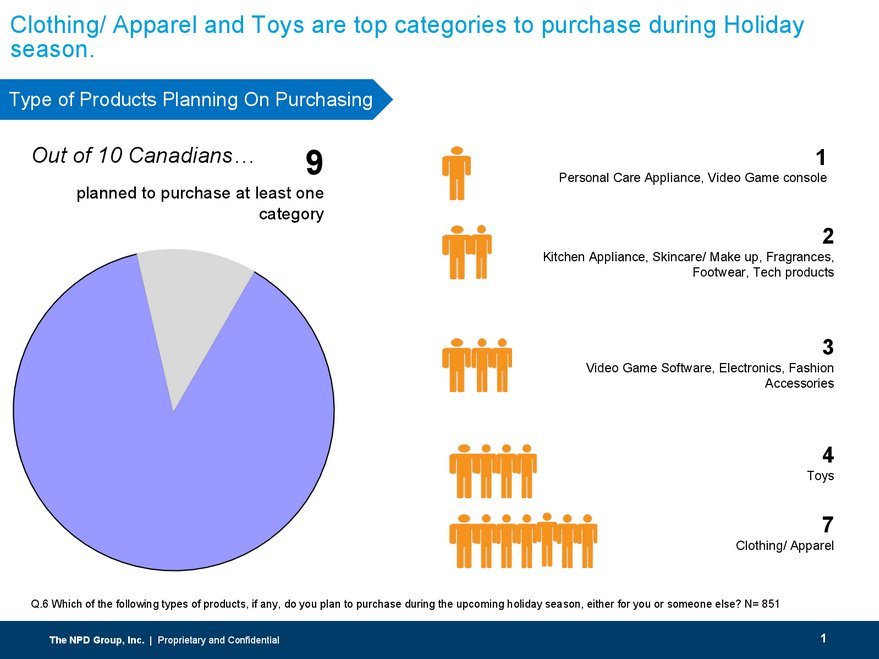 Still, shoppers only have so much budget to go around, and consumers have held more power in the relationship with retailers since the recession.
"It's shifting toward what the consumer wants and when they want it and I think retailers are lining up to recognize that," he says.
"And if the retailers are offering it sooner, the consumers will take up those deals sooner which will mean there's probably a little less to go around later."
Tech products are some of the most popular items during the holiday shopping season and Black Friday is closing the gap in dollar sales with Boxing Day. In 2012, sales the week after Christmas were 20 per cent higher than the Black Friday shopping period, but by 2013 that gap closed to just six per cent, according to NPD Canada's director of consumer electronics Mark Haar.
"Based on that trend and my observations in general, I fully anticipate that this year Black Friday retail technology sales will surpass Boxing Week technology sales," he wrote in a blog post earlier this month.
Boxing Day and Black Friday serve different purposes and so can continue to co-exist, says Daniel Baer, Ernst & Young partner and national retail and consumer products industry leader. Black Friday is about shopping for others, while Boxing Day is about shopping for oneself.
"The consumer that is conscious of price and conscious of value will act the same way when they're looking for gifts for others and when they're looking for products for themselves."
Overall, Canadian holiday sales so far this year have been inconsistent, Baer says, though he still predicts sales to rise about three per cent over last year.
"There was never any strong momentum, either upwards or downwards. While consumer confidence is stronger and gas prices are lower, consumers continue to be constrained by increasing debt loads and increasing mortgage payments, and so a focus on price and value will continue."
In this environment, sales on Boxing Day could be more important, and more telling, than ever. Some retailers, including Amazon and Best Buy began to offer Boxing Week sales even earlier this year, as early as the day before Christmas Eve.
Also on HuffPost: